"Life isn't tied up with a bow, but it is still a gift."

– Proverb
So, once again time for that end of year wrap-up. The next few days look to be outrageously busy, so I thought I'd whip it into shape before we hit auld lang syne and all that. As usual, a bit of personal, a bit of business….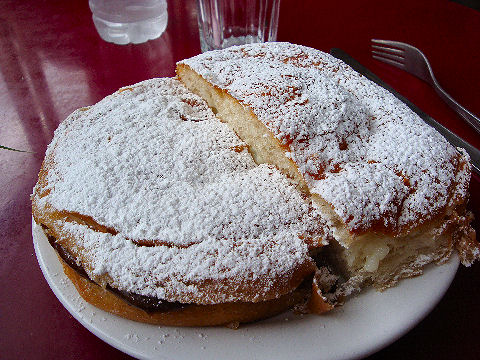 Vacations this year were a bit more limited – finances were a bit tighter than in past years. A two day trip on my own upriver to San Pedro for a little R&R right after the holiday madness was a much needed break – ate some good river fish, wandered, and just relaxed, oh, and discovered the ensaïmada, pictured above. A four day trip up to Rosario in March introduced us to a great city that we both really enjoyed, and met a new friend up there who gives launch, kayak and bicycle tours. And, in April, I made a quick trip up to New York for a few days (where I bought a new camera, with which I've been having great fun, and, I think, improving my photography on the site) and visited with family in Louisville. In reverse, a couple of longtime friends came down for visits, from San Francisco and New York, respectively. Other than that, it sometimes seemed like I rarely strayed far from the house and kitchen this year. I also completed the 10-month pastry chef training program at the Instituto de Gastronomia de San Telmo that I'd started during 2010, and am thinking about taking their 4 month master chocolatier program this coming year – even though I'm not much of a dessert person the whole pastry world is appealing in terms of its creativity and precision.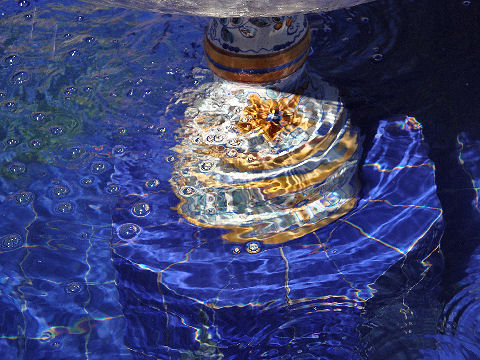 On the blog – the post that's garnered the most positive feedback, mostly by e-mail, my write-up of the available freshwater fish here in Buenos Aires. The most interesting to write, and explore, my recent dive into the history, and tasting, of the iconic revuelto gramajo. Favorite photo I took, gazing into the fountain at Estancia Tierra Santa outside of Carmelo, Uruguay.
On the Casa SaltShaker front, once again dealing with Argentina's rampant inflation, we held out for a year and a half without raising our prices (other than one adjustment that didn't change the dollar price, but changed the peso price by 10 due to the dropping exchange rate), but finally gave in last month with a 15% increase – and at the same time cut from using our two tables of 8 and 4 to a single table of 10, other than the occasional request for the table of 4 by groups that want to sit separately. With costs having gone up by about a third during that time period, it definitely lowered our profit margin, but we didn't feel like we could go higher – so we added a third night each week to provide a bit of balance to the balance sheet. We also, after a bit of a facebook and twitter discussion with past guests, instituted a non-refundable (without sufficient notice) deposit for first-timers, which definitely cut our no-show and last minute cancellations down by about two-thirds from last year. As of this Saturday night we'll have have offered up 124 dinners, only seven more than last year – a lot less private party business this year. A total of 1240 people passed through our doors – well, actually 1236 as we did one "out catering" job for 4 people, just a couple dozen more than last year. A mere 6200 plates of food leaving our kitchen….
In May we received TripAdvisor's award of excellence for the year, and then in September got a threatening note from their "compliance" department informing us that they had evidence we were engaged in activities that violated their terms of service. They declined to specify what, though I was able to get one of their reps to admit that a review from another account besides ours had been posted using our IP address. Turned out it was a woman who wrote a review using her iPhone while sitting at the dinner table and connected to our wi-fi, but TripAdvisor refused to accept that, terminated her account, erased all her reviews, and the same rep informed me that he was going to 'show me what he could do to us', and in the space of five minutes erased another couple of recent positive reviews of us, and dropped our rating from 48th best restaurant in the city to 132nd (we've slowly crawled back up a bit as more positive reviews have continued to be posted, though I have no way of knowing if some are still being blocked unless someone tells me so). A complaint filed with TA resulted in a "we've got algorithms that prove what you were doing" response, along with what more or less amounted to, "don't push us or it'll get worse for you". We decided to drop it and just let our guests continue to post reviews as they see fit – which has, as noted, had a positive effect. We don't know how much impact the changes had on our business as TA is rarely the reason people encounter us, but it is often a place people look to help make a decision. Interesting demo of the power of a private forum that doesn't have to answer to anyone.
Allergies and dietary restrictions continued apace (and these are just the ones I said yes to) at a roughly equal 149 requests (that's how many I said "yes" to, I may have said "no" to several hundred, I didn't keep track). Interestingly, requests for no shellfish were significantly lower – maybe because our menus have been showcasing more and more seafood and perhaps the folk who can't eat it simply aren't inquiring about reservations – or, again, I know there were quite a few people I simply had to say no to. Only a single peanut allergic person and not a single allergic to tree nuts of any sort, quite a drop from last year. Vegetarian and pescetarian requests were definitely up, but specific meats singled out were very few, other than pork, all eleven of which I think were of the "more or less keeping kosher while eating out" type of requests. And, for the second year in a row, not a single person "forgot" to mention they were vegetarian before arriving – though two of the gluten-free requests came as people were sitting down to dinner, as did one of the dairy free, the no-pepper (of the peppercorn variety) – too late, had to deal with it, and one of the no seafood (luckily on a night we weren't serving any).
1 no meat unless it was not in large pieces
3 no red meat
2 no beef
11 no pork
3 no lamb
2 no goat
1 no veal
1 no rabbit
1 no poultry
3 no organ meats
1 no liver
3 no raw meats
1 nothing with bones still in it
4 no seafood of any sort
2 no fish
1 no freshwater fish
1 no white fish
4 no catfish
1 no salmon
3 no raw fish
7 no shellfish
3 no crustaceans
1 no lobster
1 no octopus
3 no shrimp
2 no crab
2 no scallops
1 no oysters
1 no snails
5 no dairy
1 no goat cheese
1 no blue cheese
2 no cream
1 no butter
1 no bamboo (that was a first)
5 no mushrooms
1 no bell peppers
1 no beets
1 no peas
1 no celery
1 no raw fruit
1 no bananas
1 no peaches
1 no apricots
1 no raisins
1 no kiwi
1 no pears
1 no peanuts
1 no cilantro
1 no chocolate
2 no eggs
1 no pepper (the spice)
2 no red or rose wines
1 no vinegar
12 not spicy (mostly on private dinners or it wouldn't have worked out)
4 pescetarian
6 gluten-free
19 vegetarian (some of these came to specifically vegetarian meals)
3 diabetic (only requesting a fruit plate in place of dessert, no other menu changes)
Favorite dishes we've produced here at Casa SaltShaker this year: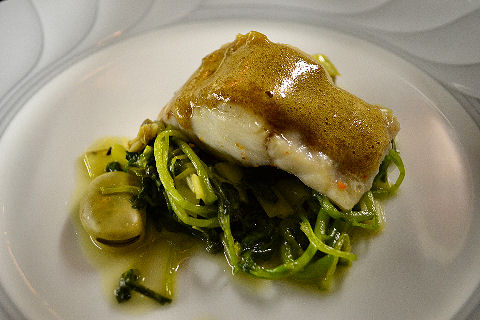 Argentine Sand Perch with Cockles, Favas, Watercress and a Soy-Mirin Sabayon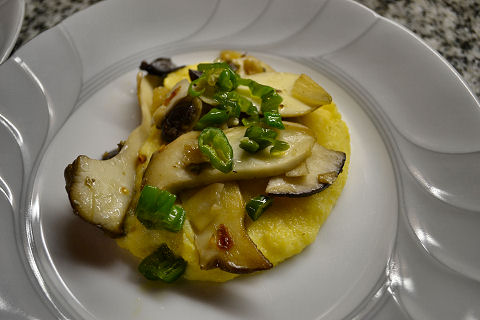 Sauteed King Oyster Mushrooms, Polenta Grasa, Spicy Almond Salad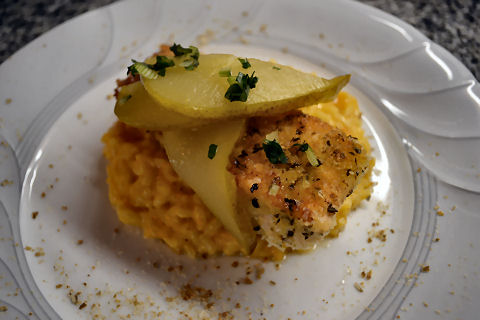 Salmon Milanesa, Pear Mostarda, Pumpkin Risotto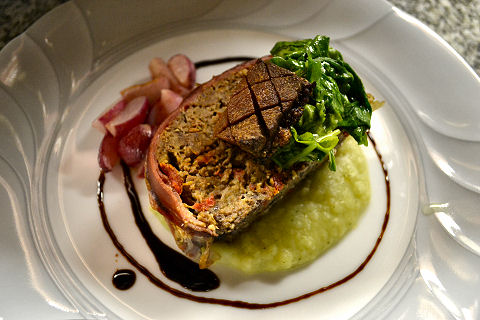 Prosciutto-Wrapped Lamb Meatloaf, Mint Mashed Potatoes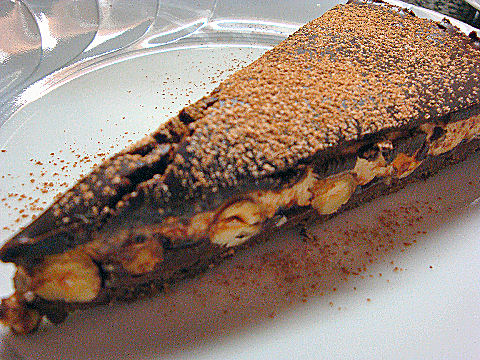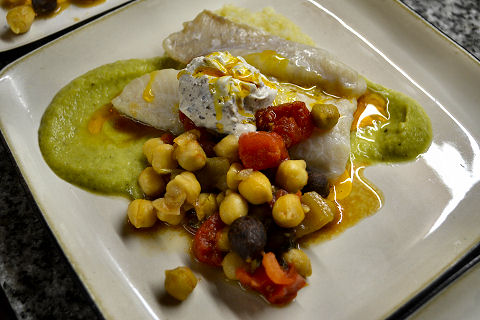 Baked Hake, Zucchini Puree, Chickpeas in Sofreito, Couscous, Sumac Yogurt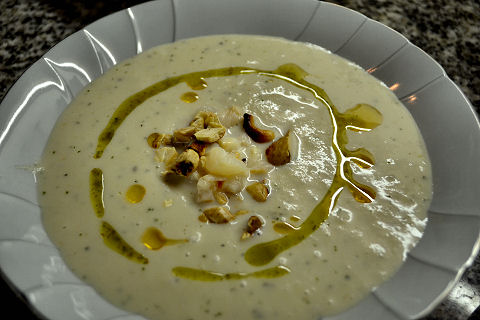 Cauliflower Mint Soup with Cashews and Litchis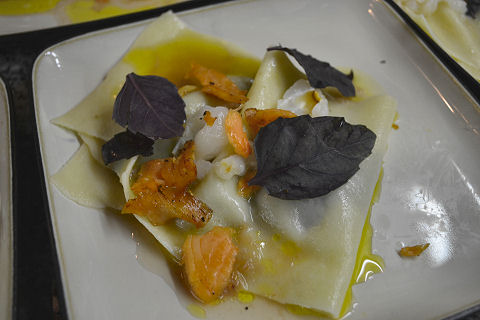 Eggplant Raviolon with Litchis, Smoked Salmon Chips, Litchi Vinaigrette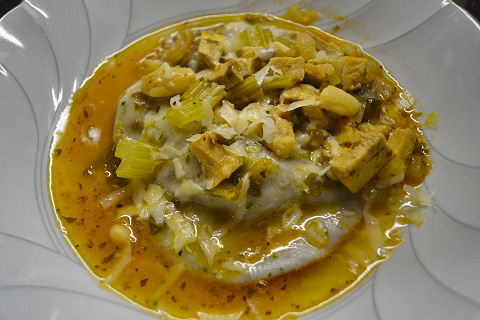 Dining Out: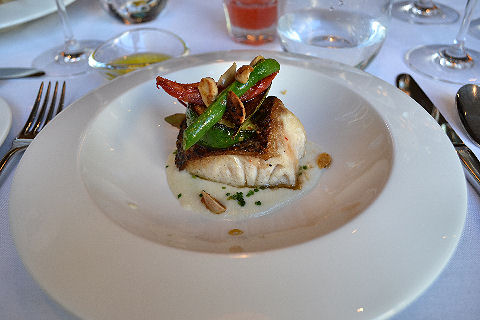 Probably the most interesting individual dish I tried in Buenos Aires this last year – Argentine Sand Perch in Ajoblanco at HG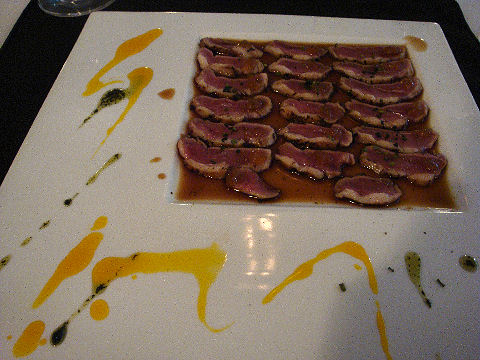 Easily the most interesting new restaurant – eXperimental raw bar – which unfortunately closed within a few months.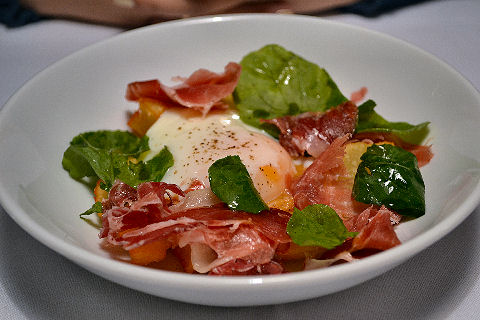 Most intriguing restaurant that didn't quite pull it off – Unik – fantastic food (the slow cooked poached egg above was "to die for"), interesting ambiance, but service that didn't live up to the rest.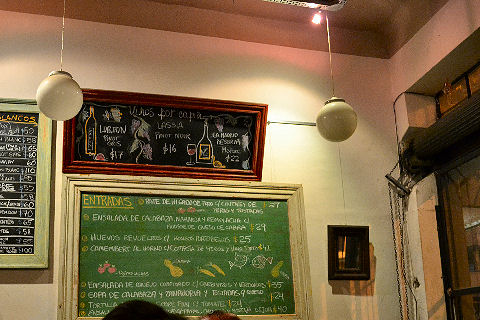 Favorite new find to just go and have great food – Las Pizarras – have now been four times (including last evening), and tried to go a couple more but they were full, each meal as good as the last.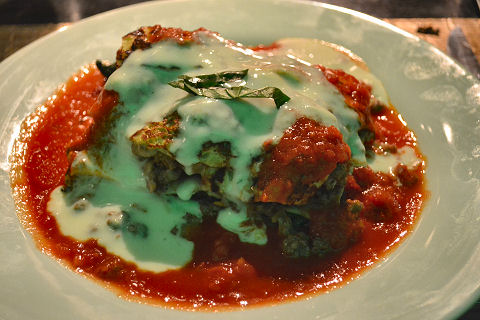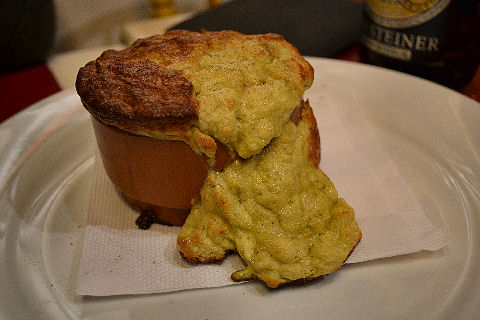 The most excruciatingly bad meal eaten, anywhere, this past year, a tie between Club V – so awful that I acquiesced to the PR person who'd invited myself and a guest to dine there not to write up the details and give them the opportunity to fix it before, possibly, returning for a fresh look (I'm only posting this because a few weeks later the restaurant simply went out of business – seems everyone hated it); and, a re-review for the purpose of deciding whether to include it in the new edition of the Fodor's guide, of Sifones y Dragones, which was just all around disgusting.
And, sans photo, the only restaurant I got up and walked out of this year, Patagonia Sur – not for food, not for service, neither of which did I have the opportunity to check out – just for sticker shock with lunch for two topping out 1000 pesos….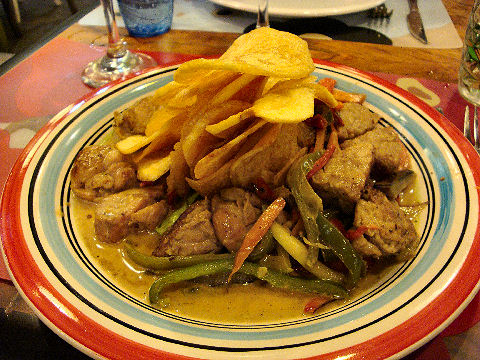 And, a fantastic saute of sweetbreads at El Oso Sala la Sopa, the best meal we ate on vacation in Rosario.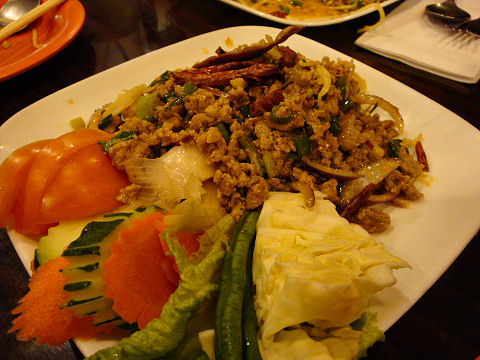 In New York, an amazing duck larp at Chao Thai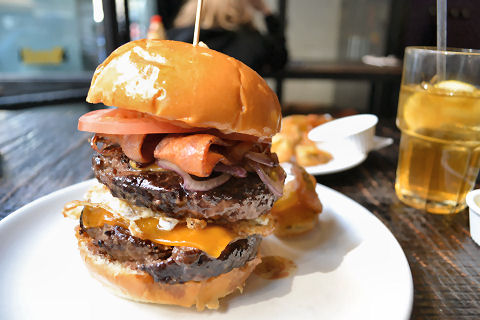 The Bold Burger at Stand in the Village was easily the best burger I've had in years.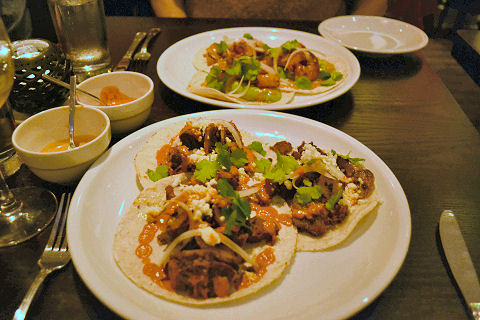 And, beer-braised tongue tacos at the superb Empellon were just stunning.