At this season things always get busy – lots of tourism and lots of folk wanting places to dine, particularly on the "nearly everything in town is closed what do we do now?" nights of the 24th, 25th, 31st and 1st. La Noche Buena, or Christmas Eve, we could have filled ten times over with the number of requests we got – same is true for upcoming New Year's Eve. I contacted friends who have puertas cerradas and most just chose not to deal with the holidays and dinners, a couple did and that gave me some referrals I could give out, and here and there different local websites have been recommending spots to dine (there are some damned pricey dinners out there for the holidays this year!). On Christmas and New Year's days themselves, there were even fewer options – though, Henry and I ventured out at lunchtime on Sunday to see what was open in the 'hood and pretty much the entire strip of restaurants on both sides of Village Recoleta were open and in full swing – we had a mediocre all you can eat pizza/salad or pasta lunch at one of the joints – at least I don't need to return to check it out.
So, we had a three-day stretch from the 23rd to 25th of offering up this year's "seven fishes" menu (amazing the number of people who demanded that I offer an option for a non-seafood meal, wanting either turkey or ham or some sort of roast, with all the trimmings, and a lot of them got nasty about it… hey, just go somewhere else that has what you're looking for, you want to dine with us, you eat the food from our menu, not your grandmother's). And then we had two families, one of seven and one of six, that wanted to book, and although we couldn't accommodate them on the weekend, they were amenable to private dinners on Monday and Tuesday, respectively. Different menus – quite different requests. So, prepare thee for a graphic intensive, and not particularly text intensive, post, as pretty much all of these dishes were pulled out of the repertoire of past evenings.
23rd – 25th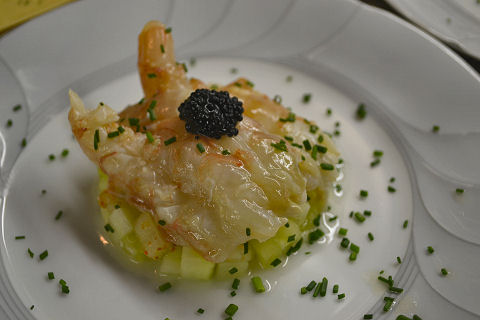 Prawn Ceviche/Tiradito, served over diced Asian pear spiced with
shichimi
and lime, salted cucumber, and topped with a spoonful of black lumpfish caviar. "1 fish"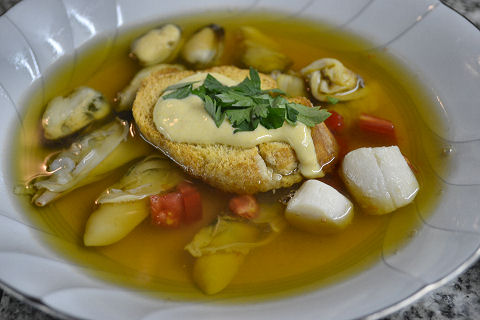 A clarified red miso fish and shellfish broth with tomatoes, clams, razor clams, scallops and mussels, a small toast topped with Peruvian
huancaina
sauce. "4 fishes"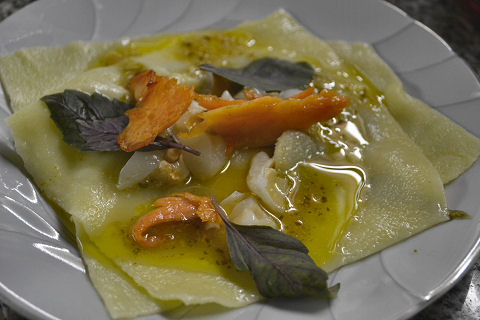 An open raviolo with charred eggplant puree flavored with mint, salt and pepper. Topped with fresh litchis, crisps of smoked salmon, purple basil, and a litchi vinaigrette. "1 fish"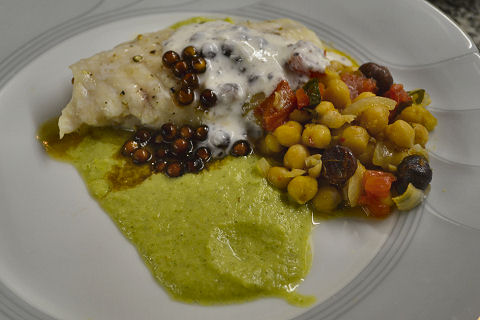 Baked grouper fillet with zucchini puree, a stew of chickpeas flavored with a spicy sofreito, and topped with a sumac and garlic yogurt and "fish pearls" of tapioca pearls cooked in fish stock. "1 fish" – bringing our total to 7 fishes….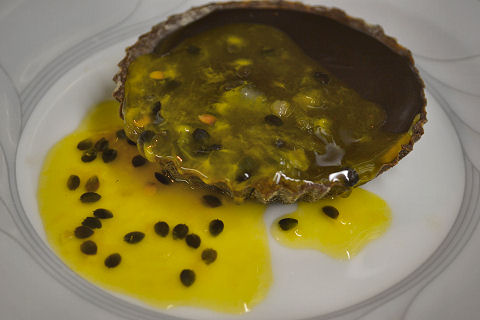 A chocolate and passionfruit cheesecake made with homemade cream cheese, topped with a fresh passionfruit seed and juice syrup.
26th – the requests, one fish dish, one red meat dish, not too spicy, one person no cheese, and a strong interest in some sort of ceviche for the fish dish, our seven onion tarte tatin, our herb and spice crusted pork loin with lentils, and a chocolate and fruit dessert.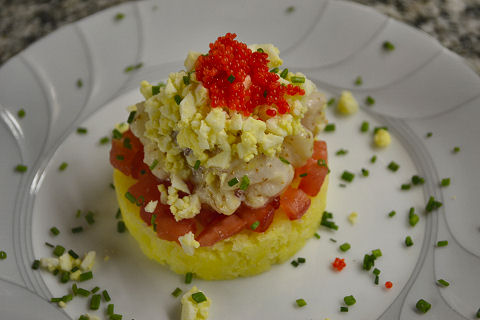 Sea bass tartare tossed with a lemon and dijon vinaigrette, served over crushed potatoes flavored with olive oil, lemon and ají amarillo (yellow chili), a layer of tomatoes, and topped with hard-boiled egg and some red lumpfish caviar (everyone was out of black, which would have been my preference visually – there's no flavor difference).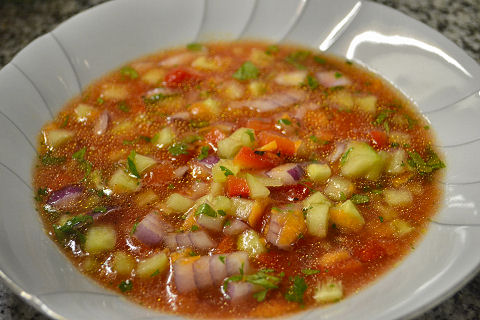 Gazpacho with watermelon filling in for the tomato – a puree of watermelon, garlic, rocoto chili, olive oil, red wine vinegar, salt and pepper. Lots of diced cucumber, roasted red bell pepper, red onion, and chopped cilantro.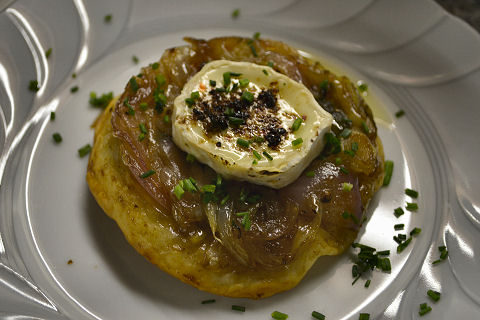 Seven onion tarte tatin – red, white and yellow onions, scallions, leeks, chives, shallots, caramelized in butter, garlic, anchovy, brown sugar, salt and pepper, topped with puff pastry rounds, baked, flipped, and topped with a round of St. Maure goat cheese that's lightly caramelized with brown sugar and pink peppercorns – one portion without the cheese.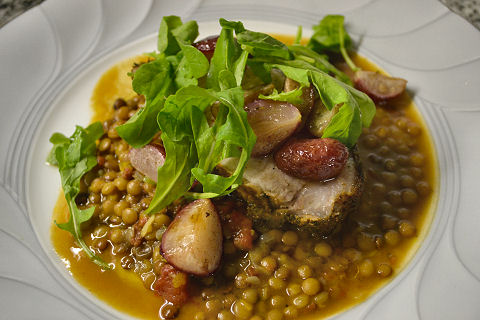 Herb and spice crusted pork loin roast (parsley, oregano, ají rojo, salt, cumin, coriander made up the rub), slow cooked lentils flavored with prosciutto and tomato, sauteed radish wedges, and a scattering of fresh arugula.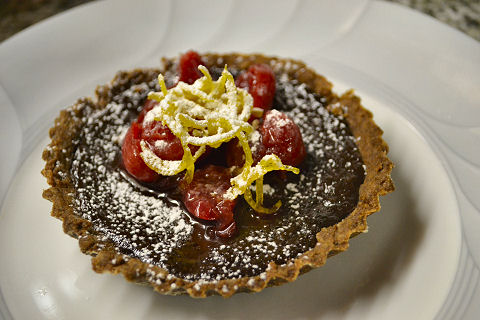 Dark chocolate tartlet in a cocoa crust, candied lemon zest, brandied cherries.
27th – "go for it, we eat anything!" – hosts were a chef from California who runs a cooking school and a food photographer, both friends of a chef friend of mine in Napa, so no pressure, right?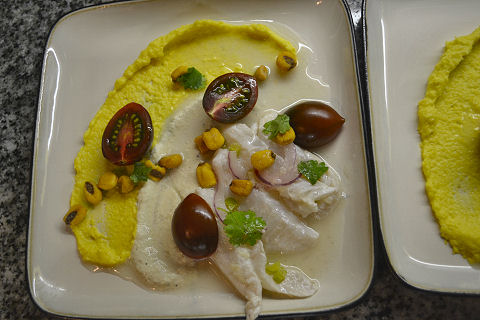 A lenguado tiradito, or ceviche, served with corn puree, a new hot sauce made from charred rocotos and toasted macadamias, purple cherry tomatoes, red onion, cilantro, and fried corn kernels.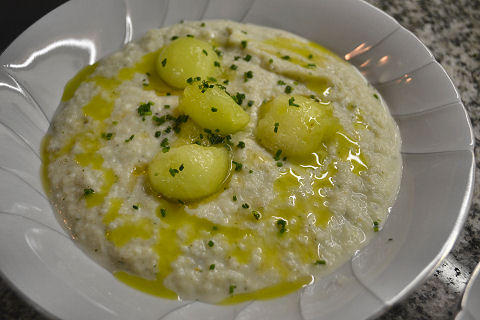 Chilled cauliflower cream soup – should have thinned it out a bit more – no litchis available, as I mentioned above, thought honeydew melon would work and it does, though not as well. Swirls of sesame and cilantro oils.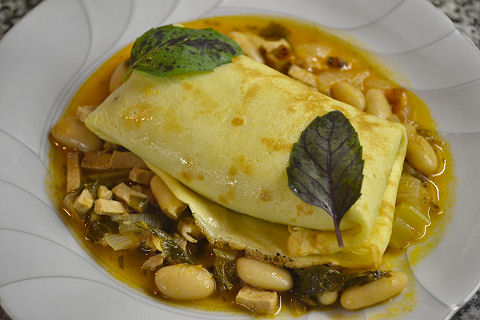 A reworking of the form of this dish, instead of a large raviolo, I made semolina crepes and filled them with our basil, mint and cilantro pesto-spiked cream cheese, served over roast pork sugo. It's a non-kosher blintz, let's face it.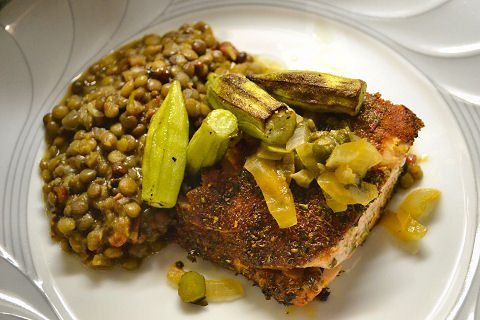 A change-up on the previous night's dish, bringing in fresh salmon for the pork loin, same herb-spice crusting, but treated it as a blackening mix and cooked it that way in a searingly hot cast iron pan. Same lentil stew, but spotted some fresh okra in the market and roasted them up in olive oil, salt and pepper – the best way to avoid the slime. Added in a sauce that was good with everything, but maybe was just one element too much on the plate, not sure it was necessary – a reduction of white wine, white wine vinegar, garlic, gherkins, capers, and anchovy. I think I'd re-do this one with a very simple sauce element, or none at all.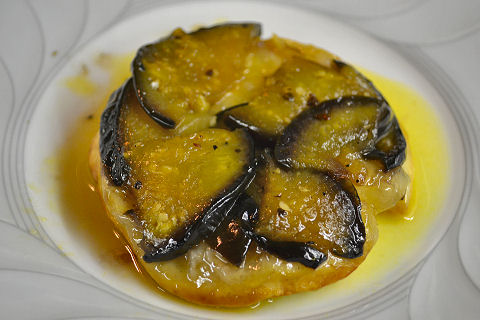 Eggplant tarte tatin with an orange-caramel coulis. Yes, eggplant. For dessert.
And that's the roundup of this past extended holiday weekend. Now I have a two day break and back into the fray with two different menus for the NYE weekend – one night an all meat night with no seafood, the other nights, the reverse – took some reservation juggling to make it work with the various requests, but seemed the easy approach for the three day stretch.