Not that the Mayans ever predicted the end of the world this last month, having only laid out the end of one in a series of "long cycles" of the calendar (amazing what people will reinterpret for their apocalyptic fantasies), but given that I'm writing this and you're reading it, the long awaited and much over-touted Mayan "End of the World" simply didn't happen. I did get some amusement out of it when I got an e-mail from some guests reserved for one of the days after, asking what my refund policy was in the event that it all went kaput the day before. My first thought was they were just joking around, but it turned out they were serious, which I admit gave me pause about whether or not to simply refund their money and give the spaces to someone else rather than have them in our home. But I didn't, and they turned out to be completely delightful people who were a) at least a little nervous about the whole end of the world thing and b) hadn't quite thought through the logic of their question.
Henry headed off on various little trips this year – a vacation in Peru with his family that I didn't join him on this time on the side of a workshop that he was leading in Lima for tango. They liked his workshop so much that they invited him back a second time this year and so he had another, shorter trip to Lima to repeat it. And, a similar venture up in Córdoba, here in Argentina, twice again – once for a couple of weeks as part of an annual folklore festival and a second time just for a day's workshop. All this comes on the heel of him graduating with his licensiado in folklore dance. He's also back at the university taking some graduate level courses in show tango and teaching. All of that amounted to that we didn't take our annual vacation together in 2012 – we'll have to make up for it in 2013.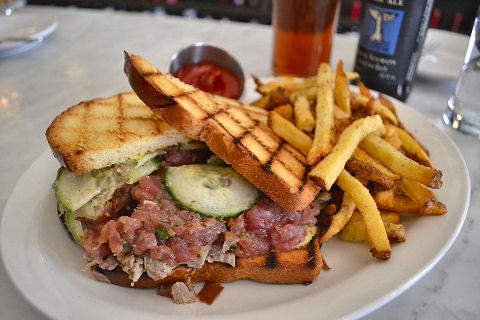 On my end, a two-week visit to New York and Boston kept me hopping around. First time really exploring any of Boston and I only had two and a half days, but it was fun to see a bit more of it than I have in the past. While I had some really good meals in both places, I have to admit that nothing truly stood out as a wow experience, though some quite good dishes – particularly a fluke crudo at Casa Mono, braised baby goat at SD-26, scallops with sorrel and meyer lemon at NoMad, and a grilled artichoke and cippolini onion salad at North End Grill, all in New York, a great flatbread pizza at Carmine's, and, well, hmmm, maybe the best thing I ate in terms of simply "I want to eat that again, and again", a tuna tartare and roasted veal sandwich at Neptune Oyster, both of those in Boston.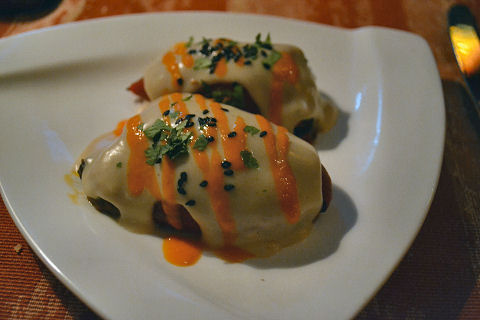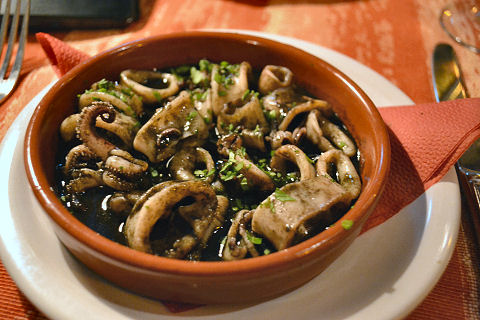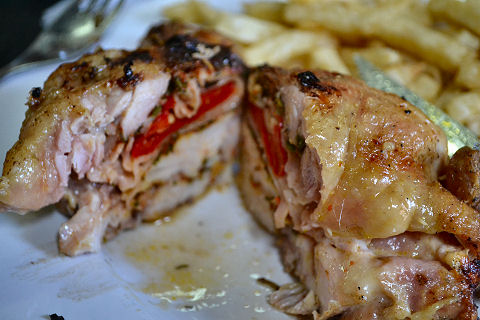 A several day trip to explore neighboring Uruguay's capital of Montevideo. Generally I was impressed with the high quality of the food, though it is noticeably more expensive than dining out here in Buenos Aires. A truly excellent meal, and one of the best I had this year, at Tandory – lamb-stuffed piquillo peppers and calamari stewed in its own ink were just plain stunningly good. Still, in some ways, kind of like my NY/Boston experience, the dish that stuck with me after leaving was the pamplona at Estancia del Puerto in the old port marketplace.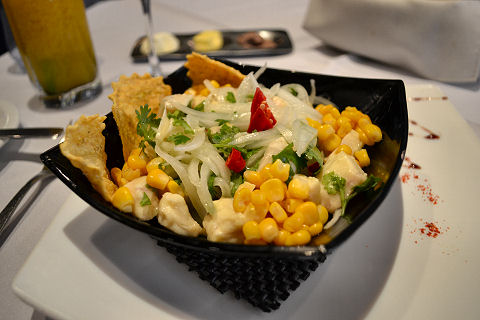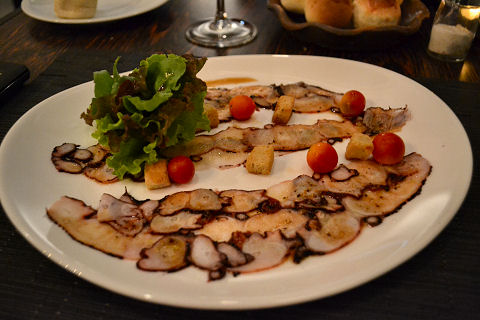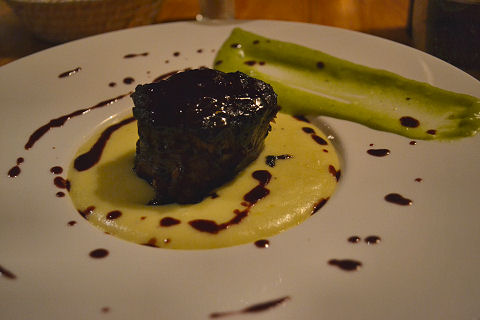 Likewise, a good time had exploring Paraguay's capital of Asunción for a few days on my own. I was warned that it wouldn't be very interesting and that the food wasn't very good, but I found it completely to the contrary – a fascinating city and while maybe not, for the most part, world class food, I enjoyed exploring the local traditional cuisine, particularly different preparations of surubí (Brazilian tigerfish) including an excellent ceviche at Bolsi, and at a couple of higher end spots I had some truly excellent dishes – the standouts being an octopus carpaccio at El Dorado and a braised oxtail at Tierra Colorada.
Outside of vacations, a lot of work. I took on a weekly recipe column for the Buenos Aires Herald – I have to assume that the editors and the readership are generally happy with it since what was originally planned as a short stint of a few weeks has now gone on for nearly a year. I had hoped to take on the restaurant review column when Dereck Foster retired this year, and it was the reason I agreed to take on the column in the first place, but unfortunately it went to someone else. We shall see where things go.
I also spent a fair amount of time putting together two walking tours for an iphone app, unfortunately, Rama Food Tours went belly-up. I await my whopping $4 or so in profits from the few sales that happened before they stopped selling the tours, and hoping that their goal of selling the licensing and the tours to someone else comes through. Otherwise, I may just do a little blog post shortly that includes all the info.
At the same time, I was busy working for Fodor's on updating their dining guide for Buenos Aires. It's a work in progress – the editor I started working with asked me only to update the reviews on the 35 or so out of 100+ that hadn't been re-reviewed in roughly 4-5 years, plus add in some new favorites and remove places that either no longer existed (among which two had been closed over five years earlier, so they'd been included in two past editions even though they didn't exist). It was my first real intro to working for a major travel guide and it's an interesting mindset. I've already proposed to the new editor that for the next edition a major overhaul is in order – too many restaurants touted as "the best X in town", and simply, at this point, places that haven't been checked out in several years. On a personal level, I'd like to see it really reflect the current dining scene in BA. Finger's crossed – and waiting to hear from them of how they want to proceed in the future.
All of that has meant a lot of delays in working on my own book, the story of Casa S and recipes, but starting with the new year that's my primary project to complete. Updates as there are any.
And, on to Casa SaltShaker and a little breakdown of how things went this year. Despite all the dire predictions of economists, expats, etc., we saw a significant increase in business – 155 dinners versus last year's 124 – that's a 25% jump and means we averaged roughly 3 per week, though with the above mentioned vacations it means that many weeks we actually had 4 or 5. All told, 1411 people sat down to eat (with some of those being repeats), a 14% increase over last year – the reason it likely doesn't equal the increase in number of dinners is that towards the end of last year we made the change from having two tables, of 8 and 4, to the single table of 10. Sixteen of those dinners were private events including one that was an "out catering" job in Palermo. Roughly 50% of our guests were from the US, 15% each from Canada and Argentina, and then the remaining 20% split between a wide range of countries.
Our deposit system seems to be working – a mere 30 people cancelled at last minute, generally not giving us sufficient notice to replace them, but at least a portion of costs was covered; surprisingly, five parties of two simply no-showed, including one that had prepaid in full – only one of those parties did we ever hear from again (we do followup to try to make sure the folk are okay and something didn't happen to them). I understand that emergencies happen, I don't understand the lack of communication, perhaps an apology. Maybe I was just raised different. Or, maybe something did happen to them – but I don't know, I somehow doubt it.
I'm not going to do a whole list of allergies and such this year – I did notice a fairly hefty increase in the number of requests for pescetarian meals in particular. I also noticed that the term "vegetarian" has been truly co-opted for a multitude of diets that ranged from folk who really are either vegetarian or vegan to any number of combinations that included various types of shellfish, fish, poultry and even red meat. Whatever. People can label themselves how they want, but sorry, participating in "meatless Mondays" doesn't a vegetarian make. As long as I know what the details are, however, it's all good on this end.
Favorite dishes produced here this year?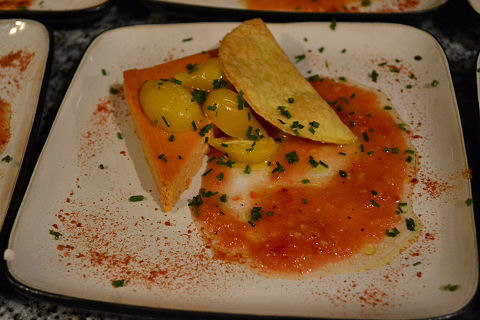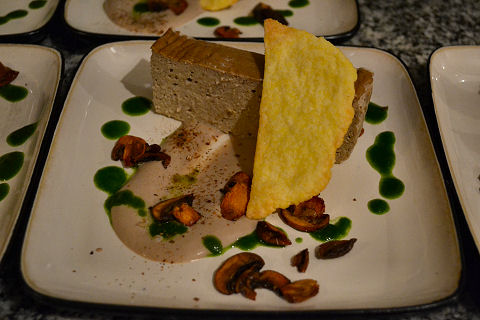 Textures of Tomato, and Textures of Mushroom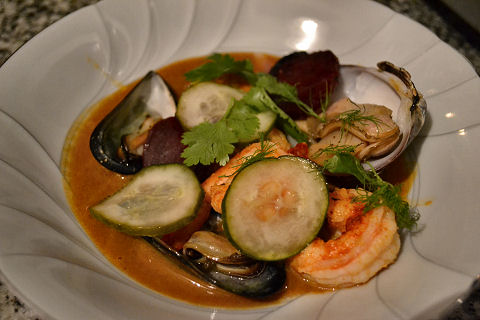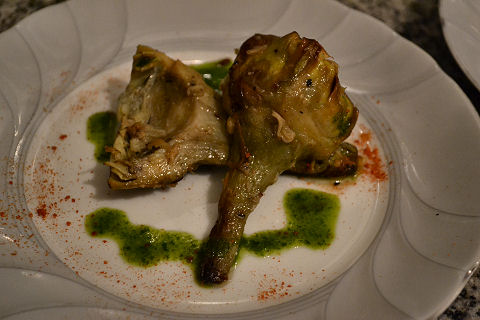 And the simple, but so delicious, Artichokes en Escabeche.
An aborted attempt at starting a new casual night once every week or two that would be more experimental, cheaper, and casual, and which I'd join the table and we'd have a bit of conversation about the food – the idea being to try out some new ideas. We had one night fully booked and while it went reasonably well, I found it difficult to put my attention on the cooking when I was also attending to the dining room. When we only got a single person reserved for the second scheduled night I decided to drop it and rethink it for down the road.
At some point during this last year we moved our way up into the top ten restaurants in BA on TripAdvisor, after last year's debacle with them detailed in my round-up of 2011. We made it all the way up to number four, and then have bounced between there and roughly number twelve for the rest of the year. Interestingly, of the top ten, the majority are puertas cerradas restaurants, including one that isn't even open anymore other than a very occasional pop-up, and also a coffee shop. One never knows where those votes come from…. To their credit, TA has gotten much better in the last year at responding to questions and reviews that just don't seem right, including removing two negative reviews, one of which they determined was a complete fake purporting to be from someone in Australia but actually coming from someone here in BA (competitor? or just someone with an axe to grind?), and the other from someone who'd never eaten here but was upset that we'd never responded to his e-mails – we had, just all of our responses were in his spam box, where he found them a week later – to his credit, he sent us an apology.
Enough about the restaurant, hmmm, the blog. This year I don't know that I had a favorite post in particular, though it was definitely fun running through my tours of Montevideo and Asunción mentioned above. I also really liked the Foto Ruta tour and the photo results that I got. At the end of the year we got a nice award from the new "Expats Blog" forum – it was, in truth, just a popularity vote of whomever one could round up to click on a link and write a comment – I have to admit, I'd hoped more of my friends and family who regularly read the blog could have put forth the effort, especially given how many of them I've supported in their ventures with write-ups and online votes for their work, but, so be it. We got a lovely little bronze ribbon to display.
And, I'll finish up with the latest, greatest, and worst in restaurants here in BA this year.
Favorite new spots – Tarquino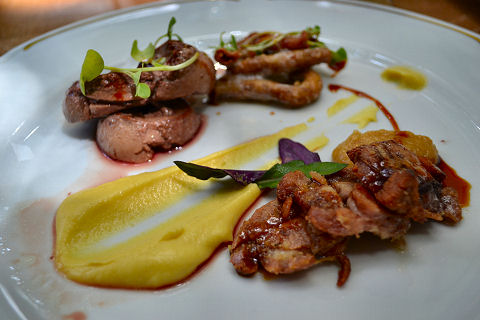 and my favorite dish there of "frutos de vaca" – a mixed offal plate, and El Burladero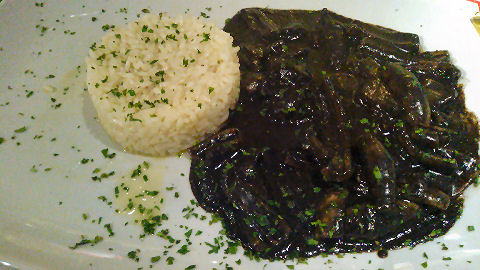 where I've liked everything I've tried over, now, six visits, with my favorite so far being the calamari cooked in their own ink.
I also enjoyed some interesting and intriguing dishes as Aipim, Chila, Leopoldo, and iLatina – the first three of which are written up, the latter, not yet. I wasn't necessarily wowed by the places, but each had plenty to recommend it.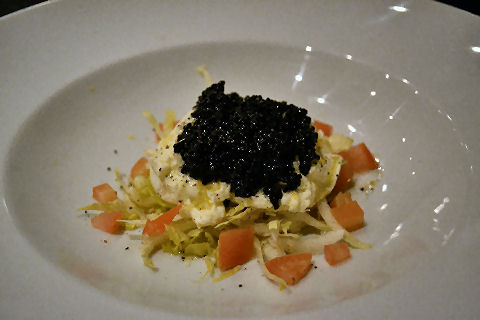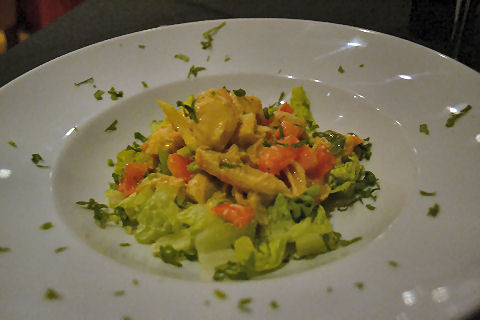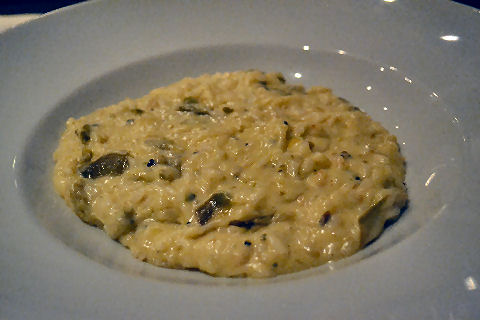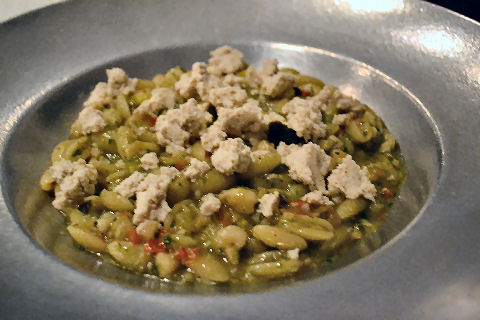 And, I suppose, one must face the worst meal of the year. I'm actually really sorry that it was at the place it was, an Italian restaurant highly recommended by several friends, and at which the chef not only recognized me, but then asked if he could prepare a special tasting menu for me of things that weren't on the regular menu (oh, I wish that I'd just eaten from the regular menu, which looked far more interesting in the end, and which, given the chops of the folk who've recommended the place, I will have to go back and try at some point). After four truly appalling appetizer plates of food, none of which I was able to eat more than a bit of they were so bad, and a bottle of wine that he sent to the table, slapdash service, and he slapped me with an outrageous bill for 500 pesos at the end. It was so awful I couldn't even bring myself to write it up, nor am I going to name the place, though local food folk can probably figure it out. The four plates – a burrata, one of my favorite cheeses, smothered in cheap caviar and served over vinegary chopped tomatoes and fennel; a lobster salad that was chunks of still partially frozen, mealy pre-cooked lobster meat over shredded iceberg lettuce, drowned in a sickly sweet mustard sauce; a risotto that was jammed with gratings of black truffle and truffle oil and was so gluey that I could have flipped the bowl over and left it sitting and not a grain of rice would have fallen to the table; and packaged pasta that were so undercooked they were crunchy, in some sort of insipid vegetable broth with bits of grainy "fresh" cheese on it that were anything but fresh. Okay, there, I've written it up as much as I'm willing.
And, of course, not to forget or give it short shrift, but after eight years together, Henry and I tied the knot in October. There were a lot of reasons we waited so long and a few more of why we did it when we did it, but, we're officially wedded.
And that's some of the interesting stuff from 2012, tied up in a ribbon. Vamos 2013!