I needed a break. I realized I hadn't had a real day off since my trip to New York and Louisville back in April. With a quartet of days looming free, the need to renew my visa anyway, it seemed a perfect time to get away for a short break. My first thought was to go up to Asunción in Paraguay and explore a bit. Found a nice place to stay, a cheap flight, it all looked good until I looked at the upcoming weather report which predicted temperatures of 37-38°C (98-100°F) and virtually no wind for the four day stretch. I started checking out other thoughts – a return to Santiago, but the only flight that was reasonable ended up cutting a half day off at each end, I didn't have time for a Brazilian visa, and so I thought, how about Montevideo. I've been before, but always enroute to the wine country north of the city and never really explored it. Cheap ferry/bus combination from Seacat – I don't quite get it – you end up on the Buquebus boat and bus, but pay 35-40% less for the same trip – why book through Buquebus? Weather looked promising, 26-28°C (79-83°F), nice breezes, one cloudy day with only a scant chance of rain. And, a nice place to stay.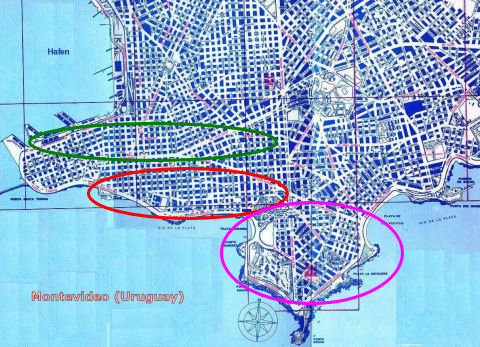 This is the southern half of Montevideo. The three ellipses are my three areas of exploration on my days out wandering (day one mostly the red circled area other than starting out in the green in the Ciudad Vieja, then down and through Barrio Sur and Palermo to Parque Rodó). After an uneventful if half-hour delayed trip, a short taxi ride, I landed at: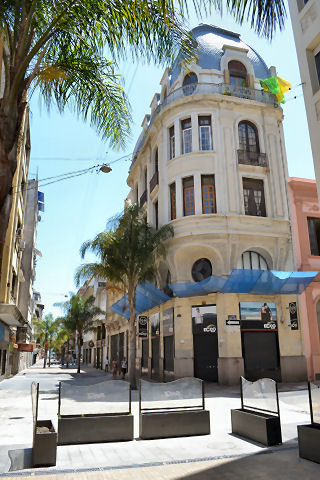 this lovely building on the Sarandí pedestrian stretch in the Ciudad Vieja (Old City). I had the apartment second from the top with the big arched window and small balcony. A nice one bedroom, not much of a kitchen, just an alcove, but I had no plans to cook other than make coffee in the morning. Comfortable, clean, and the charming gay couple that own the place live right above it on the top floor. Not only were they on hand to greet me and hand over keys, but one of them had run out for a large bottle of cold water to put in the refrigerator and a fresh baked baguette in case I wanted something to nibble on.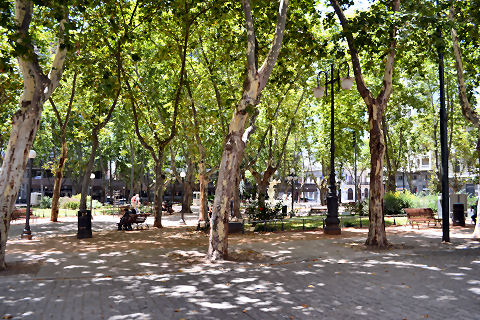 A block away, the pretty little Plaza Matríz. My hosts had warned me that Sunday afternoon there would be few options for lunch open, but heading to the east I'd find some here and there. On the plaza, the choices were McDonald's, Burger King, and California Burrito Company. Not happening. I kept heading east.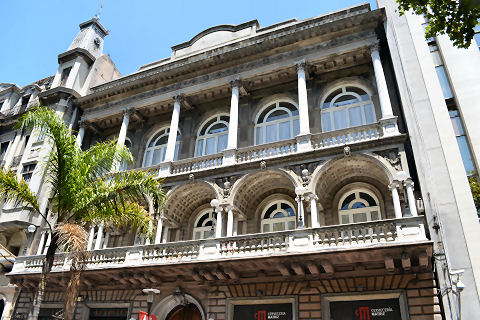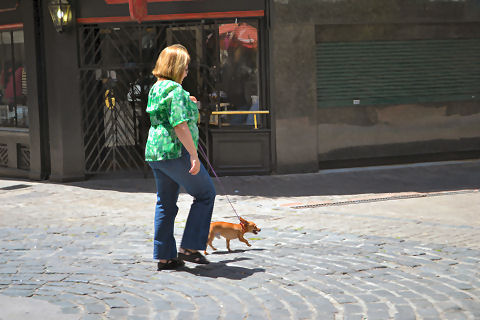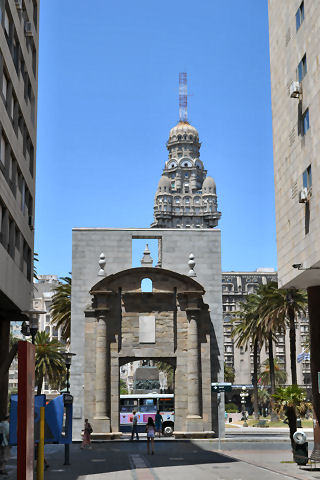 The old city gate, or Puerto de la Ciudadela, as you enter Plaza Independencía.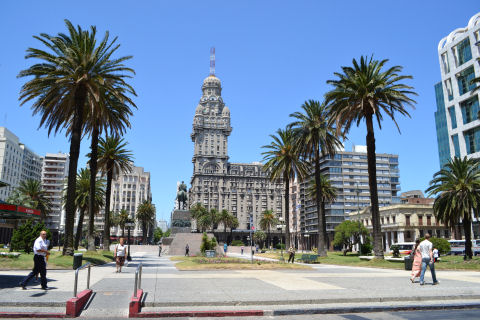 And the plaza itself. The Palacio Salvio in the background.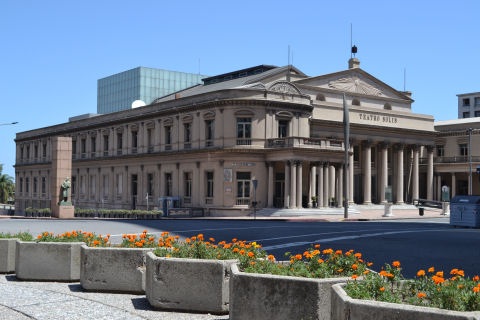 The Teatro Solis, which also houses one of the city's finest restaurants, Rara Avis (we'll get to that).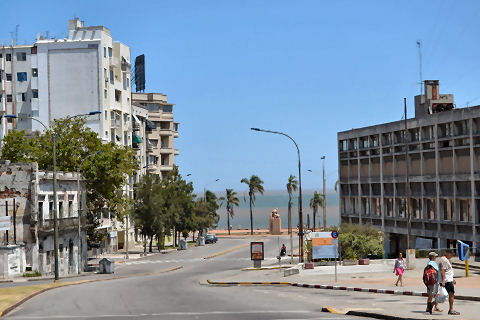 I know they said keep heading east, but the beach looked so inviting just a couple of blocks to the south, so I turned right and headed that way.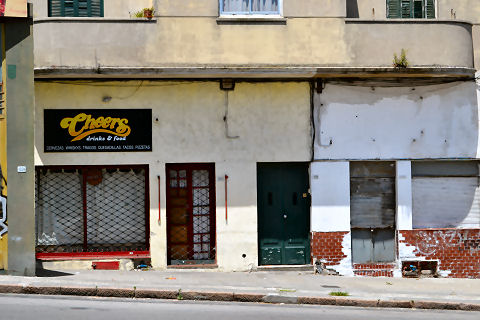 Where every one knows you're name. If they'd been open.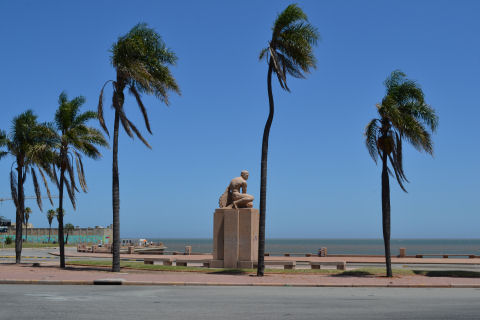 The Rambla Sur (southern boardwalk) and the Plaza España.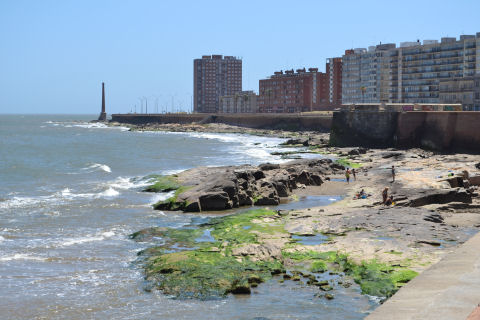 A look west along the Ramblas Sur and Francia to the western edge of the city.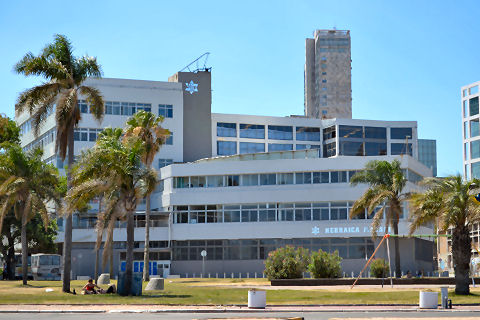 Interestingly juxtaposed the Hebraica Jewish day school and…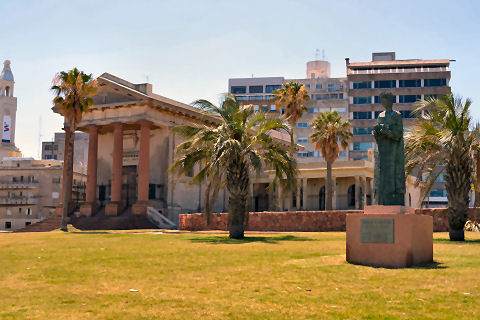 The English Church.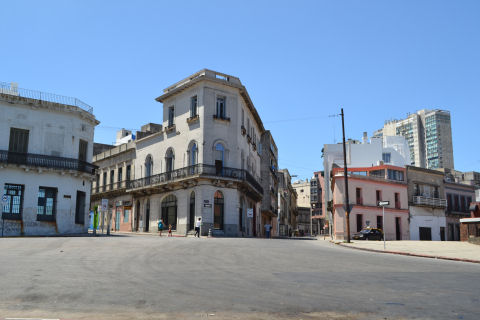 Not having found anywhere to eat along the shoreline, I headed back north to the pedestrian way, where I'd spotted a pizzeria. Figured it had to be better than the other options…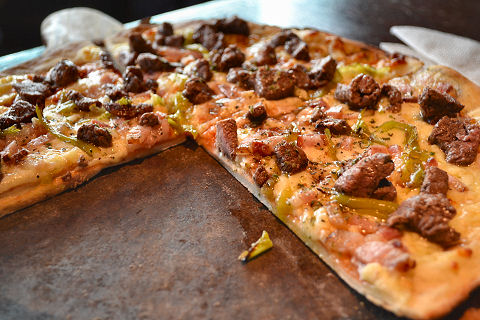 And, thankfully, Don Peperone turned out to be a sort of old-timey pizza parlor/pub kind of spot with listless waiters clearly not thrilled with working a Sunday afternoon. I squeaked in just shortly before they closed up for the afternoon. How could I resist a house specialty pizza called the "Canibale" – with slices of sirloin, bacon, spicy peppers (vinegared medium spicy Italian frying peppers), sauce and cheese. And a nicely charred, smoky crust, thin to boot, and not a mound of cheese. Actually, a pretty darned good pizza, washed down with a bottle of one of Uruguay's local beers, Patricia. Total cost, around 300 uruguayos and change, or maybe $16.
Good stopping place, with a meal.