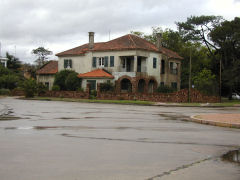 Montevideo – After our two winery visits Daniel took us on a whirlwind tour of Montevideo. Whirlwind was a harbinger of things to come, as I'll get to in a moment. The city is quite fascinating, and had it not been rainy, cold, and windy, we'd have probably enjoyed an indepth tour. The city ranges from beautiful homes in the Carrasco area to small slums that pop up in strange spots. Daniel explained that prior to 2000, there were no slums in Montevideo, and the literacy rate was in excess of 99%. However, the majority of Uruguayan exports went to Argentina and Brazil. As their economies began to collapse, so did the market for Uruguayan products. Pretty much overnight, the loss of their markets and the devaluation of their currency (much of the mechanical equipment in the country was bought in the U.S. with loans from U.S. banks in U.S. dollars – with the economic collapse, the peso went from 15:1 to 30:1 overnight, and people found themselves, in practice, owing double what they'd contracted for. As they've developed new overseas markets the economy is growing stronger, and the peso as well (now 24:1), but trying to re-educate people (literacy is now at only 94%), and get them out of the slums, has proved difficult.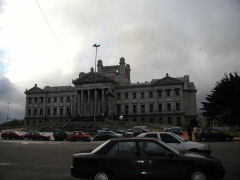 This other picture is the congressional building. Uruguay has a directly elected president, senate, and congress, with five year terms. Possibly the most interesting thing we saw, in a quirky sort of way, is the building that jointly houses the Uruguayan headquarters for Mercosur (South America's major trade organization) and the major local casino. Irony?
By the time our tour ended and we headed to the port for our return ferry ride to Buenos Aires, the wind was quite strong. Initially, a delay was announced, while they waited for the wind to die down. Unfortunately, it turns out that Uruguay, with no history of a problem, has no organized warning system for subtropical storms. After two hours, with the wind and rain steadily increasing, the ferry was cancelled and we were told to go back through customs and make arrangements to return to our hotels. While in line to do so, the wind had increased in force to the point where several plate glass windows blew out, crushing the harbormaster's office (luckily, he'd stepped out for a moment). We were immediately evacuated, but that basically meant standing in front of the port building in rain and winds that had reached 110 miles per hour- a Category 3 hurricane (or, as they put it, ciclón extratropical)! (The last time Uruguay was hit by a storm of this intensity was 1966!) Still, it was a better thing than staying inside, where more windows blew out, and part of the arched glass ceiling collapsed (crushing the duty free shop).
With nowhere to go, we huddled together for the next 40 minutes or so until a couple of the ferry employees braved the elements to reach a bus parked on the far side of the parking lot. They maneuvered it to the front and loaded us up. With the bus rocking from side to side, we wound our way through the streets of Montevideo, avoiding flying debris and trees – the drivers spent two hours delivering people to various hotels throughout the city. Back in our hotel, we were able to get new rooms. With no telephone, internet, or cable service, and occasional electrical interruptions, we had an interesting evening. Since they couldn't go anywhere, the hotel restaurant's kitchen stayed open and cooked us up a pleasant meal of vegetable soup followed by a teriyaki salmon with a roquefurt and bell pepper polenta cake, and pork chops with a curry sauce and crisp shoestring potatoes, and then an apple pancake for dessert! Pretty impressive for hurricane conditions! We were happy we sat away from the large windows, which, though they held out, rattled and shook continually, and one was nearly broken when the hotel's sign blew off the front of the building and crashed in front of the windows.
As a last note on the meal, the restaurant, Azzurro, had a full list of Pisano wines. One we hadn't tasted at the winery was the 2004 Cabernet Franc rosado which was a refreshing, delightful Cab Franc, reminding me very much of a Loire Valley rosé. Ripe red currant fruit, a little spice, and good balance. Recommended (even if my experience might have been colored by the relief of being relatively safe)!
This morning the wind and rain had abated somewhat, though still strong, and the ferry company decided the crossing from Montevideo was too long and rough to attempt. Instead they bussed us back to Colonia where we could take the shorter distance, higher speed ferry. Quite the adventure!
Edit: By the way, not a word on the international news scene that I could find. I guess with wild fires raging through Portugal, a typhoon approaching southeast Asia, and Pat Robertson calling for the CIA covert operative assassinations of presidents, Uruguay just didn't make the news.