Five years ago, back in our themed dinner days, we headed off to Middle Earth to celebrate Hobbit Day 2007, the 70th anniversary of the publication of the book. You can read all about it here. Although we've dropped the themed approach for the majority of our dinners, sometimes there's still an inspiration from one or another holiday, day in history, or past dinner. This weekend I decided to go back, rework, and celebrate Hobbit Day 2012, the 75th anniversary. I'll be honest – on that first dinner, I only posted one of the photos, the dessert, because you know what, when I looked at what I'd put together for that evening, I simply wasn't happy with most of it.
And, although we got one positive comment as feedback from one couple between the two nights, the majority of the 20 folk who attended didn't respond, which isn't usual and probably speaks to the general feeling of the guests as well – including two regulars who always used to give me detailed feedback and apparently chose not to. Thankfully, the one who still spends time in BA still dines with us when he's here. Live and learn and put these things behind you. That's the kind of thing that inspires me to work harder and improve.
So, I thought I'd haul the photos out of the electronic mothballs they've been in and do a little compare and contrast with what I did this time versus what I did then. A sort of Before and After hobbit dinner.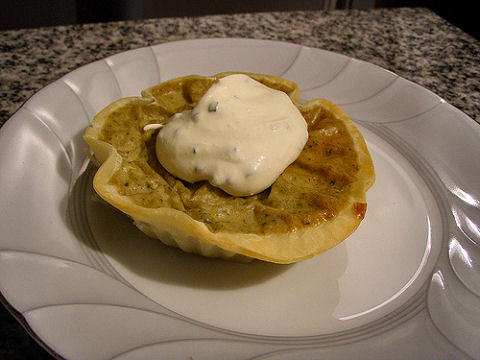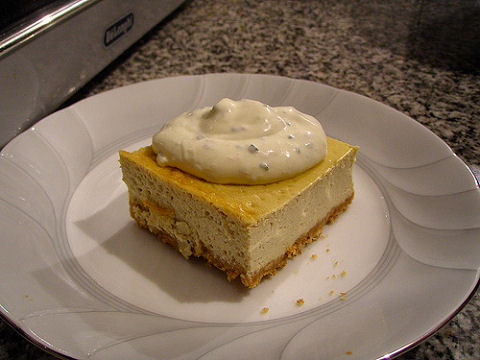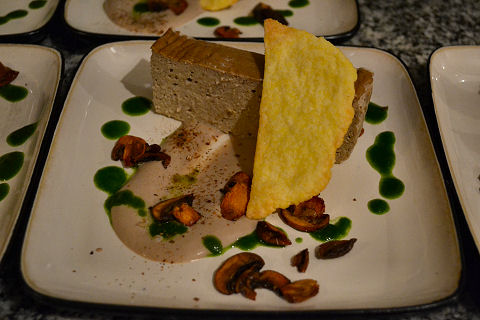 Wow. So, the first picture was a tartlet using empanada dough filled with a mushroom cheesecake mixture, and the second was done with a cracker crust in a baking pan and then cut in squares. Both served with what was essentially chive whipped cream. Contrast that with our "textures of mushroom" plate from this weekend's trio of dinners, a take on our recently popular textures of tomatoes plate. Here, a slice of pine mushroom and red onion cheesecake, a raw button mushroom puree spiked with a touch of bergamot oil, some powdered black mushroom, crispy baby portobello slices, a chive-argula puree, and a polenta and gran pampeano cheese crisp.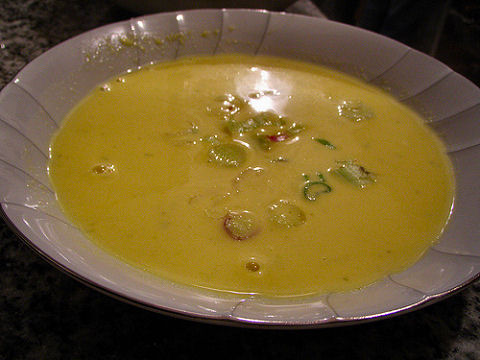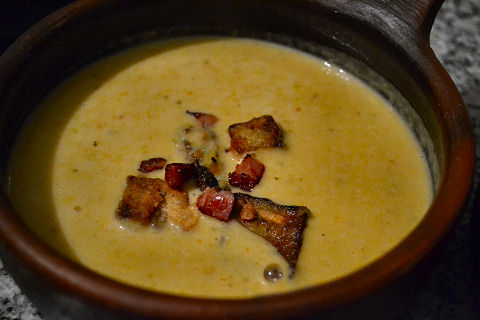 While both versions of a cheddar and beer soup were good, there's no question there was an improvement from the earlier version to the current one. The original was a somewhat classic English recipe of beer, beef stock and vegetables all pureed together and finished with cheddar cheese. The new version, same vegetables, slowly cooked down, then a pale ale (Barbaroja's Diabla) added and brought to a simmer to cook out some of the alcohol. To that, a mix of whole milk and vegetable stock, brought to a simmer to meld the flavors and then blended in a mix of cheddar, mozzarella and gouda cheeses, and just a little bite from some hot Chinese mustard. Topped with bacon lardons and deep-fried eggplant croutons.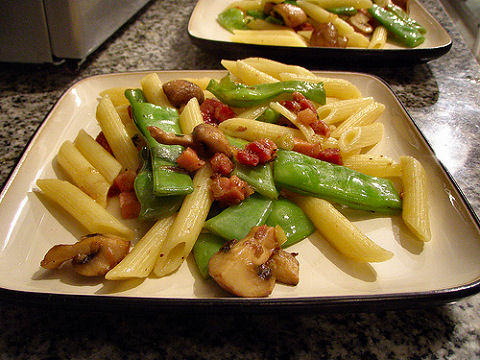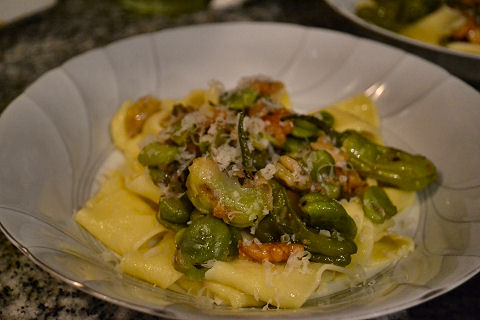 2007 was back before I was regularly making my own doughs – be they breads or pastas – and the original dish was simply boxed penne cooked to al dente and then tossed with olive oil, quartered mushrooms, Italian green beans and bacon. A complete reworking of the dish, with some inspiration from Missy Robbins at A Voce Madison in NYC, handcut semolina pappardelle tossed with frantoio olive oil, and topped with a saute of garlic, lemon zest, rosemary, walnuts, fava beans and padrón peppers, and then finished with grated romano cheese.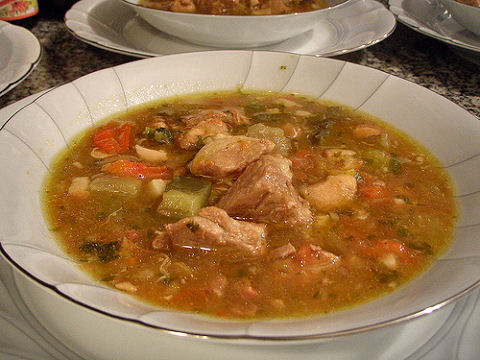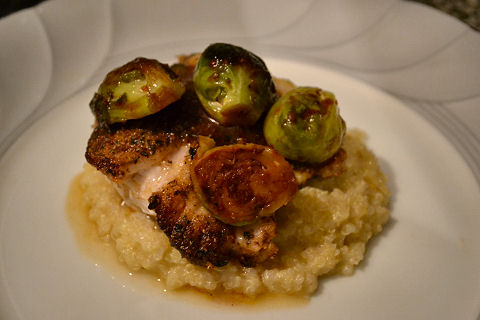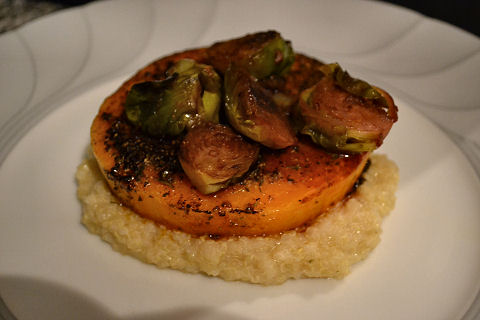 A complete change of dish here. The original "hobbit stew" was a rabbit and pork medley spiced with ginger, onions, green and red peppers, bacon, herbs, and finished with marsala. It was a good stew, but just doesn't fit my style of cooking as it's evolved. The new main course was a spice and herb crusted grouper (I had planned to use local catfish, the whole freshwater fish – Gollum connection – and couldn't find any in the markets – the first night I used boga, a different freshwater fish, but it was extremely bony and I wasn't happy with it, so I changed it up the next two nights), served over creamy quinua, and topped with caramelized brussels sprouts. For a trio of vegetarians one night I made the same dish with thick slices of butternut squash filling in for the fish.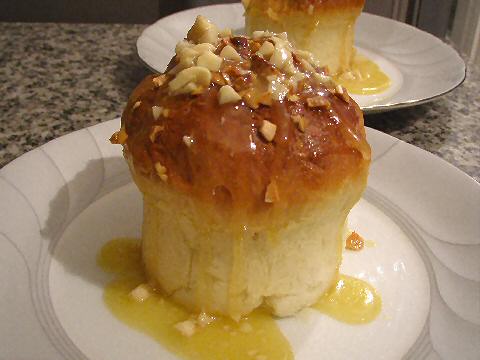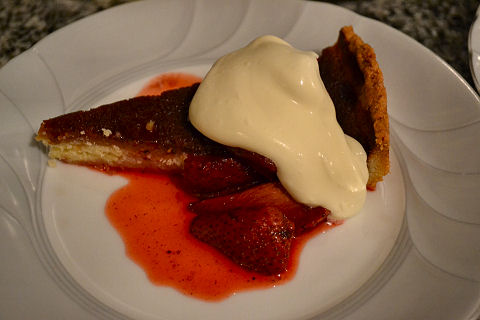 There was actually nothing wrong with the honey cakes drizzled with honey and toasted almonds that I made the first time around, other than that perhaps they just weren't really a dinner dessert – they were more of something you'd have with coffee after brunch. They were delicious, but just not it. And although hobbits are particularly associated with honey cakes, I decided this time around to make honey pies, with an almond flour crust, and top slices of it with honey and vanilla roasted strawberries and some lightly sweetened whipped cream.
The Evolution of the Hobbit Dinner. Let's say we revisit it in 2017 for the 80th?