Just a little side trip back here to home in the midst of all this eating out (30 restaurant visits in just over two weeks), to look at the limited Casa S dinners that we had. With Henry away and the friend who in the past has filled in for him unavailable, I kept it to just a trio of dinners, one a week, with our alternate dishwasher filling in as a waiter. He did a remarkably good job and the dinners came off without any real hitches (one night he used up all the champagne by the time he was only 3/4 of the way around table and it required a little communal cooperation to get the glasses evened out, but everyone took it in stride). Because I didn't have a lot of time spent in the kitchen to play around with new ideas, mostly the dishes served were ones from the past, but I still got in a little experimentation here and there and I've picked out those dishes to share.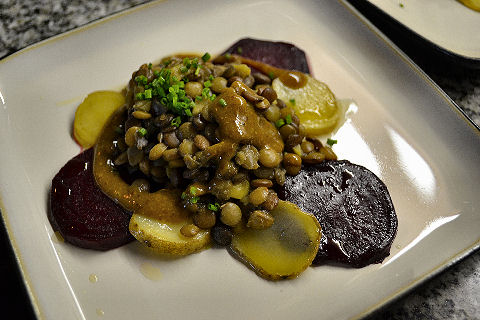 We've offered up our lentil stew now and again as an accompaniment to a main course, but it's a dish that we often just simply eat as a main course here at home. I wanted to give it a little more front and center role, so one week served it up as a warm "salad" – served over slices of roasted beets and olive-oil confited Andean potatoes, just draining the liquid off of the lentils and finishing them with some chopped green olives and watercress, and then drizzling the plate with a balsamic, anchovy and stoneground mustard vinaigrette.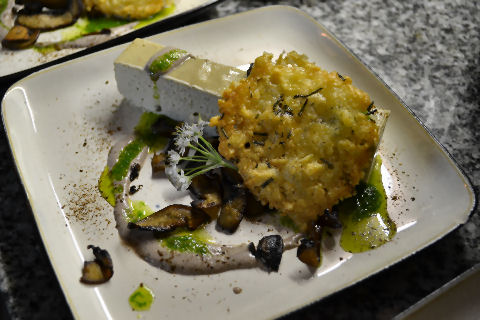 A slightly new version of our mushroom cheesecake, or textures of mushroom dish, as I continue to develop the dish. Mostly in the plating, but a few ingredient changes as well. No pine mushrooms available but shiitakes were around, so a shiitake and red onion cheesecake with a hit of togaroshi, Japanese chili mix, in it. The puree, a raw oyster mushroom puree with a hint of garlic and bergamot. Chinese flat chive oil. Deep-fried portobello slices. Dusting of powdered shiitake. Japanese garlic chive (nira) flowers. Replaced the polenta crisp with a parmesan and rosemary tuile.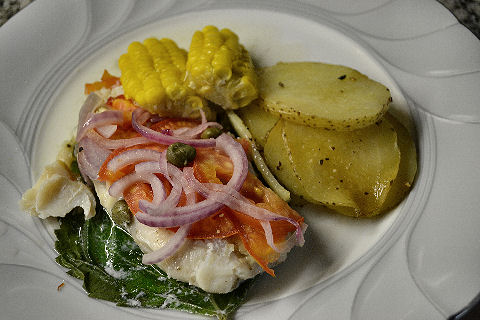 And, another step up on our Patarashka, inspired by our trip to Iquitos. In general I liked the way it had turned out the last time, but wanted to change the accompaniments and also infuse more flavor into it. So instead of broiling it, I cooked it en papillote, or at least in foil. For each portion I lightly oiled a square of foil, placed a shiso leaf on it, then a lightly seasoned fillet of cod, topped that with grated ginger and garlic, chopped red finger chilies, sliced tomato and red onion, and capers. A little more salt and pepper and a drizzle of oil, sealed them up and baked them that way. Served with more of those olive oil confited potatoes (which seem to be a hit – really easy – just thinly slice potatoes and toss them with a little salt and pepper, put them in a baking dish and cover with olive oil, into the oven for about 45 minutes until bubbling away and cooked through, plus they soak up that olive oil flavor), and some corn. I'm trying to get the corn right and haven't quite figured it out – I like when it's presented in little planks that way, but haven't figured out quite how to get them to hold together without a bit more cob than I'd prefer. Anyone who knows how to do that better, I'm listening….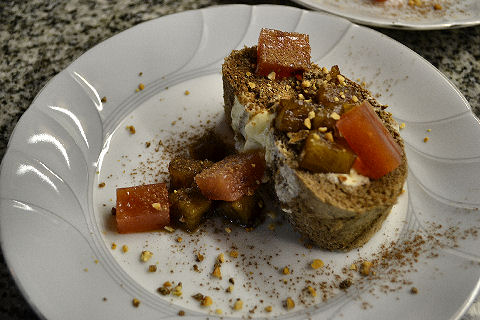 I'm calling this "King Kong Tiramisu". It's not quite where I want it to be, but it's a mashup of the traditional Peruvian "King Kong", which is one of those treats you have to sort of experience to really get, but basically it's a giant sandwich of different layers that include manjarblanco, the Peruvian version of dulce de leche, quince paste, peanut paste, chocolate, candied pineapple, and sometimes other things and sometimes leaving one or more of those ingredients out. What I did is treated the tiramisu part like a pionono, or jelly roll – cocoa based sponge soaked with espresso and brandy, rolled around a traditional tiramisu filling (sabayon, mascarpone, whipped cream), and served with a Tia Maria caramel, crushed peanuts, dice of quince paste (that was an experience to make in and of itself), and fresh pineapple caramelized in chancaca, a raw sugar that's been crystallized with honey. The flavors all work, while the plating needs work. To be continued.