I am breathing a sigh of relief, as is my bathroom scale. Eating shall return to normal, with some moments taken out for simply not eating or just having a salad or some such. The last five spots to be covered for the next edition of Fodor's are under the belt, and the writing is done. Unless there are any requests from the editor for more, that should be it. Because two of them are a bit longer posts, I'm going to split the write-up here into two.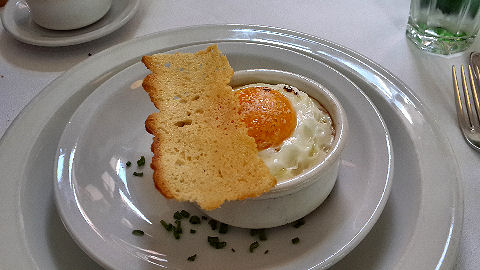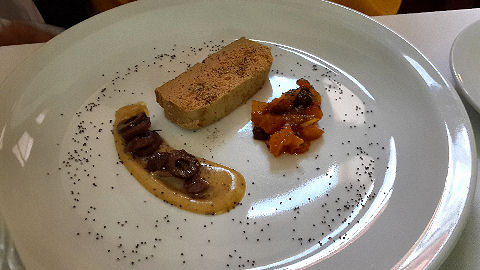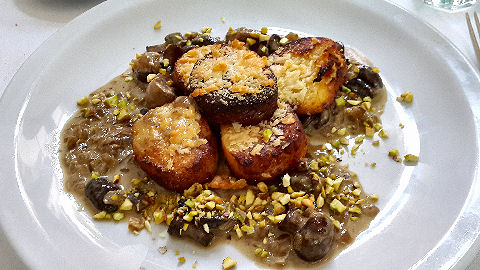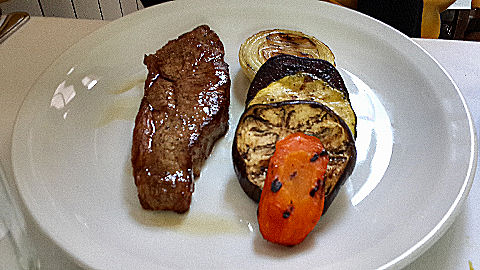 Five years ago a quartet of us popped into
Social Paraiso
, Honduras 5182 in Palermo, on a Saturday night and snagged a table without a problem. I noted that nearby places were teeming with folk and that wouldn't have been possible at any of them. A revisit this last week for lunch found that other places on the block were hopping, not full, but busy, while once again, two of us grabbed a table without issue – only one person was in the restaurant and two more came while we were there. At the same time, the place is still there. I've just never seen it busy, though it must be busy enough to keep chugging along. In terms of my thoughts on ambiance and service, pretty much the same as the last time, without the one misstep I noted then – still, that one little glitch was somewhere in the back of my mind enough that despite having enjoyed the food, I've not been back for these five years. 
[Closed]
Service is as important as what's on the table. I remember about fifteen years ago the National Restaurant Association in the U.S. did a survey of a few thousand customers on why they chose to return or not to various restaurants – overwhelmingly it showed that most people felt that as long as the food was at least good, how they were treated mattered more – they were more likely to go back to a place with basic, average food where they were treated well than to a place with amazing food where they simply felt like they weren't important to the staff.
The food remains simple and rustic. At lunch there's an 85 peso prix-fixe two course menu, which my lunch companion opted for – a simple country pate that he enjoyed thoroughly, and a steak, which they were happy to sub in some grilled vegetables for the potatoes, but for which although ordered muy jugoso or "very rare", came out pretty much well-done. I ordered off the regular menu – a delicious baked egg over creamed leeks and smoked salmon, and an equally tasty plate of semolina gnocchi with mushrooms and pistachios, though a bit overcooked as well – kind of charred on top. Service was friendly and perfectly adept. We enjoyed ourselves but neither of us was wowed by anything – good ideas, just not well executed. The a la carte menu is a little pricey for the quantity of food – it's in line with prices of other places in the neighborhood (60-80 for appetizers, 80-140 for main courses), it's just there's not a lot on the plate. Still recommended, though I doubt I'll be rushing back.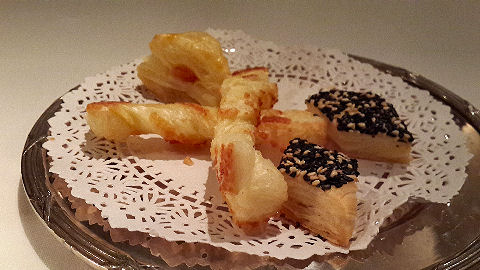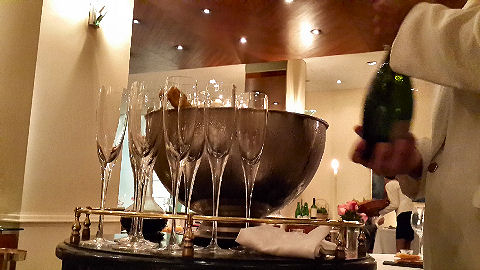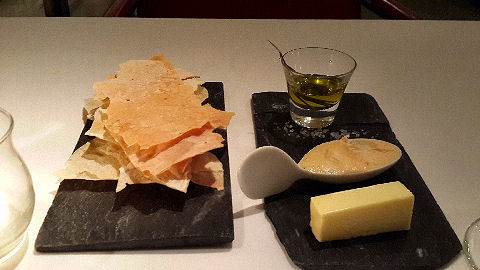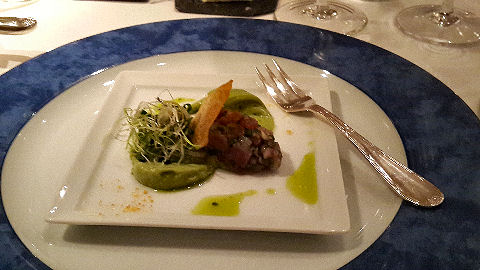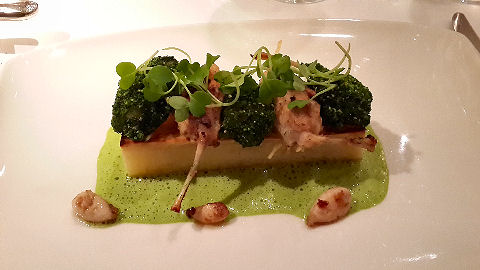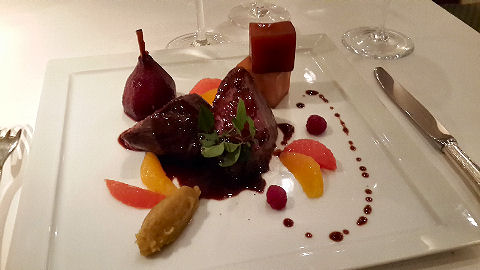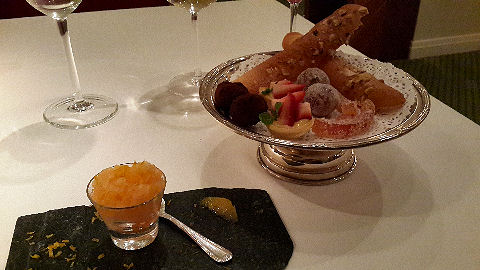 Oh, be glad I didn't do the tasting menu at
La Bourgogne
in the Alvear Palace Hotel here in Recoleta. I'm not sure I would have survived, though one day I think it might be fun to go back and do it. I'd guess that the place is the most expensive restaurant in the city – I could be wrong about that, but with both appetizers and main courses running somewhere between 300 and 400 pesos a plate, wines at 95 a glass, water at 45 for a small bottle, it adds up. The tasting menu runs 1200 for seven courses with six wines so is actually a deal in comparison as you could easily spend that and more on a three course dinner with wine. The place is located on the lower level of the hotel, facing onto Ayacucho, the side street. It's a very pretty room, done up in white and red. I'd like to say that the service was flawless, but it's not. It's great service, among the best that I've had in Argentina, but it has its oddities and imperfections.
Pampered from the moment I sat down, as is everyone there, a plate of gougeres came to the table before anything else – little buttery puff pastries – plain, salmon, seeded. This was followed swiftly by a second waiter with a champagne cart and the offer of a complimentary glass of domestic or French bubbly – I went with a glass of Luigi Bosca Brut Nature. I assume the hotel must have some deal with Bosca as all the wines by the glass are from them. Then a plate of thin, crispy flatbreads accompanied by butter, olive oil, and a smoked salmon pate were placed on the table. Then, the menu arrived, along with another waiter – the captain I assume given his dapper black suit as opposed to the white vests the rest of the staff wear. First minor flaw – he never seemed to get close to the tables that he was dealing with, other than to hand the menu. He stood a good 5-6 feet away from the table while talking to me, with his hands clasped behind his back, and the same for everyone else he dealt with – it just felt weird, and he was the only service person who did that. We discussed the tasting menu option and actually the reason I decided against it was because the two dishes that caught my eye weren't part of it, and one of them is the chef's signature appetizer. It's also the last time the captain came to my table during the entire evening, very odd.
After my order was taken, next up came yet another waiter, this time with a basket of breads – as if we weren't already a bit carbo-loaded – I like that there are extras, but between the puff pastry, flatbread, and regular breads, it's a bit much – still, I sampled a single black olive roll. And then, the sommelier. Given that I wanted just a couple of glasses, it made it pretty easy, there are only two whites and three reds available, all from Bosca. I decided that the 2013 Chardonnay made more sense with the frogs' legs appetizer than the Sauvignon Blanc and he concurred. But, before the appetizer arrived, a small plate of tuna tartare with avocado cream and chive oil, a lovely way to "start". On to the legs… spectacular. Truly spectacular. Easily the best preparation of frogs' legs I've ever had. Silky smooth but still somehow solid block of mashed potato, roasted garlic veloute, parsley foam, and alternating the legs crusted or not in parsley. Beautiful presentation. Another service misstep – by this point I'd finished off my glass of water and no one came by to refill it – they keep all the bottles off to the side on another table, so it wasn't something I could really do myself.
Main course, venison. Perfectly cooked to just past rare – I left it up to the kitchen. Accompanied by caramelized squash and sweet potato, black currant and cocoa. Maybe just a trifle on the sweet side of agridulce for my tastes, but no complaints, truly. The wine choices were from the three red "Gala" blends of Bosca, we agreed on #4, Cabernet Franc with a touch of Malbec – paired beautifully. The sommelier was also the one who suddenly noted my empty water glass and refilled it. Then… everyone just sort of seemed to disappear after my main course was cleared – no, that's not true, they didn't disappear, they just got really involved with a couple of other tables – one of which seemed to be a couple of regulars from the hotel, the other a quartet of very loud and obnoxious German women who were blitzed out of their minds when they arrived and were getting steadily more so. And the rest of us were ignored. At the moment that my plate was cleared the waiter clearing it asked if I'd like to have the cheese cart brought over or see the dessert menu – I asked him to give me a few minutes to finish my wine, which I did in about five.
If I'd been out just dining I'd have waved someone over after that, but I decided to see how things went. It was a solid thirty five minutes after my main course was cleared before anyone came to my table, at which point he didn't bring a menu, but just asked again if I wanted the cheese cart or a dessert – I was tempted, but decided not and asked for the check. He still didn't clear the empty glass. Ten minutes went by, no check, but a plate of petits fours and some orange sorbet came to the table. I nibbled at it a little, but just couldn't. Another ten minutes went by. I finally waved the waiter back down and asked again for the check, which at this point he brought in about five minutes. I paid, got up and headed to the door. Finally, the captain reappeared and with a host met me by the door, handed me a little breakfast baked good "for the morning", and wished me a good evening. No question, overall, a delightful experience, great food, mostly great service, and great ambiance, so certainly Recommended. I'd like to go back again, perhaps to try the tasting menu sometime, before I'd go for any more than that, though my guess is it could easily fall into my Highly Recommended category.