Although we've stopped posting just key flavors as a menu preview and gone back to actually listing the planned dishes (still subject to last minute alterations for any of a variety of reasons), there still is at least a key flavor behind each dish. Sometimes more than one, but usually something that is the star. Let's jump right in to last week's dinners and take a swim in the deep end: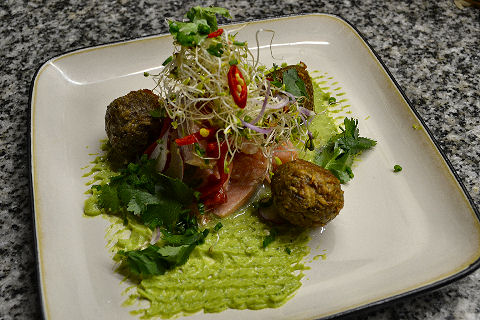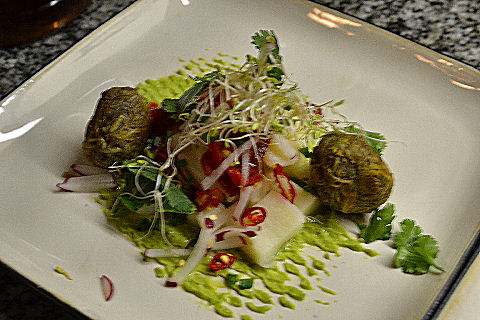 A reprise of our trout ceviche dish, the evolution of which I went into far more detail (fascinating, of course), here. For some vegetarian guests over the course of the week, the same dish prepared with heart of palm in place of the trout.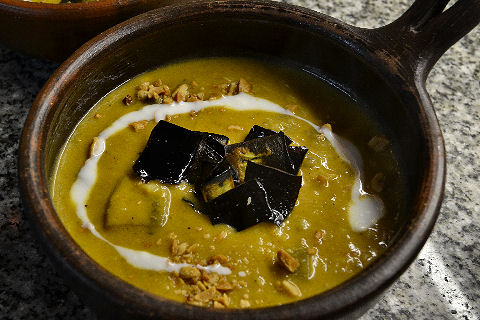 Although there were raves about all the dishes at one point or another, I think the spicy peanut soup garnered the most praise, with more than one person asking for a refill. The base started with slow cooked onions, garlic, ginger, two different kinds of chilies and a mess of spices, then to that added in both fresh tomatoes and tomato paste, peanut butter, and topped it off with a light vegetable stock. Cooked for a short while to meld the flavors then added in peeled and diced eggplants and sliced green beans, cooked until they were soft, adjusted the seasoning. Served with crushed, toasted peanuts, lightly salted yogurt, and the deep-fried skins of the eggplants.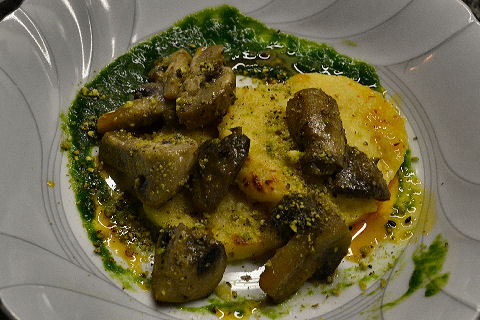 Okay, the plating, once again, needs some work, but this was my favorite dish, and a couple of other folk thought so too. Semolina gnocchi, parsley puree, caramelized mushrooms with crushed pistachios and green peppercorns. Inspired by a dish that was good but not quite there at Social Paraiso a couple of months ago.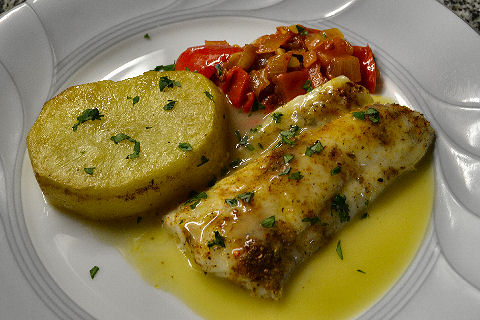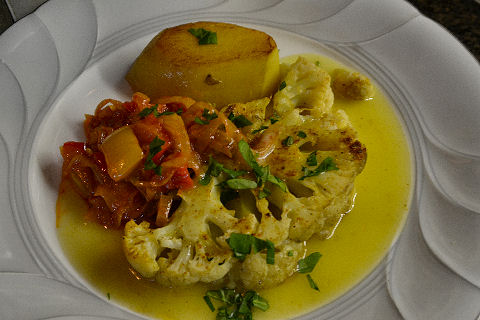 And a bit of a reworking of… no, that's not quite right, it's just a new dish using our al ajillo sauce – I've done a couple of different fish dishes, but nothing quite like this. Here, pollack dusted in a blend of middle eastern spices served with a thickened al ajillo sauce (head of garlic poached in olive oil and butter until soft, add white wine and vegetable stock, cook to burn off some of the alcohol and raw wine flavor, puree, strain, thicken with cornstarch dissolved in a little more stock. Served with a fondant potato and a confit of peppers, onions and garlic. For the vegetarian folk, I went with the cauliflower steak idea, also dusted in spices.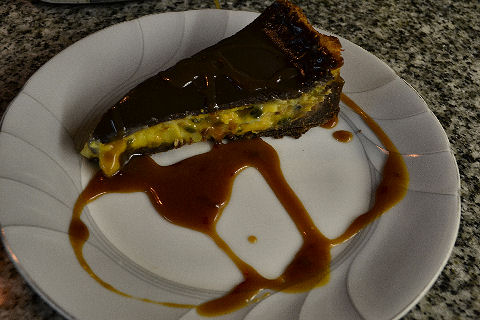 And, a return of our chocolate passionfruit tart with soy chili caramel.
Tourism is so quiet right now, BA feels a little ghost-town-ish. Some of that I suppose is a lot of locals as well being away for the World Cup. Everyone's hanging out in Brazil! Gives me time to play in the kitchen with some ideas for upcoming menus….