We'll go in for a a group of pizza spots this time around, moving the great 92 bus pizza trek ever forward. We pick up again in Caballito on the return leg of the journey.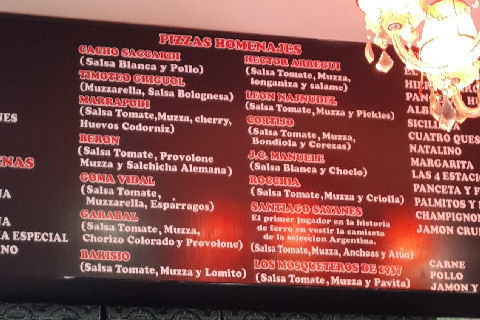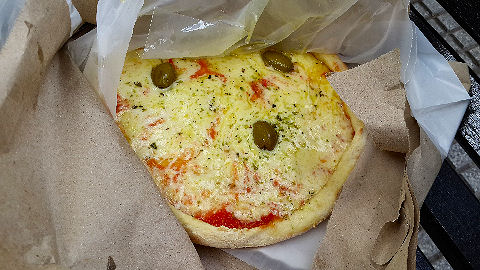 (49) So the first spot (at least that's open during the day, I still have to decide what I'm going to do about the nighttime only spots – let's see how the numbers work out) is
El Gran Corsini
, Av. Avellaneda 1205 at the corner of Espinosa. It's directly across the street from the Ferro Carril Oeste stadium (soccer and basketball being the club's most widely recognized sports, but they have teams in various others as well) – I guess on a purely location basis I can understand naming a local team after the train line that runs next to the playing field, but surely they could have gotten more creative than that? Though, that does bring up an interesting thought – teams here are known by their location – I'm so used to
norteamericano
teams being known by their mascot more than point of origin. But enough about that, unless of course you're going to order one of the specialty pizzas from this takeout only spot – all named after players and coaches of the team from years gone by. Most of the combos sound interesting, though I have to wonder what basketball player Miguel Cortijo did to deserve the questionable honor of a pork shoulder and cherry pizza, or J.C. Manuele getting tossed a corn and bechamel sauce pizza.
Back to the pizza in question. In the evening, they only offer up six and eight piece pies, but at lunch, they have a special with an individual sized four piece mozzarella pizza and a can of Coke for a flat 45 pesos. They're busy – not only around a dozen folk came in and placed orders and waited for one thing or another (mostly empanadas it seemed), but, the phone rang pretty much non-stop, with two people answering lines and taking orders, so I gather they're quite popular in the 'hood. That said, it also slowed things down, and my individual pizza took 37 minutes to make it into my hands. Then, where to go? They have a bench out front, but it was a chilly day. Still, I stopped their for the photo and then I just tore pieces off as I walked – turned out they'd forgotten to cut the thing into slices. Still, all in all, worth the wait, an excellent pizza and if I lived over that way it might just be a favorite – great crust, sauce and cheese!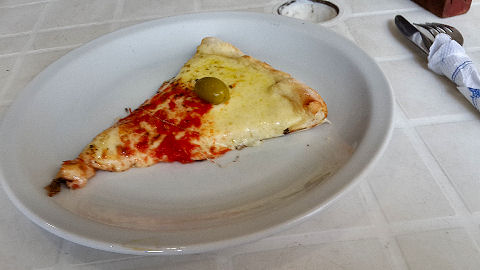 (50) At the confluence of Avellaneda, Colpayo and Neuquén there's a bit of a traffic mess, and crossing streets at that intersection is a dicey game of chance. And, there are two pizzerias facing onto the kerfuffle. First up,
Los Gigantes de la pizza
, Neuquén 759, which, thankfully, has both seating and pizza by the slice. Not a bad pizza, not a good pizza, just kind of average in all ways. The crust was okay but could have been a bit more cooked, the cheese was decent, the sauce was pretty much plain tomato paste, and strangely located, as you can see, just sort of spooned randomly across the top. Meh. 
[Closed – replaced by a new pizzeria, Los Salteños]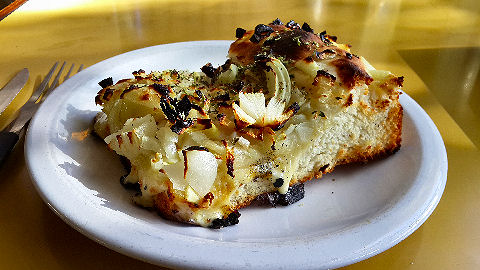 (51) What the hell is that you might ask? It's a
fugazzetta
, basically foccacia bread topped with mozzarella and onions. It's not what I ordered at
La Posta de Caballito
, Neuquén 754, which was a slice of mozzarella pizza. When it was delivered to the table and I questioned its arrival, I was told by one of the fairly snippy staff (not one of them was pleasant at the counter or in the dining room) that it's the only thing they have by the slice, all the pizzas are either six or eight piece. I pointed out that they could have told me that when I ordered a slice of mozzarella pizza and his response was, "didn't think someone like you would know the difference" (like me?
yanqui
? white? gay? short?). Beyond the bad attitude, the fugazzetta was mediocre at best, the dough barely cooked through, the cheese still cold, and the entire thing flavorless. Unfortunately, I'd paid for it already when I ordered at the counter or I would have simply walked out. Needless to say, I'm not going to bother to go back and try the pizza – given the dough and cheese I can't imagine it's particularly worthwhile anyway.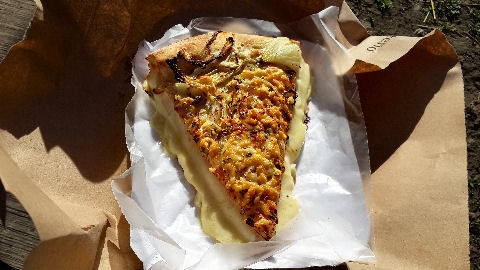 At least at
Rincón Norteño
, Dr. Honorio Pueyrredón 405, corner of Avellaneda, they're upfront about not having slices or small pizzas. In fact, they only have one size, and it's a big one, roughly an 18″ across pie. In fact, the only thing they have by the slice isn't even a regular
fugazzetta
, like above, but a
fugazzetta rellena
, or stuffed focaccia – this is pretty much what a "double stuffed crust pizza" only fantasizes about becoming. Not only that, but it may be just about the best thing I've eaten on this trek, which is a surprise to me, but my god it was good. Imagine (well, look at the picture) a cracker thin crust topped with a layer of ham, sweet onions, and a massive amount of really excellent quality mozzarella. Top that with another cracker thin layer of crust, seal them together at the edge like a pie crust, then top that with a layer of ham, a layer of caramelized onions, more mozzarella, and a good coating of pamersan. Then bake the whole thing like a pie, and to serve, stick the individual portions under the broiler to give the topping a beautiful golden brown, lightly crispy surface. One slice is a full meal, and easily weighs in by itself at half a pound or more – you can't really tell the scale from the photo, but figure that that slice is a solid 9″ from tip to outer crust.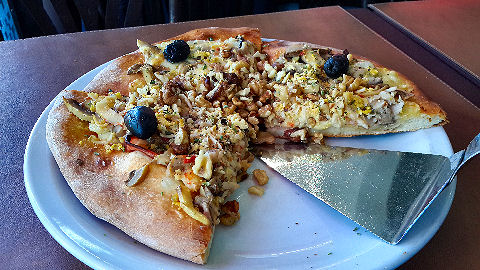 Finishing up this round, and probably until we get back from vacation in August,
El Destino
, Av. Díz Veléz 5600 at the corner of Honorio Pueyrredón. As long as I've strayed from straightforward mozzarella slices, which let's face it is getting boring all around, and after all, nothing in my dream said it had to be plain cheese pizza – I decided to order and individual size pizza of the named house special. Why not see what they're signing their name to? First, it's one of the biggest individual sized pies I've encountered – the waiter said it was the same size as the plate on the table, about 6″, pretty standard, but it's far bigger, about 10″ across. Now, the concept of this particular signature pizza didn't sound half bad, albeit odd – tomato sauce, mozzarella, ham, mushroom, egg and walnut. The problem is in the execution. Bland, though nicely crisped crust and equally bland tomato sauce, mediocre cheese. If that wasn't just "meh" enough, the grated hard boiled egg and chopped walnuts were clearly put on after the pizza came out of the oven, they were cold and the walnuts raw. The worst, however, were the mushrooms – right out of the can, not even rinsed or anything, just sort of slimy and tinny – and
I don't have a high opinion of canned mushrooms to begin with
. If I'd ordered just a plain pie this would probably be "okay", so that's what I'm giving it, just avoid the house special.