Having been gone for a month, it's been awhile since I've headed out on the great pizza trek. We left off having just hit the edge of Caballito. The path from here, at least for a bit, will straddle two zones at once, as we move along Avenida Corrientes, a hotbed of pizzerias – first, on one side Villa Crespo and then Palermo, while on the other, Balvanera and then Recoleta, as the bus line shoots down the frontier.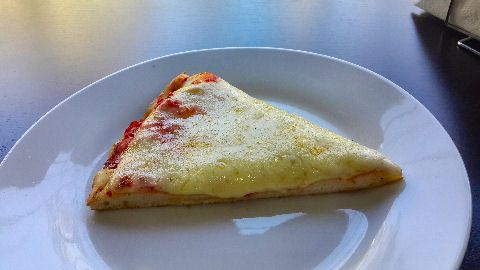 (54) It was inevitable, I suppose, that given that this march across the city is now coming up on the two year mark (I think I can actually finish it before we get there), that places might close and others might open. And, close by to home, I happened to notice on my return from vacation that a new pizzeria had popped open right here in Recoleta along the route.
La Burdalesa
, Av. Las Heras 2701 is attached to a cafe and bakery of the same name and is serving up medium sized pies, plus slices. It's mostly a to-go kind of place, but they do have a small counter with three barstools where you can sit down and grab a quick bite. The plain mozzarella slice could probably win aesthetic awards for the most unadorned, plain jane slice I've seen on this project, but it all comes down to taste. The crust isn't bad, it has a nice lightly smoky flavor, the sauce is fresh, if a little bland, the cheese, likewise, a bit tasteless. They clearly sprinkle salt over the pie at some point as some of the bites were very salty and others were not. Not bad, not good, just kind of there. I probably should have left this for the return stretch along Las Heras, but, so be it.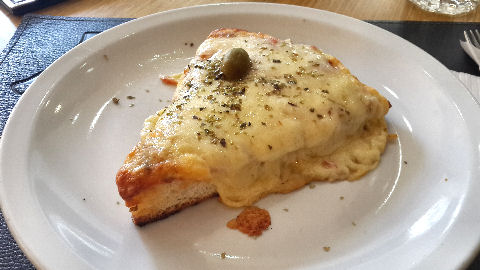 (55) Back on the route and picking up at the corner of Av. Corrientes and Panama, we find
Pizzeria Catania
at #4656 on the avenue. Obviously a very different style of pizza slice. The crust is very "bready", in fact, sort of tastes like buttered toast, which is a little odd. The sauce, nice and flavorful, the cheese, gooey and browned, and reasonably decent in flavor. It was good, though not one I'd rush back for.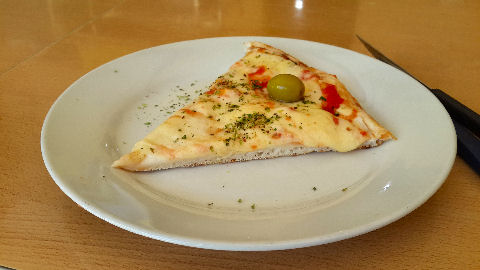 (56) I thought I was going to have another one that had to be put in an on hold situation. Arriving at
La Dorita
, Av. Corrientes 4394, I was told that they only offer large pizzas, 8 slices, and I just wasn't in the mood. But, when I said "thanks, perhaps another day", he said, "well, we do always have a pie or two made if someone wants a couple of plain slices, but I can't recommend it because it's expensive". 12 pesos, while a whole pie is only 38, just about the same as three slices. Hey, I only want one slice, heat it up. I'll live with the dollar spent. One of the thinnest pizzas I think I've seen on this journey – the crust more or less cracker thin, almost like a grilled pizza, the sauce flavorful but a mere whisper, the cheese, decent, a little sprinkling of herbs and touch of salt. The problem I have with this one is that the pizza's so thin it just sort of disappears when you eat it. I probably could have eaten a whole pie, all eight slices stacked up wouldn't be a whole lot taller than some of the single slices I've found along the way. It was good, but again, no rushing back.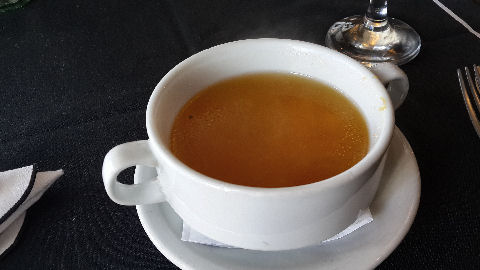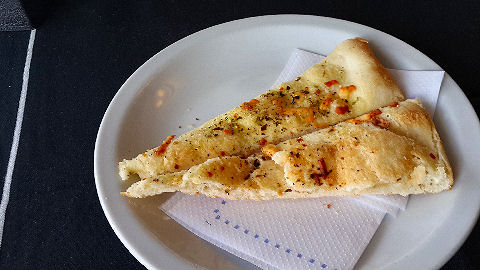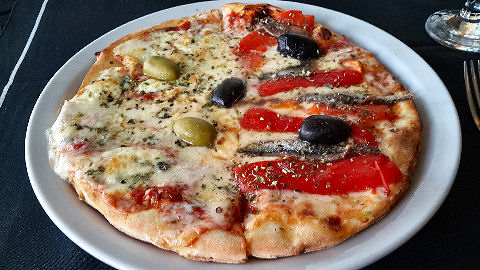 (57) Moving along to the next corner, Palestina, we found
Las Floristas
at Corrientes 4299. A two-story affair, no pizza by the slice, just individual, small and large. The individual, despite being "just four pieces", is a bit of a whopper. But unlike some places, on this smallest size, they will make them half and half, so we went for a plain cheese and a Romano. First, however, we were brought bowls of soup – well, broth – "for the cold weather", which we were instructed to pick up and drink before our pizza arrived. And pizza bread, because pizza alone is apparently not enough. On to the main event – the crust, okay, a little bland, the sauce fresh, but also a bit wimpy. But, oddities on both halves – the plain mozzarella was mixed with blue cheese – now, personally I love blue cheese, but I could see that being a bit off-putting to some folk, and it's not that it was pre-mixed or a bleed-over from the Romano side, which was listed as "sliced fresh tomatoes, garlic and anchovies" arrived with bell pepper and anchovies – it had no extra garlic and no blue cheese, which would have been overkill. Meh.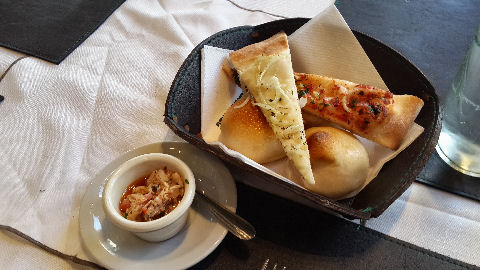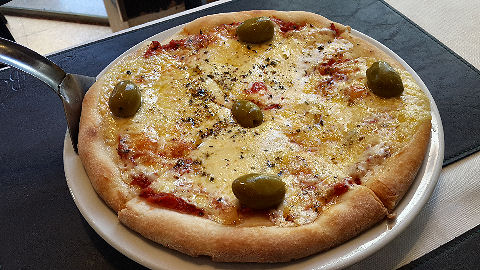 (58) This was turning into a bit of a bore-fest (spread out over two days), and unfortunately, the next corner (Gascón) at
Jimbo
, at Corrientes 4199, just didn't do any better. More pizza bread, two types here. The individual sized pie, a bit more normal in diameter, is "too small to make it half and half" – not really, but okay. More blandness all around. This stretch of Corrientes is just not winning any awards from the 92 Bus Pizza Trek Team.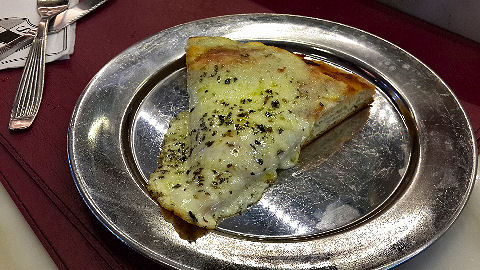 (59) At
San Miguel
, Corrientes 4200, right across the street, we were reaching the complete yawn point. Here, at least individual slices available, both at the table and at a stand-up counter where we just grabbed a single plain slice and split it, our hopes now dashed against the pizza stones of the Avenida. A step up, at least, nicely smoky crust, decent sauce, cheese that had a bit of flavor, and, they had a selection of "condiments" – with salt, pepper, garlic powder, oregano, and red pepper flakes all being available to add a little more oomph. A vague glimmer of hope was raised in our spirits.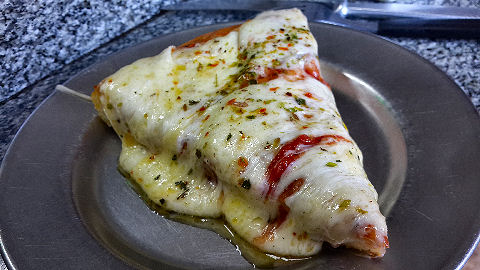 (60) At least we had the energy to go on – and two blocks further on wandered into the near 90 year old
Pin Pun
at #3954. The name is a slang term for two things that are basically the same, or equal – I'm not sure how that applies to a pizzeria – sort of like, "Just Alike Pizzeria" – maybe it was started by twins. Visually, we weren't holding out much hope when this slice got slapped on a plate – I mean, it's oozing oil like the Exxon Valdez. Sighing, we cut it up and dove into the pieces. Oh my. Near perfect crust. Great tomato sauce. And despite the ooze, absolutely delicious, gooey and flavorful cheese. No wonder their claim to be Almagro's favorite pizza since 1927 – just all around "Yum". That's no same-same pizza. We'd go back.
(61-63) The next stretch of the trek turned out to have three "repeats" swiftly in a row – and as I've mentioned before, we're just numbering the repeats in chains and not going in and trying them unless we could think of a reason to. So, at Corrientes 3828 there's a Todo Relleno; at the next route turn onto Mario Bravo there's a La Continental, Corrientes 3701; and then just a couple of blocks down there's a Los Gigantes at Tucumán 3600.
Now, given the number of places that we've skipped over because they haven't been open at times we've passed by (quite a few that are open evenings only), or for one or another reason (only large sized pizzas and/or to-go being the most common), and having scoped out the route ahead, there seem to be somewhere between 25-30 places left on this trek, so it may turn out that the dream was right on target. The remaining spots may take a bit longer to get to just because of the reasons above, but gradually, we'll get them filled in. In the meantime, I'm casting about for a new food trek project and taking suggestions – maybe something a bit more "Argentine" and "best of" in nature.