So, let's wrap up the last of the mini-reviews for the guidebook and get back to all those fun things like the search for pizza along the route of the 92 bus, where one might find the best shawarma in town, grilled seafood platters, decent sandwiches, and whatever other nonsense it is I normally natter on about.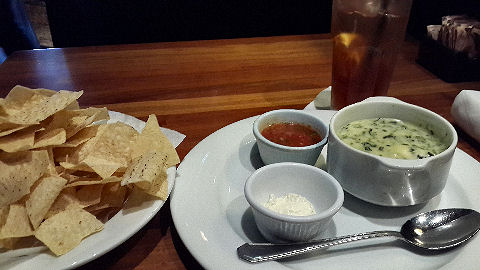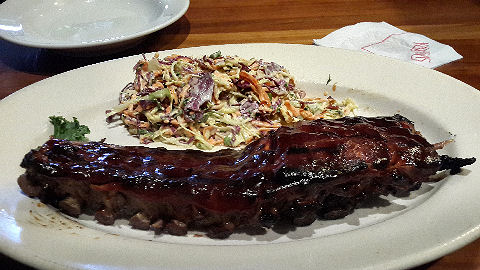 I'm not sure why this one is in the book. I mean, do people come to Buenos Aires and think, "where can I get typical norteamericano fare? I guess they do – places like McDonald's, TGI Fridays, and Hard Rock Cafe are always packed, and not just with locals. I suppose for the people from the States it's either a break from local food, or just a "stick with something familiar" – not that the typical parrilla here wouldn't feel pretty much the same as a steakhouse anywhere. I've never written up Kansas, Av. Libertador 4625 in Las Cañitas before except as part of our search for a great hamburger in town. Essentially the place is a knock-off of the Houston's chain in the U.S. – right down to the menu which lists things like "Houston's Baby Back Ribs" – I gather that a couple of the owners in the partnership, one of whom I once met on a train coming back from Tigre (he was showing his folks around who were visiting and his mother spent half an hour telling me about how her son's restaurant was the finest and busiest in Argentina – the latter may be true, between their two locations I gather they often serve upwards of 3000 customers a day) used to be managers at the chain in the States. Even the ambiance is pretty much the same as Houston's, though at least here you have a view of the local horse racetrack.
Service is always weird at Kansas – it's like you have to get them started yourself. Every time I've ever been, and everyone I know who's been says the same – once you're seated no one pays any attention to you until you flag someone down. It's as if you're invisible. Once you flag someone down, however, everything goes into high gear – order taken, food delivered swiftly, service is attentive and friendly, your check is brought promptly, and you're out the door so that the next party can take your table. I've just never understood that beginning part – maybe it's to make locals feel like they're not being rushed, when they are. Let's face it, it's probably one of the few places in town, along with the other norteamericano spots mentioned above, that's looking to turn tables over and over again during lunch or dinner.
The food is exactly what you'd expect from a place like this. Above you can see the baby back ribs – slow smoked, slathered in a pretty decent barbecue sauce, we got it with coleslaw instead of fries, a starter of "Chicago Dip" – essentially spinach and melted cheese with tortilla chips – un-dipable – far easier to just dump the dip and salsa over the top and eat them like nachos. They still have a great burger. They've stopped running over to tell people not to take pictures – in fact, I saw several waiters help people out by snapping photos of them at their tables for them. For a fix of this sort of food, though it's certain a huge step up up from TGIF, and while food quality is probably on par with something like Hard Rock, maybe slightly better, the biggest plus is a far more pleasant ambiance, unless you're looking for split eardrums. Pricing runs around 60-90 for appetizers and 120-180 for main courses, many of which are big enough to split.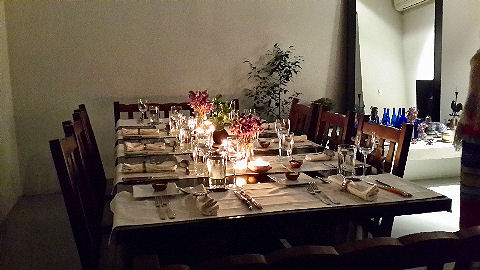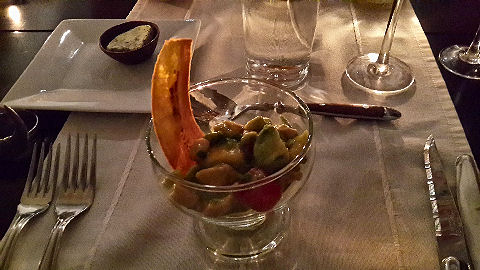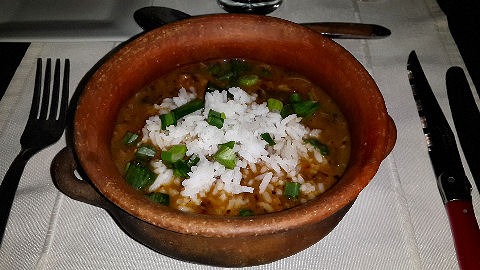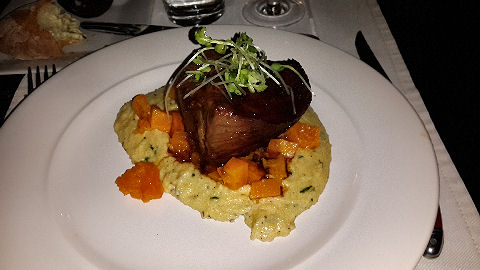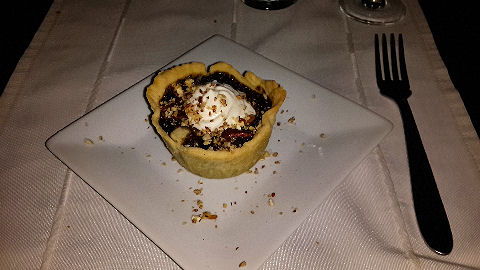 I'm always a little trepidatious about reviewing friends' restaurants, and especially the puertas cerradas. There are several places I've been to that I simply won't review because the experiences weren't pleasant and so I just file them away. And Liza, of NOLA, in Palermo, is a particularly good friend – we head out to lunch together, we chat all the time, and prior to her opening her puertas cerradas, I'd reviewed her pop-up New Orleans and Mexican nights. Given our schedules, I've not gotten a chance to head to dinner at NOLA since she opened it, so it was great to finally be able to get there. In a fun coincidence, a couple of people who'd been to Casa S the week before were there and we shared the table, as well as a travel writer for Conde Nast Russia and his photographer, who now will be joining us this week. [Liza closed this in 2014 to open NOLA Gastro Pub, a fried chicken and beer joint.]
Beautiful space, love how they've set it up. There's one communal table for ten like we have and then a table for four and another for two in a separate room, for those who don't want to share in a communal experience. Liza or Ticol greet everyone, hand them a glass of bubbly, and then, as we do, let folk drift and introduce themselves around – interestingly, a party of two that were taking the small separate table, just sat and didn't interact at all, and were eating ahead of the rest of us. After a bit, we all sat and got started. Liza introduces the evening, talks about what the food will be, and then heads off to the kitchen. Other than helping Ticol serve the food, she pretty much stays in the kitchen the rest of the night, and other than serving wine and water, he does too. So, having great dining companions is definitely a plus, and we did.
The food is a mix of Mexican, Cajun and Creole – not really fusion, as the dishes are all separate, but a nice progression. We started off with a great ceviche that included mango, fresh and tangy, and I like the plantain chip for a bit of crunch, and the creaminess of the avocado as well. On to a fantastic gumbo using local chorizo sausage in place of andouille – not quite the same, but it works. I could have just sat there and eaten a bowl or two of that. A glass of white wine is served to cover the two courses, with a top-off in between for those who'd finished it off with the ceviche. As a bit of a wine geek, I'm not sure that it matched well with both dishes – worked really well with the first, but kind of light for the second – it'd be hard to come up with a single wine to match two such different dishes. On to a main course of slow braised pork over blue cheese grits. A whopping portion of pork – I only managed about half of it – then again, that might be different had I not been in the midst of this reviewing marathon. Tasty plate, and a nice glass of red to match. Dessert – a delicious little pecan pie. Pricing, US$70 for four courses, four wines – I think there might have been coffee in the offing as well, but several people had things to do and kind of rushed to get out, so things sort of broke up right after dessert. Overall, great food, great fun, and definitely Recommended.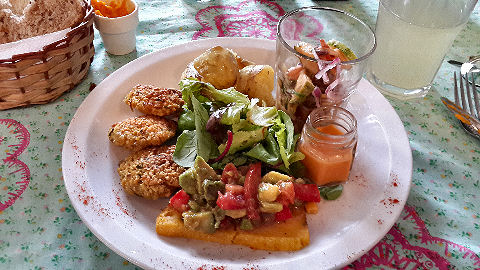 I was looking over the list of places in the guide and realized that there wasn't a review of a vegetarian "regular" restaurant. Casa Felix is included, but they're only open part of the year and part time, and they're not strictly vegetarian, more pescetarian. Then again, Artemisia, Gorriti 5996 at the corner of Arevalo in Palermo, always has a single salmon dish on the menu, just so that vegetarians can bring friends who won't eat vegetarian, or something. Service is always a bit spotty and is one of the reasons I rarely go. There's a real sense of that no one is particularly interested in taking care of any customer and feels a bit put upon to actually have to work.
Perfect example on this visit, I was solo, there were two other people already eating, and the two waiters and I think the cook were seated at a table eating. One of them looked up, asked me what I wanted, as if that should even be a question, then just sort of pointed and said "any table for two". I sat, and sat, and not one of the three made a move to do anything but eat and chat with each other. After ten minutes and me trying to wave one of them over, one finally got up, grabbed a menu, tossed it on my table, and went back to sit down. Another fifteen minutes passed before he finally yawned, got up, and ambled over. By this point several other parties had come in and gotten the same treatment, most of them still without even menus. Placing my order I then proceeded to wait, and wait, and wait. He randomly seemed to serve people's beverages – I got mine after three other tables that had come in after me got theirs.
Despite it being the middle of lunch service, none of the bread baskets were ready and one of the others finally went and started slicing up breads and putting them, laboriously, into the baskets. Most of us got our bread around the same time as our main courses. Excellent bread, though the unseasoned carrot puree was uninteresting. Much of the menu leans towards Andean sounding dishes and a sampler plate "aires andino", "andean airs" sounded interesting, a nice little selection of different tastes including a vegetable ceviche, some corn and quinua patties, chilled polenta with a sort of guacamole on it, and some small potatoes in what purported to be huancaina sauce but was more of a chili-less runny cheese sauce, and a salad. No seasoning on anything whatsoever. Imagine a ceviche with no salt to balance the citrus, or a salad dressing the same, etc. Actually, the most disappointing plate I've had at Artemisia – probably best known for its lentil burger, which I've not tried. Unfortunately, this place is probably the best vegetarian restaurant in town. There's so much more that could be done. I include it in the book more or less on that basis, but I do wish there was somewhere far, far better to recommend. I put it at just Okay.