Another quartet of peeks at different new (or at least to me) spots here and there, that just happen to fall along the northern parts of BA and its suburbs. Not quite a theme, but there you have it.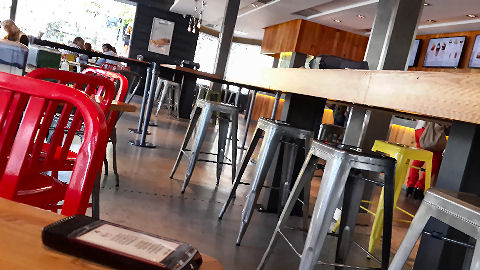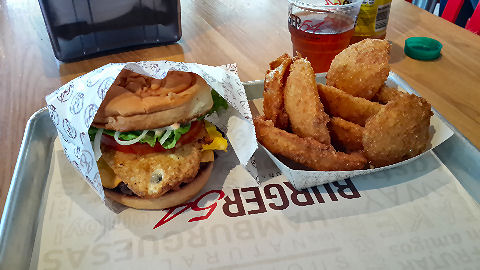 What's the deal with numbered burgers? First there was 180 Burger, which I admit I can kind of see a reason for – a kind of "turning the concept of burgers in BA completely around" – I'm making that as an assumption, it's not anything anyone said to me or that I've seen about them, but it fits. Now there's the first of what's apparently planned to be a multi-unit chain around the area, Burger 54, Av. Libertador 13632 in Martinez. No indication anywhere that I could find as to what the 54 means, in fact, their website is desperately lacking in information. I initially found out about the place when I got a press release from their publicist. I fired back a few questions about the concept and never got a response, not a particularly auspicious approach (nor has she responded to a second email after my visit), but I tucked it in the back of my mind for my next venture up that way.
The place is located along busy Av. Libertador, and turns out to be right next door to the new location of Captain Cook, which I have to get to one of these days soon (far easier to get to than the previous location). It's a gleaming new space, setup very fast-food style with a line and multiple registers, though despite there being five people standing behind the counter, only one was actually attending to customers, another was stocking various paper products, the other three were chatting and studiously ignoring everything else. The menu's pretty straightforward, a few combos, along with the option to add various extras – I went with a bacon cheeseburger and added sauteed mushrooms and a fried egg, and a side of onion rings. I asked if it could be cooked rare to medium rare and got a blunt "no, you get it the way we cook it", back from the cashier. My response, "excuse me?", hers was to walk away. Had I not been there to review the place I would have too. Not a good move for a place that's talking about how everything is done to order. I was handed a small pager and was told it would buzz when my order was ready.
Fourteen minutes went by before it went off – there were only half a dozen other people in the place, so it's not like they were backed up, it's just slow. The burger itself, well seasoned, but so overcooked it was mealy. The vegetable toppings were fresh, the cheese had clearly been stuck on there at the last minute, it was just a sandwich slice of cheese, not even slightly melted, the egg, like the patty, cooked to death, it was all just kind of dried out. The bun, weirdly sweet, almost like a brioche, but without the character, and branded with the chain logo. About the only thing I'm thankful for was that the whole thing was on the small side – even so, I only ate about half of it and tossed the rest. Oh, but, fantastic onion rings, quite possibly the best I've had in BA. But would I go back for the burger? Not likely. If they're going to expand into a "concept" chain, they need to first and foremost, fix the attitude (I never once saw anyone smile, no one was friendly either when ordering or picking up my burger from the counter, just more or less silent and abrupt), and second, work on their timing and cooking – if that meat and egg hadn't been so overdone, this could have been a quite good burger.
[Update: I found out down the line that the place is owned by the folk behind the Kansas group. I have to admit that surprises me. Kansas is all about fast, efficient service, being accommodating, and generally, pretty high quality food that's cooked and seasoned well. What a completely opposite experience this is.]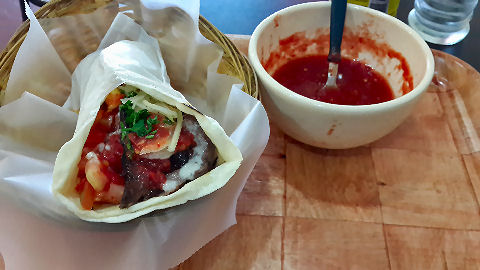 Since I'd eaten so little, was planning on a good walk for the afternoon (from Martinez back into to town to Barrio Chino for a little shopping), I decided to knock-off one of my shawarma spots. So a trek up to Av. Maipu and down into Olivos to Caucasia, at #3111. Numerous folk have touted it as not only the best shawarma in the northern 'burbs, but the best in BA. The place, first off, a bit of a hole-in-the-wall, that's not a bad thing, just an observation. Noted that the shawarma meat, while on the spit and already browned on one of those typical vertical grills, wasn't rotating, nor was the grill on – just the pilot light flames. And, the counterman carved the meat off, stuck it on a tray, and then stuck it under a small broiler. Odd that. Maybe there was a problem with the rotisserie.
The shawarma itself, mildly seasoned, not much more than lemon and salt, the meat slightly chewy and really, really juicy, to the point that the pita bread just fell apart like mush by the time I reached the bottom end and that wax paper lined basket looked like a small soup bowl. Two sauces available, a sort of thin yogurt that was okay, and hot sauce, which he spooned into the wrap and gave me a bowl of on the side to add more to taste. The latter, unfortunately, not much more than a canned tomato puree with maybe some desultory pepper flakes floating in it, no kick at all. It wasn't bad in any sense, but there's nothing really to recommend about it, other than perhaps it's the only place in the area to get a shawarma.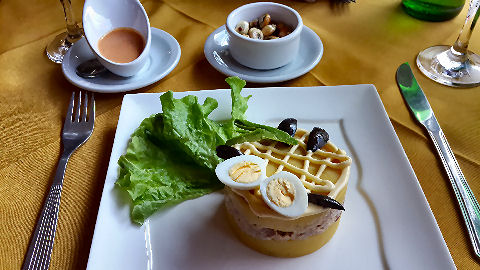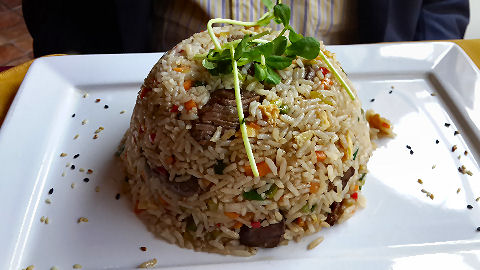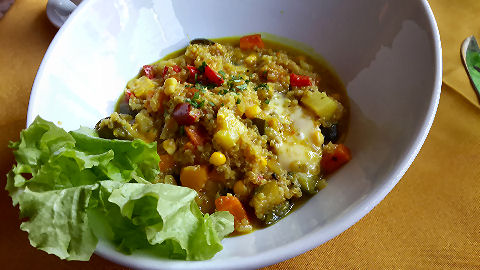 I've been hearing about Peru Deli, Beruti 4602 in Palermo, for awhile now and was meeting up with a friend who was headed after lunch to the US embassy, so we thought we'd give it a try. Cute place, love the beautiful photographs on the walls. Menu is interesting, but immediately noted that after many of the dishes, including the ones that are named things like picante de mariscos (spicy shellfish stew), or aji de gallina, chicken in yellow chili stew, there's a note that says "sin picante" (without spice). Not a good sign.
And, indeed, there's no spice in any of the dishes we tried. None, nada. The classic causa, normally potatoes flavored with yellow chili, olive oil and lemon, might have had a hint of lemon, that's about it, mostly it just tasted of plain mashed potatoes. In fact, the whole dish was pretty bland. I asked for hot sauce, and the saving grace here, they have a great, fiery rocoto sauce, so I could at least give the plate some flavor – I used the entire dish of it just on the causa and asked for another for the main course. My companion had a beef stir-fried rice, chaufa de lomo, which was nicely cooked, a bit too heavy on the rice in contrast to the other ingredients, but at least vaguely seasoned – mostly soy sauce. My quinua stew was a tasty blend of quinua and vegetables with a wad of cheese lumped in the middle. I'd lose the cheese, the rest of the stew was actually a nice mix, though again, lacking any kind of spice other than salt. I dumped in the second dish of hot sauce and it made it actually a great little stew that I'd have again that way. I understand the local aversion to picante (well, no, I don't really understand it, but I've come to accept it), but this is the first time I've encountered a Peruvian restaurant that's dumbed down their food so completely. Still, if I was in that area, I'd eat there again, as long as the hot sauce was available.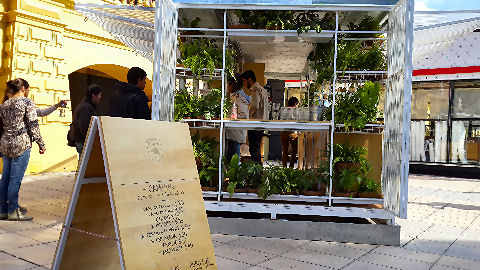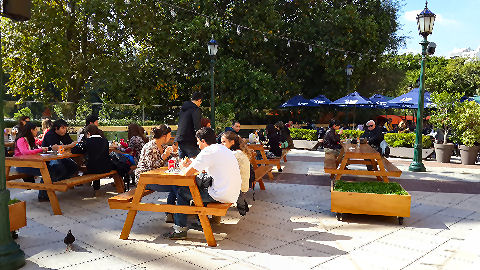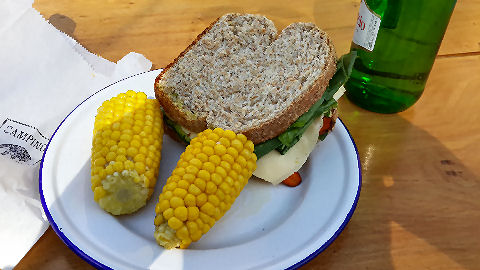 Just opened, a new beer bar on the terrace at the Buenos Aires Design shopping mall, nearby to home. Camping, offers up a selection of beers, which unfortunately I wasn't up to sampling the other day, hints of a cold coming on, so those will be saved for another visit. It's an open air eatery with picnic tables to be shared – a very non-local concept, and in fact, I was seated by myself and one of the tables and a family approached – the young girl plopped down on the bench near to me and her mother screamed at her to get away from me, didn't she understand that she couldn't sit that close to a stranger, it wasn't polite. I shrugged and said it was fine, but her mother dragged her by the arm to the far end of the table and then spent the next minute or two lecturing her on never sitting at a table with people you don't know. So bizarre, but so porteño – it's the same thing I've heard from many local guests at Casa S, how they grew up being told never to share a meal with people they don't know. I wonder if that's a vestige of the era of the desaparecidos, when people were concerned that their children might be grabbed by government agents? Something I'd not thought about.
You get in line, order your food, and then make your way to a table with the admonishment that "this is a campsite, please throw your garbage in the appropriate bins and return the plate and glass to the counter". Cute. Ordered the veggie sandwich – delicious mix of grilled eggplant, carrot, and zucchini, plus greens and tomatoes, good, garlicky hummus (could have used a touch more seasoning, maybe some cumin and chili), and thick slab of really decent cheese, on great bread. One of the better vegetarian sandwiches I've had. Side of corn on the cob, a personal favorite, and of course a great "camping" side dish – though I think they could have gone the step of grilling the corn rather than boiling it – still, quite good. All in all, a nice little addition to the neighborhood, though I'm wondering about the outdoor only seating (and shared table thing), as winter approaches. I hope it does well, I'd go back again, and I want to try the beers. (After the three disappointing spots above, I had to end on a high note).