There's always something new on the restaurant scene here in BA. In my neighborhood, Recoleta, things seem to change less often than in some of the more trendy areas, but even so, I can probably count on something new every month or so. Just recently it was Camping, the hot new beer "bar" and casual eatery on the terrace at the Buenos Aires Design Center. Just this week, Martín Rebaudino, formerly the chef at Oviedo, has left his princely post there to open up Roux in the spot recently vacated by Santé, making it the third restaurant to occupy the space in nine years (review coming soon – I'll give them a little time to get things flowing smoothly). And a couple of blocks further on, a relatively new casual eatery, Vives María Resto-Bar, at Azcuénaga 1226. [Closed]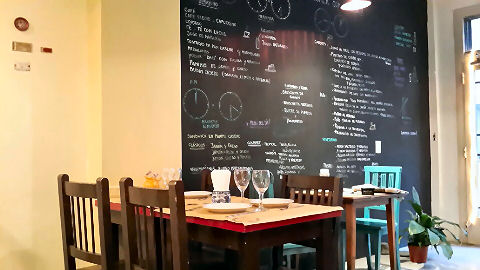 We've been a couple of times now at lunch hour (the menu stays the same all day long and has breakfast, lunch and dinner items available throughout). It's a cute spot, maybe twenty seats total, open from early morning until late night, straight through without siesta, Monday through Saturday. The women who run the place are charming, friendly, perhaps a touch overly laid back at times, but it all happens.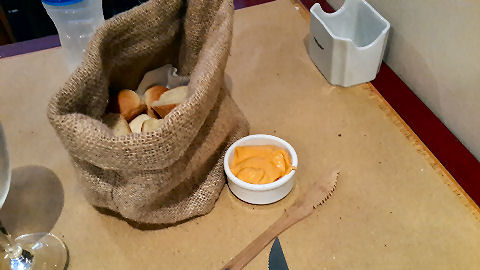 A selection of tasty bread rolls comes to the table if you order a meal, accompanied by a roasted pepper cream cheese that I just want to dive into. We've managed to get every speck out of the ramekin on both visits and pined away for a bit more. Love the little wooden knife that comes with it for spreading.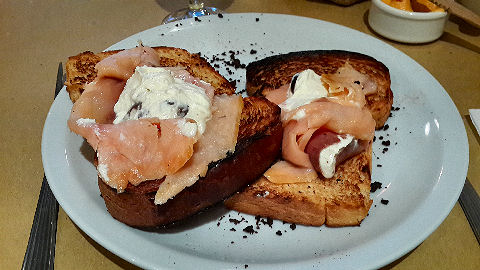 While this may not look like typical, this is what you get when you order up the smoked salmon bruschetta. Rather than the more common slices of a sort of Tuscan or French loaf, here, this is what I'd call "Texas toast", thick, large slabs of delicious buttery grilled bread, topped with a generous amount of herb cream cheese and smoked salmon. I'd go back just for breakfast with a couple of slices of that sort of toast, it's not something we see here in BA. And though touted as an appetizer, it's essentially a huge open-face sandwich, and more than enough on its own for a casual lunch.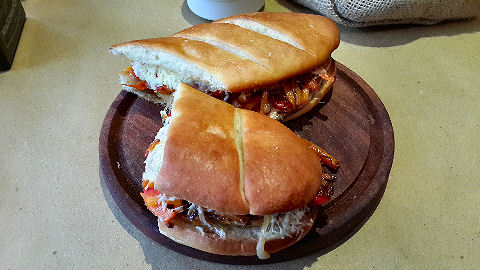 But that shouldn't preclude you from going for one of their superb sandwich offerings, here, the Mediterranean, piled with grilled vegetables and chicken. I used up another ramekin of roasted pepper puree on it….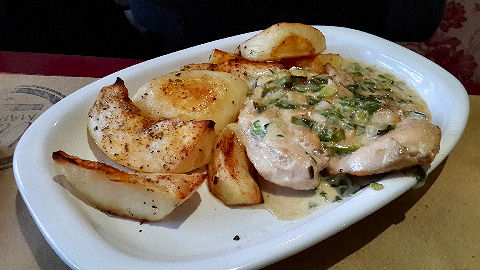 For a more "substantial" offering, should you be so inclined, a perfectly cooked
pollo al verdeo
– grilled chicken breast in a green onion sauce, accompanied by your choice of sides, we didn't pass up the highly recommended
papas rusticas
, golden wedges of potato roasted until just crispy on the outside and tossed with olive oil, herbs, spices and salt.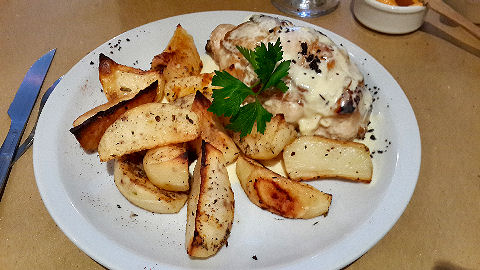 And I definitely would dig into their
pamplona de pollo
– a little football (norteamericano) packet of ham, bacon, onions, peppers and cheese rolled up inside a chicken breast and roasted to a beautiful brown – with more cheese melted over the top, and, once again served with the roasted potatoes.
Overall, cute place, decent service, reasonable prices (main courses around 100 pesos, sandwiches and apps around 60), and delicious, simple cooking. Recommended.