While twerking was the topic of conversation on two of the nights this last week (was there something in the news that I missed?), tweaking was the way we went. All of this last week's menu consisted of plates that I've prepared before, and my focus was adjusting them, replating them, making shifts here and there to bring the dishes a step or two further along the path that I envision for each. Many if not most of the changes were relatively cosmetic, or a bit of balance, only one dish was a wholesale reworking of the starting point. And, fittingly, it is the starting point for the dinner, the first course. And I'm going to make it a little photo-intensive, showing the changes in the dish over time, along with a brief description from those dinners: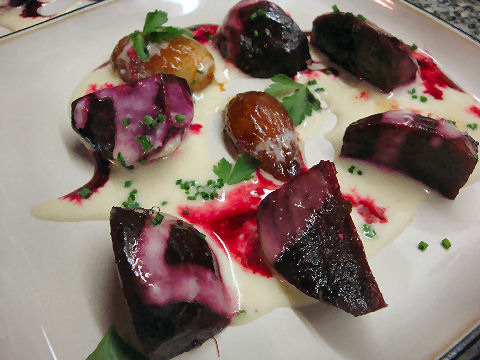 September 2010: "My take on a Thomas Keller dish, roasted beets tossed in a black truffle oil vinaigrette, caramelized shallots in a white balsamic vinaigrette, a pureed and strained sauce soubise, or onion bechamel, and a drizzle of the roast beet juices and some herbs."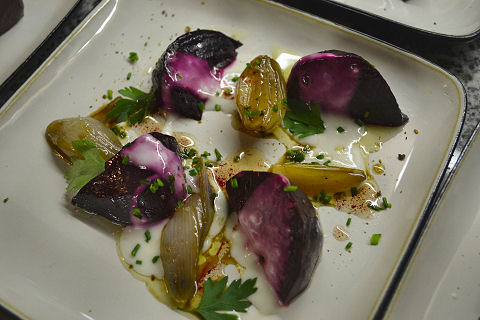 January 2012: "Roasted beet salad, caramelized shallots, sauce soubise."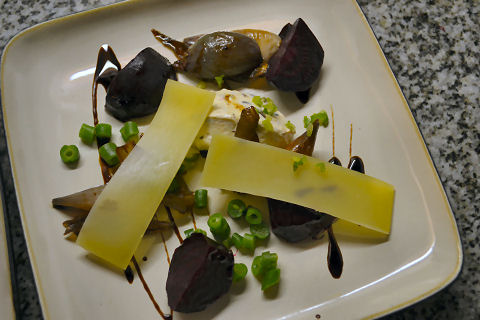 April 2012: "Roasted beet and caramelized shallot salad with green beans, our deviled egg dressing, some pecorino romano cheese, and a little sweetness from a reduced balsamic vinegar."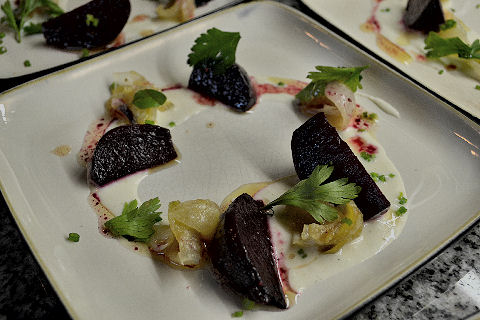 April 2014: "Roasted beets dressed in a vinaigrette made with thyme and rosemary infused vinegar and a morel mushroom infused olive oil; caramelized shallots; sauce soubise; fresh herbs."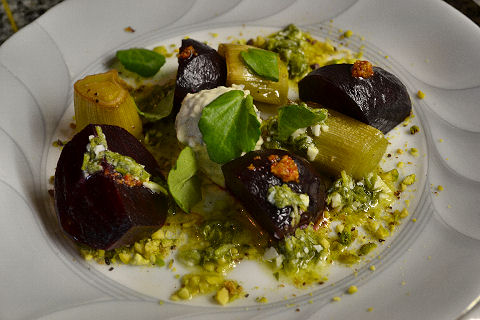 And on to this week, as I said, a bit of a radical makeover. Roasted beets and leeks over a scattering of chopped, toasted pistachios, blue cheese mousse, dots of harissa sauce on the beets, sauce cressonièrre (a classic French vinaigrette with chopped watercress and hard boiled egg), and watercress leaves. Much of the change was an inspiration from our little competition two weeks ago. Much better dish all around, both visually and texturally, and much more my own than just an imitation of Keller's dish.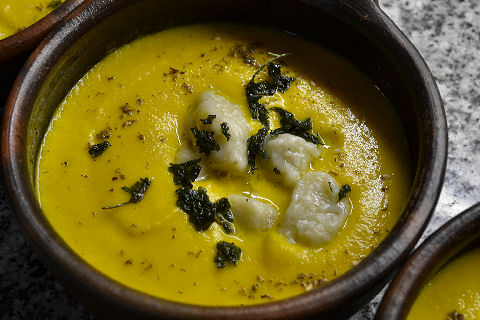 Playing around with our roasted carrot soup. Still not where I want it, especially visually, but closer. Basically roasted carrots, leeks, garlic and yellow Peruvian chilies, pureed with vegetable stock, dusted with za'atar spice (thyme and sesame, mostly), some crispy fried parsley leaves, and, cauliflower gnocchi. Had to play around a bit to come up with a cauliflower gnocchi that I like, in the end, I blitzed raw cauliflower in the food processor to a sort of "couscous" consistency, then steamed it, let it cool, and mixed it with an equal volume of flour and just enough egg yolks to hold it together, spiced with salt, white pepper and ground coriander. Those will be making a comeback in one form or another!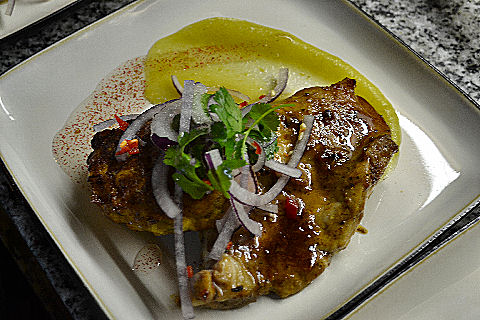 As I mentioned a few weeks ago, we had mixed reactions to our "pastor" pork ribs with lime puree and corn pudding. We loved the dish, as did several guests, but others were not as convinced – I think some of it might have been the necessity of picking up the ribs to eat them, which sort of separated them from the puree and pudding. As I said then, perhaps a reworking with a different cut. So here, slices of pork loin, but rather than go the pastor route, I decided to give them a bit of an Asian flavor, marinating them in the marinade I usually use for Hong Kong style spareribs, basically a sweet and spicy glaze packed with five-spice mixture. The slices of loin (and one day, some chicken for someone who didn't eat pork) spent about six hours marinating and then I quickly broiled them. The lime puree stays the same, however, going with the Asian twist, I replaced my midwestern corn pudding with a Thai corn fritter, flavored with red curry. And, for both color and a little touch of another spice, a drizzle of pink peppercorn oil around the plate. Happiness all around as best I could tell.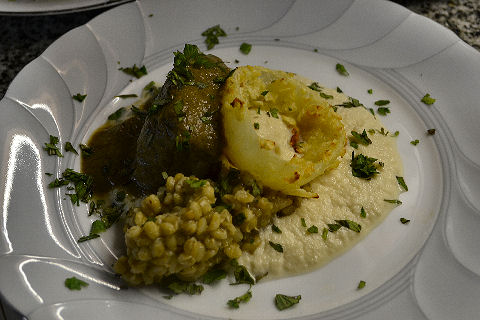 Still working on getting our huatia sulcana to where I want it. It's much closer with this round. The beef, rump roast braised slowly in a mix of various aromatic herbs (parsley, cilantro, thyme, oregano, mint, basil, rosemary), red onions, fresh rocoto chilies, dried ají panka chilies, red wine vinegar, red wine, and beef stock. After about four hours of braising I take the beef out, puree the balance, and put the beef back in to continue cooking another 2-3 hours until the sauce is thickened. Bringing in some of the touches that I've liked with the dish on past versions, it's accompanied by a scoop of pearl barley cooked in some of the pureed broth that I've reserved before it thickens up. I changed over the roasted cubes of daikon to a daikon puree with brown butter and balsamic vinegar with a little touch of cream cheese, salt and white pepper. And added in an onion component for looks and texture – I went with big rings of baked onion, coated in spiced yogurt and… crumbled potato chips. Then a chopped up mixture of all the herbs that went into the pot – for color and a bit of vibrancy. The dish is still really brown, despite the hints of green and the whiteness of the puree. To be played with, more.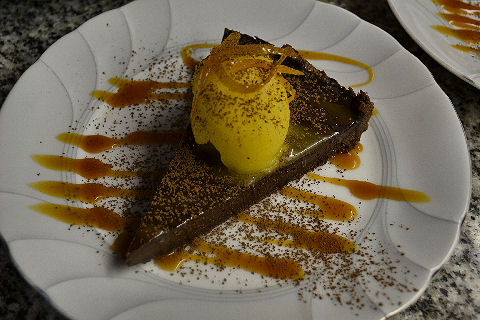 A classic French bitter chocolate ganache tart, though with our cocoa crust, sea salt caramel, a dusting of cocoa. To accompany it, I decided to make a sorbet with fresh squeezed orange juice, a little sugar, and Hesperidina, the classic bitter orange liqueur of Argentina. A little candied orange peel on top. And, it echoed, perhaps bookended, where we started the evening, with a cocktail of Hesperidina, chocolate liqueur, and orange juice.