Just what it says in the title…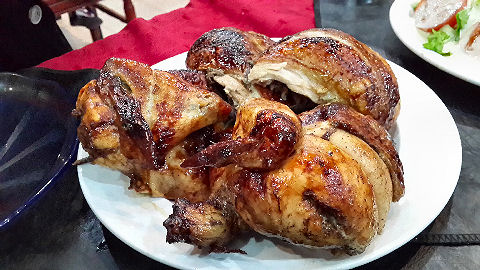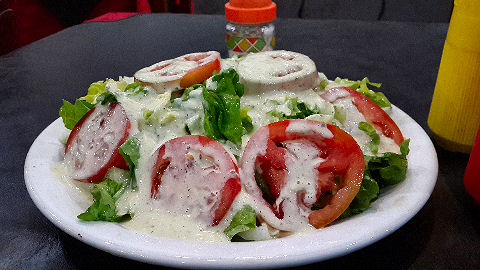 Henry and I headed out one night to a dance performance at a small cultural center in Chacarita, and when it finished up we were famished. Starting out tentatively walking a few blocks to
Albamonte
for some pizza, we stumbled across
El Pollo Rico
, Olleros 4172 and thought that that sounded like a more interesting bite to eat for the evening. So, we ordered up a whole chicken with the works (no photo of the platter of french fries) and made our way through half the chicken, all of the salad, and a good way into the fries, packing up the rest to take home. And the verdict? Well worth the stop, the
pollo
is indeed
rico
!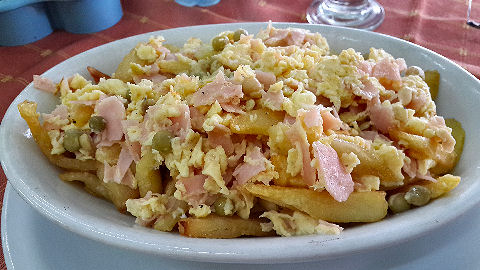 Every now and again I give another shot at finding a truly great
revuelto gramajo
that tops one of the ones from my
scrambled trek
. I was out in San Cristobál buying a new commercial grade blender after our home model finally gave up the ghost (a lovely JTC OmniBlend I, essentially a high quality knockoff of a VitaMix) and decided to stop in at
Amil!
, Av. Jujuy 1505 (no idea why the exclamation point), a small café sort of spot. The usual suspects on the menu – milanesas, sandwiches, a couple of pastas, and, a scramble. So, I ordered it. Let's just leave it as "edible" and not much else – more or less it was just a plate of french fries that someone had stuck some scrambled eggs with lunchmeat ham and canned peas on top of. Even salt and pepper didn't do much for it. Yawn.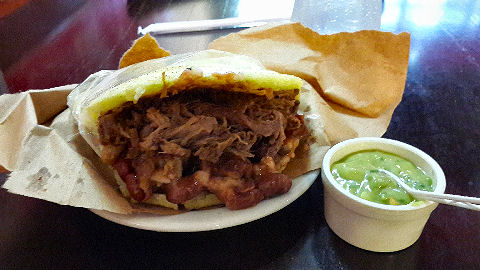 I've walked past
¡epa la arepa!
, Av. Córdoba 1415 in San Nicolás many a time since it opened last year, but, not stopped in. I don't even recall why I was over there, but the munchies showed up and so I popped in to grab a quick stuffed
arepa
. Quite the selection of combinations, with fillings named after various cities and countries around the world with questionable relation between the selection of ingredients and the named place. I decided to go pretty classic and ordered up a
paisa
, presumably named after the classic
little bit of everything on the platter
staple of Colombian cuisine. I wasn't particularly excited afterwards. Bland, basically just stewed meat and a few desultory beans, no evidence of the supposed bits of chorizo and onions and tomatoes and avocado (okay, that was on the side) that should have been in it. I mean, look at
the photo
of what it should have been on their own website! It also took nearly forty minutes to get it, despite there only being one other person in the place. No hot sauce of any kind available. And not cheap for what amounted to a small, mediocre sandwich, at 45 pesos.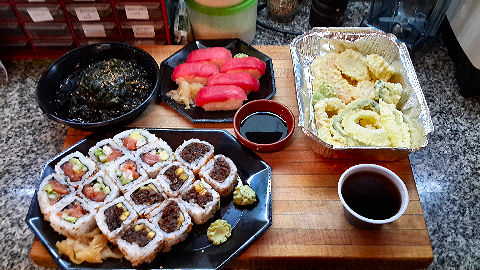 It's been years since I first reviewed the delivery only sushi spot,
Furusato
, and, given that while I liked it, I felt there were better options around, I hadn't bothered with another order. But, I noticed it one evening perusing old posts and thought it might be interesting to try them again and get a second impression, especially because the first time I'd ordered, mistakenly, an "all cooked" sushi combo. So I picked a couple of sushi rolls and some fresh tuna
nigiri
(unusual to find here, and a plus), along with some tempura vegetables and goma-e. I stand by my original assessment, it's good, but nothing stands out – the tempura is at best okay, especially by the time it's delivered, with instructions to bake it in the oven to get it hot and crisp again. The whole mystique wasn't there this time – I guess it was just the first delivery guy's persona, this time, delivered by a very, very tall young blond sort in t-shirt and jeans. It still takes forever to get too, this time 2½ hours from the time I ordered it until arrival, and, it's gotten really expensive (some of that was affected by the fresh tuna, which was outrageous on its own), the stuff pictured above came in at over 600 pesos. I'll stick with the better quality and less expensive spots closer to home. I used the goma-e to top a chicken milanesa with some fried eggs and chilies the next day.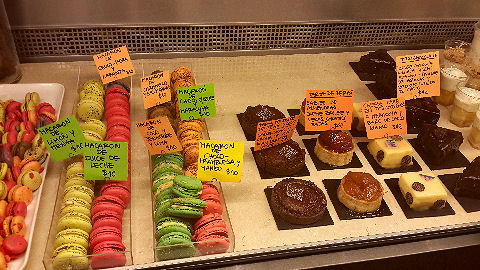 We'll end on a sweet note at
En el Nombre del Postre
, Uruguay 1297 here in Recoleta (they also have one in Palermo at Soler 5547). Specialty,
macarons
. Okay, but not real winners in my book. The texture of most of them was slightly grainy, they were uneven in size, and other than some of the citrus flavors, for the most part, they were pretty indistinct, even side by side they all pretty much tasted the same – sugar. We also tried a pear tart that was likewise pretty much nothing – it could have been any fruit it was so over-sugared.
So overall, this was pretty much a bust of a round-up, the only thing worth bothering with was the chicken and fixings at El Pollo Rico, should you find yourself out in Chacarita near to Olleros and Corrientes. Perhaps on a visit to the Chacarita cemetery… or its attached British and German enclaves.