For about six of the seven and a half years I've lived her I've been hearing about "this place" up in San Fernando, half an hour or so upriver of BA (if you have a car), where there was great southeast Asian food to be had. Now, anyone who knows me would be thinking, so why haven't we heard about this place? Where's the write-up? And, you're right, there's no excuse. I mean, I can give you all the reasons. It's located in a private marina along the river in a part of the zone that's not serviced by any buses and has no convenient way to get there unless you have a car. There are two trains to the town, but one of them is probably close on an hour walk from the place and the other is a 20 minute walk. They don't serve southeast Asian food every day, just sometimes (well, as it turns out, dinner on Friday and Saturday and a limited menu for lunch on Saturday and Sunday), the rest of the time it's all sandwiches, milanesas and empanadas and the like, much of it, it turns out, deliveries to the boats docked in the marina. I could go on and on, but really, there's no excuse. Given my schedule, at the very least, a Sunday lunch needed to be had. [Unfortunately, chef Marta had to close the restaurant shortly after I was there. In early August 2013 she reopened a new spot in the center of town – I'll be back shortly to check it out!] Link to new review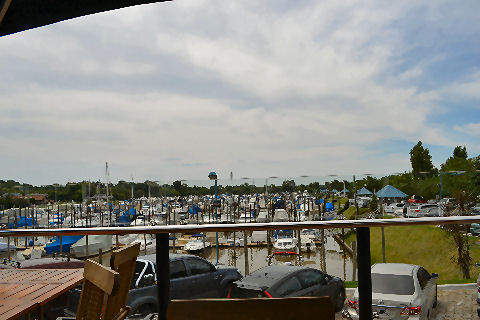 And, so it has. And it didn't turn out to be all that difficult. A quick bus to Retiro Station. Suburban train to the Tren de la Costa (Coast Train). And then seven stops along that line to Marina Nueva followed by that aforementioned 20 minute walk. Okay, not difficult, just time consuming, it was about an hour and a half door to door. For lunch. Each way. I made the reservation at Captain Cook, Marina del Norte, 4725-7760 online, got a texted confirmation and as I was sticking stuff in my bag got a phone call from the restaurant asking me to confirm that I was really just one person, whether I knew about their menu and if I was coming for the southeast Asian food if I understood that it was a limited three-course menu (two options per course, 145 pesos) at lunchtime (I didn't know that part at the time, but I still wanted to try it), and if I had a clue how I was going to get there (printed out the map on the website). I confirmed everything, headed out, and arrived on time for my reservation, where I ensconced myself in a deck chair, on the deck (there's also inside if you prefer AC), overlooking the marina.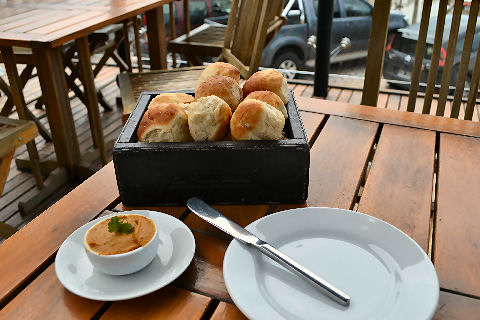 Waiter approached, re-explained the whole limited menu thing, and was interrupted by the arrival at tableside of chef/owner Marta Ramirez, who welcomed me, in English, and then we chatted food. She offered to put together a little tasting of various menu items, not limited to the lunchtime ones, though not everything from the evening menu was available, and I left it in her hands. She returned a couple of times over the course of the meal and then we sat and chatted afterwards for about 45 minutes. Truly charming, delightful, font of knowledge about the culinary scene, and, thankfully, as it turned out, a talented chef.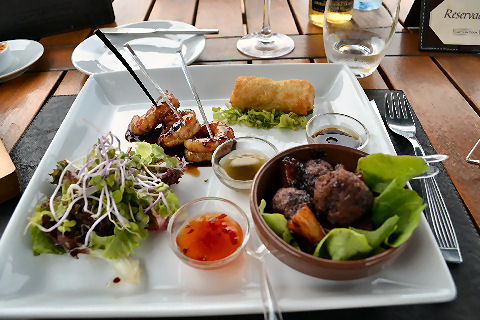 The evening menu lists three appetizers, of which two are available on the lunch one. She gave me tastes of all three – Singaporean Poh Piah – lovely, delicate chicken and vegetable springrolls; Vietnamese Thit Lon Thit Vien – pork meatballs in a sweet and sour pineapple sauce; and Thai Kung Khara – caramelized prawns. I started to get very happy. None of the appetizers are particularly picante, leaning more towards the sweet side, but all delicious.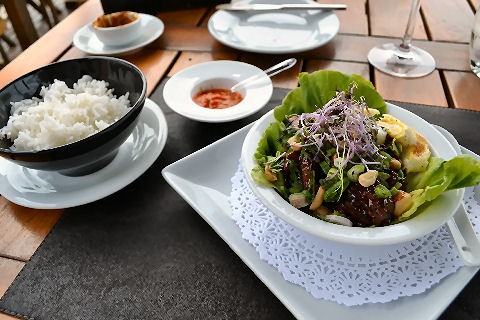 On to the first of two main courses, Loc Lac, a Cambodian saute of beef and peanuts that was, simply, out of this world. Not that I've had a huge number of versions of this dish, but this was easily the best one I've had, and thinking about it, probably the best dish of southeast Asian food I've had in Argentina. Served up with a side of searingly spicy sambal made from five different chilies that she grows in her own garden. Perfectly cooked real jasmine rice on the side as opposed to the pseudo-jasmine rice that seems to abound here. I want the recipe, for both the dish and the sambal.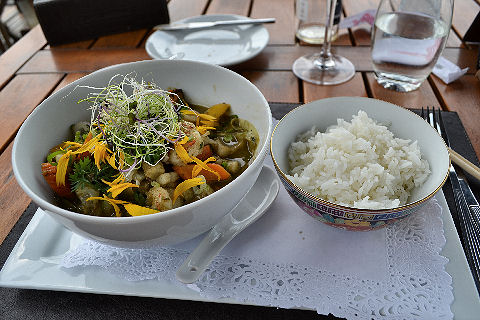 On to a Thai style green curry of shellfish, packed with prawns, clams and squid, and more jasmine rice. Beautifully presented, fantastic flavors, I'd be happy to eat that anytime and it was only overshadowed by the previous dish, otherwise I'd probably wax poetic about it. She had been planning to follow that up with a plate of her Pad Thai, but we agreed that it might be just a tad to much food, likewise, I decided to pass on dessert, though I must admit to being intrigued by her sweet potato and blue cheese gelato. Damn, I should have tried that, even if I just took one spoonful.
Next time. And there will be a next time. I foresee more Sunday trips, and perhaps, on a rare Friday or Saturday evening off, a friend with a car will join and we'll all head off on a voyage of discovery to the north country. Fair notice, she gave me a lovely professional discount on the tab, in addition to having made dishes that weren't on the menu. I know she'll also arrange for the Asian food to be available for reserved groups on other days if there are sufficient people, so it might be the sort of weekday adventure that one or another foodie club can put together.
Arrr matey, 'tis Recommended at the least! Oh wait, that's Captain Hook, not Captain Cook. Which reminds me, I forgot to ask why the name. After all, James Cook didn't explore Asia on any of his three voyages, other than a brief pass-by the southern coast of Indonesia. A question for another visit.