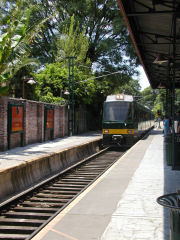 Tigre, Argentina – A mere 20 miles northwest of Buenos Aires is the small city of Tigre, basically at the entrance to the Delta area of the Parana River. Founded in 1580, historically Tigre was a combination farming community and port for loading boats with timber harvested from the islands and riverbanks of the Delta. These days, simply, Tigre is a tourist attraction. There are folks who live there, certainly, but the vast majority of them are employed in local tourism – whether it's working at the casino or amusement park, running cafes or boat tours for visitors, or creating many of the arts and crafts that are available on virtually every street in town. Visitors can arrive by car, by bus, or very commonly by the Tren de la Costa, an amusement park ride style narrow gauge train that runs from the outskirts of Buenos Aires to Tigre,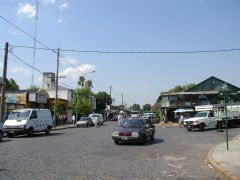 along a railbed that lies between high garden walls of the suburban homes and mansions of towns like Martinez and San Isidro, and the riverbank and parks on the opposite side.
Once in Tigre the choices are simple. One can eat, and though I have yet to try any of them, I understand there are some very good fine dining restaurants in town. One can go to the casino and gamble the day away. One can head for the Parque de la Costa, a multi-acre amusement park with a variety of rides and fun things for, well, mostly kids (on the other hand, our friends who we went with yesterday headed there – had we known, and brought enough money for the place, we probably would have too); including three roller coasters, for those who like 'em –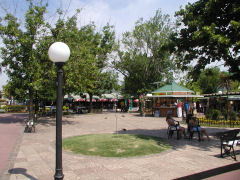 I have to admit, I'm not a roller coaster kind of guy. And last, but not least, one can wander and/or relax. The town is packed with a variety of artesanal craft shops, food shops, flower and plant stores (far less expensive than in Buenos Aires for plants, and I know people who take the train up just to buy a bunch of things for their gardens or balconies), boat rides and tours on the river, or just plain soaking up some sun. The famed Mercado de Frutas, the old fruit market, has been turned into one giant craft and farmer's market. Numerous bed and breakfasts are in town, making it a nice getaway from the urban world of Buenos Aires.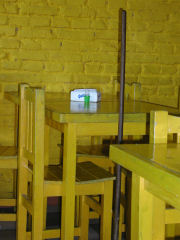 We did, of course, stop to eat. It's almost impossible not to. As you step off the train, you will be inundated with flyers being passed out by folks who will try to physically guide you to one of the dozens of eateries that line the area of the train station. I gather they get a small finders fee for each person that they physically guide to any particular venue. We ended up at one of the closest spots, partially because it had a variety of food – pizzas, milanesas, pastas, etc.; but mostly because it was done up in glowing parakeet yellow and caught our eye. Well, not totally, as the outside tables are actually covered in glowing parrot green, with chairs of nearly as vivid blue. There's no question that La Isla, Vivanco 1512, is setup to attract attention.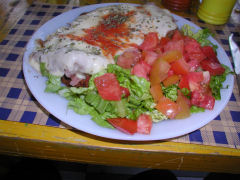 Not surprisingly for a place like this, those colors turned out to be its most redeeming feature. Not that there was anything wrong with it, it was exactly what one might expect in the midst of tourist central. Passable food, lots of cold beverages, friendly but lackadaisical waitstaff, and a just generally laidback atmosphere. We had a couple of perfectly fine, if nothing special, milanesas, here pictured a milanesa napolitana, a pounded thin slice of beef, breaded, and topped with thin slices of ham, lots of mozzarella, and a typical tomato and oregano pizza sauce. They offered a nice selection of licuados, blended fruit and ice drinks – in fact there are licuado stands throughout the town offering a wide variety of choices, including one we chanced on in the Mercado de Frutas area that had an array of tropical and other fruits offered, including mangoes, fresh figs, various melons, kiwis, and other choices not usually offered as drinks around these parts.