New York City – For a last evening out in New York, and a bit of a celebration as well, my friend Kym and I thought we'd drop in on another friend, Patricia Yeo, chef at Sapa, 43 West 24th Street. I worked with Patricia at AZ, where she truly made a name for herself, from the days when it was just a construction site until close to its demise. We became good friends, which always makes reviewing a bit difficult (on the other hand, I was fired for being her friend when she left, which would also be difficult), but we've talked about food and wine and drinks and critiqued each other back and forth so many times that it seems sort of normal. Besides I like her food. [Closed]
Sapa is not really "my cup of tea," as the saying goes. It's a bit of a loungy, singles scene. It's beautifully done, with lots of soft lighting hidden behind scrims and screens, and a style that's quite minimalist and simple, in some ways seeming almost Japanese temple-ish, and then touched off with strange displays of plaster urns and columns that look like they were once destined for someone's patio. There's a long, gleaming bar dominating one side of the room, leading to the kitchen which is glassed in with a mix of frosted and clear glass, leaving it part of but not intruding on the dining room. Planted right at the center end of the dining area is the "roll station," a podium-like affair of backlit faux-marble, where springrolls are put together by a cook spotlighted by a desklamp. Somehow it all works.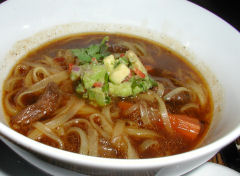 I've only ever sat at the bar, where service has always been friendly, though the new bartender who was there this time seemed to have a lack of attention span to pretty much anything he was doing.
Much of the food is familiar to me, as it would be to any former AZ customer, a mix of pan-Asian fusion bar snacks and the dining room menu items that were served there. But, although she maintains certain staples that are popular, there are constantly new dishes to try. We launched into dinner with a round of appetizers. First a quartet of rolls off of the "Rice Paper Roll" menu – a Spicy Tuna, Lemongrass Cured Salmon & Avocado, Lobster, and a Beef Satay, the last of these being the most outstanding, but all being really good. They're served with a trio of dipping sauces, a wasabi-spiked mayo, a sweet & and sour, and a traditional Vietnamese vinegar and chili sauce.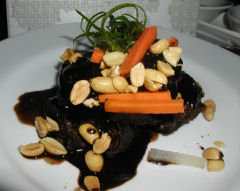 Kym thought the Beef Shin Hot Pot, with it's slow cooked meat and root vegetables, and packed full of rice noodles, sounded delicious, and he was right, the only disappointment being that it was only an appetizer! We could have easily made that a main course. I've had before, and loved (just as much as I did this time), the Cocoa and Peanut Glazed Spareribs, the strong note of bitterness from the cocoa really making this dish standout from similar preparations in other venues.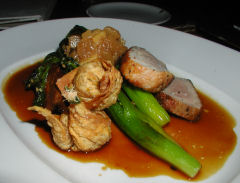 We left the rest of the meal in Patricia's hands, and she sent out two of her favorites. First was Pork Three Ways, with its red braised shoulder of pork, roasted loin, and sweet and sour pork filled wontons. I'm a huge fan, as you know if you've stuck with me over time, of braised meats – I love the soft, almost eat it with a spoon texture. Needless to say, the shoulder was my favorite part of this dish. Which isn't to say that I didn't like the other parts – the wontons, with the sweet and sour sauce already inside, rather than having to dip them, are sheer genius!
Red-cooking

Sometimes called Chinese stewing, red-stewing or red-braising and similar to the technique called flavour potting. The key ingredients in a red-cooked dish, responsible for both its unique colour and flavour, are dark soy sauce, light soy sauce and salt (optional), star anise or five-spice powder, sherry and sugar. Meats done this way are sometimes blanched first and then slow-cooked in the sauce before being allowed to cool in it, and brushed with sesame oil before serving.

– from Charmaine Solomon's Encyclopedia of Asian Food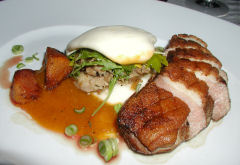 The other dish was her twist on Peking Duck, in fact when it was set in front of us, that's what the server called it – the menu just lists it as Slow-Roasted Duck Breast. It's an interesting riff on the idea, and was delicious, though it was missing the crispy skin that is so much a part of Peking Duck as to seem integral. Here, the duck breast was cooked a perfect medium rare, the skin was golden brown, but not crisp. Shredded duck meat and spices made up a mixture that was stuffed into a thick, doughy pancake, reminescent of steamed bun, here folded over, taco style. A couple of roasted plums provided a nice, sweet counterpoint to the duck.
Peking duck

An elaborately prepared Chinese dish that starts with air being pumped between a duck's skin and flesh. The duck is then coated with a honey mixture and hung until the skin is dry and hard. After the duck is roasted the skin becomes golden and intensely crisp. While hot, it's cut into small squares and served with thin pancakes (called Peking doilies) or steamed buns, accompanied by scallions and hoisin sauce. The meat is considered a secondary attraction and is usually served after the skin. This specialty is also sometimes called Beijing [BAY-jeeng] duck.

– from Sharon Tyler Herbst's The New Food Lover's Companion
Sapa has a new pastry chef, Jahangir Mehta, who showed up on the radar a couple of years ago working with Didier Virot at Aix. He brings some fun flair to the world of desserts, I've seen press quotes that say he uses ayurvedic principles in his planning, and while he may strive for harmony and balance in ingredients, I doubt that the incredibly rich chocolate pudding and caramelized banana tart served with hazelnut ice cream and a vanilla custard, or the pistachio creme brulee, quite qualify as health restoring dishes. The former would certainly restore the spirit of anyone who likes chocolate and banana (though the little custard at the end has a very stiff texture that was sort of odd). The brulee was a bit lacking in pistachio flavor, if not color – a vivid, glowing pistachio green beneath the crackly crust. Still, we finished it, the texture was perfect, and there was certainly enough flavor to keep us going to the last spoonful.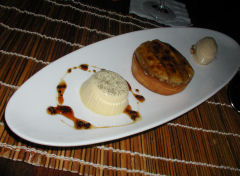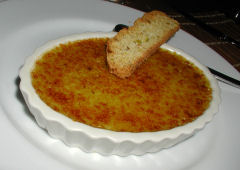 To drink, we sampled a few things from the wine by the glass list, a Philippe Prie Champagne Brut Tradition that was light, crisp, and good, though given that this is one of the least expensive true champagnes available on the market, the by the glass price essentially equal to the retail price for a full bottle is a little steep; a fairly rich, slightly perfumey Hoyo "Kura no Hana" ("Fair Maiden") Daiginjo Sake was really excellent; the Zenith Pinot Noir 2003 from New Zealand was full of plum and cherry flavors with a little bit of a peppery bite that was quite good; and the Frankland Estate Shiraz-Viognier 2003 was a soft, but rich, blackberry fruited and black pepper style shiraz with a touch of flowery aromatics from the Viognier.