"New Orleans food is as delicious as the less criminal forms of sin."

– Mark Twain
Among the various "American" food offerings here in BA the field is pretty limited – burgers, bbq, ribs, wings – that sort of thing. Oh, there's a bit of a longer menu at places like Hard Rock Cafe, Kansas and the like, but for me, all of that is sort of in the same category. The U.S. has such a rich and varied cuisine that I've always been disappointed that some of the more interesting of them haven't made their appearance on the scene. Apparently, I'm not the only one, and relative newcomer to BA, Liza Puglia, a New Orleans native who trained as a chef in New York City, has started offering up some of the foods of her childhood. It's not an everyday sort of thing, she's currently taking over The Office in Las Cañitas on the first Tuesday of each month as NOLAchef (other Tuesdays are given over to other chefs – going to have to start checking this out), serving up a short, changing selection of casual fare and drinks to those who want a little Cajun and Creole in their lives. It's one of my favorite styles of food – I spent a couple of years working at The Sazerac House in NYC and loved cooking and eating it. [Liza closed this in 2012 to move on to a new project offering similar dinners, but Mexican food, at another location.]
Liza invited me to join the festivities last month but I was unable to attend, and she re-extended the offer for this month. So Henry and I headed off Tuesday eve. I had visions of The Office's typical crowd, which you may recall is not one of my favorite groups, though having returned at lunchtime and had a much more pleasant experience, I wasn't dead-set against it all. And, the crowd, interestingly, was a sort of mix of that group, a lot of young Argentines checking out the food, and a few of the foodies I know from around town. The event is held up on the restaurant's terrace which has pretty limited seating and was packed when we arrived, so after sucking down a couple of spiked lemonades, we headed downstairs to the empty dining room and grabbed a booth.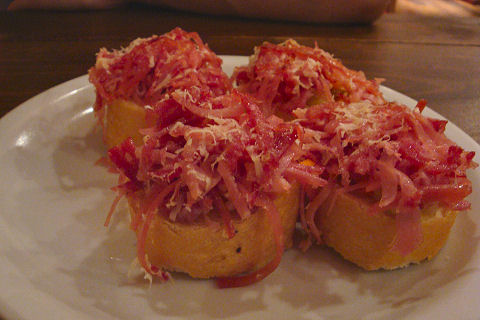 Now, I'd seen a couple of photos of Liza's mini-muffalettas, one of my favorite sandwiches of all the American sandwiches out there, and they looked spectacular with a thick layer of her olive salad topped with shavings of salami, mortadella, ham and cheese – and she has a great writeup of the classic version of the sandwich on her blog. I'm going to say, with all due respect, I was a little disappointed in the execution – what we got were a quartet of bruschetta with shavings of ham and a little grated cheese on top, but no other meats nor olive salad (it said there would be on the menu, so I can only assume that someone screwed up in the kitchen) – and that's half of what makes the sandwich what it is. It was a little too, well, Argentine – kind of a ham and cheese on toast – tasty, but not what I was looking forward to.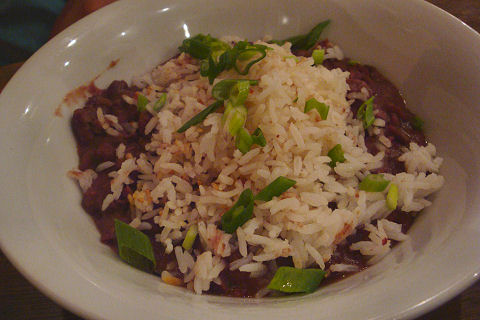 The other menu options were fried fish or roast beef po'boys, an arugula salad with strawberries, and two main course dishes. Henry, being a big rice and beans fan, went straight for the slow cooked red beans and rice. Completely happy with the dish, nice and spicy. Perhaps more of a side dish for my tastes, but for his, a perfectly fine dinner.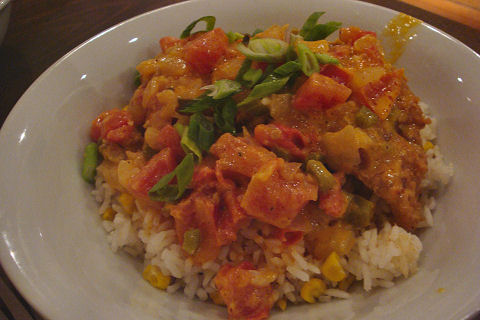 I went for the smothered fish plate. Spectacular. Really. One of the best versions of this dish I've had. If he hadn't been so happy with his plate, I think Henry would have dived into mine, as it was I had to fence away his fork a few times. Great sauce, perfectly cooked fish.
We passed on dessert, which wasn't a Big Easy specialty, but a local dulce de leche empanada. I happen to love traditional New Orleans' bread pudding, but Liza doesn't, so she doesn't make it, and Bananas Foster, the only other really well known dessert of the cuisine is a bit too much for this kind of gathering. Last month's strawberry shortcake looked good….
Keep an eye on her website, plan on the first Tuesday of the month, and perhaps we'll see you there! I'm just hoping she's thinking about opening either a closed or open door restaurant here where the food will be available on a more regular basis.