I'm going to assault you with photos today, on one restaurant in particular. It may not be fair of me, but just remember, I sat there through all the food…. And, by the way, after this, there are only four restaurants left on the review list unless something changes and we need to add another in for some reason.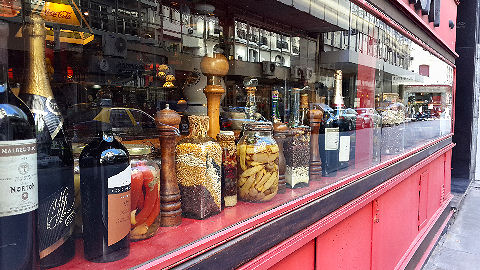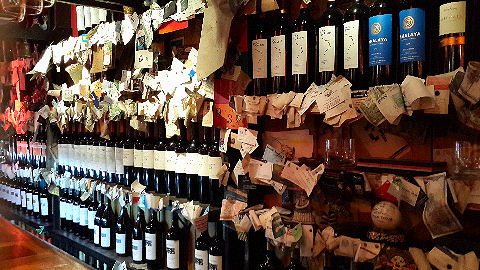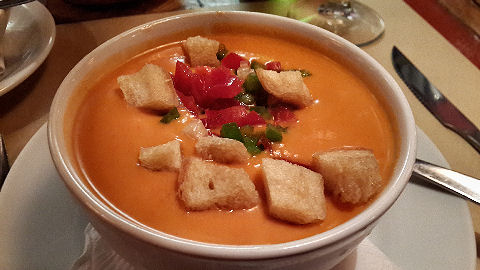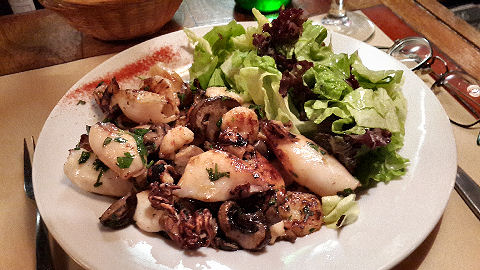 First up, a visit to
Tancat
, Paraguay 645 in Centro, what was, up until recently, the only tapas bar in town. It's one of those places I've gone back to now and again, but not often. My review from six years ago pretty much stands in terms of the place. As to the food, I decided this time around rather than tapas, which are more fun when you have people to share them with, to order regular dishes off the menu even though I was sitting at the bar – which, by the way, fills up pretty fast at lunchtime. I was one of the first people in at around 12:30, but by 1:00 almost all the seats were full with local businessmen, and with one exception they were all men, bellying up to the bar. At lunchtime the tapas selection is also much reduced, which I didn't know, but makes sense, most people seemed to just be getting a single plate of food, generally fish, with a salad or potatoes on the side.
Great gazpacho – the croutons and peppers are served in a separate bowl and left for you to spoon in as you go, a nice touch because the croutons don't get soggy. Although not quite a parrillada, or mixed grill of seafood, they do have a mariscos a la plancha, a mix of baby squid and prawns off the grill, lightly seasoned with olive oil, salt, pepper and paprika, that come with a decent green salad. Pricing is reasonable – I was thinking it might be a far cheaper option than El Burladero, near to us, which generally seems pretty expensive, but the truth is, not that different – main courses here run about 100-120 while at El Burladero they're about 110-140 (other than the bigger, shareable plates like paella), and they have that great three course lunch special. And, good as this is, the latter is better. Still, recommended, especially when in the 'hood.
Okay, ready for the photo assault?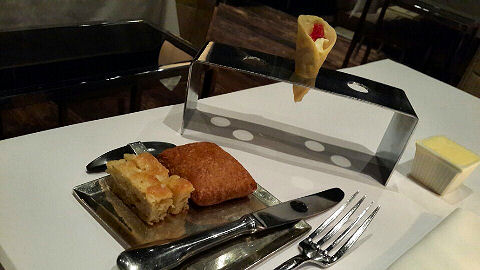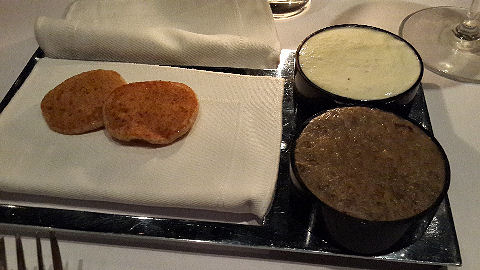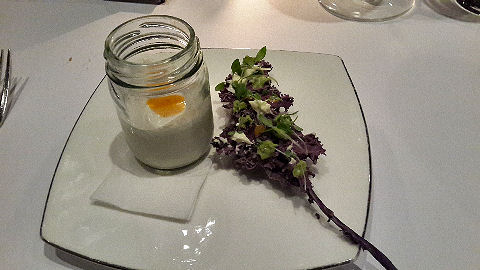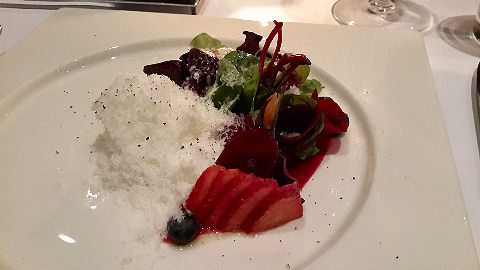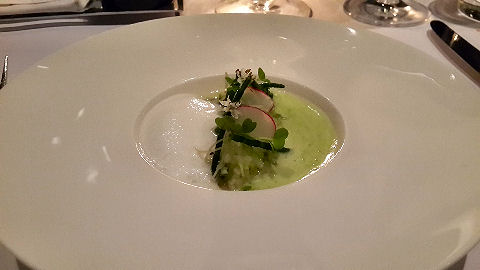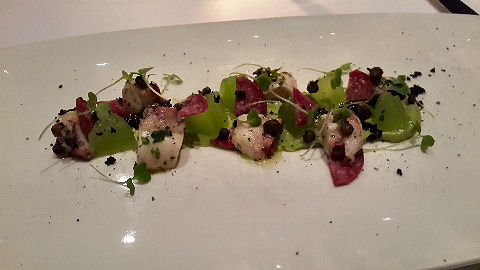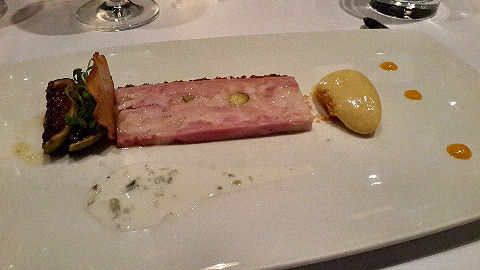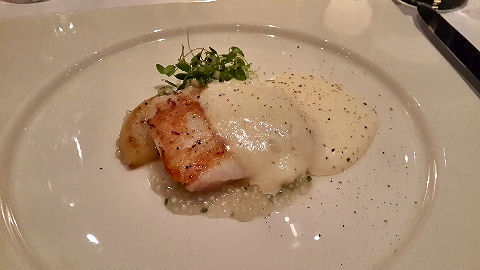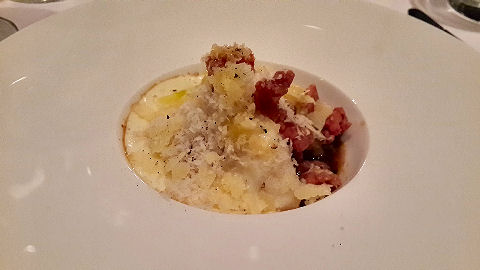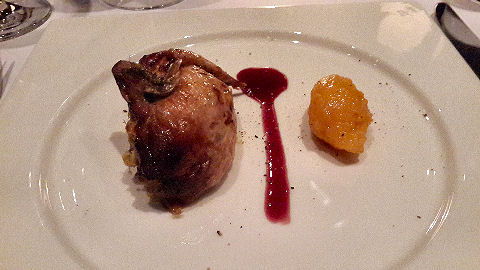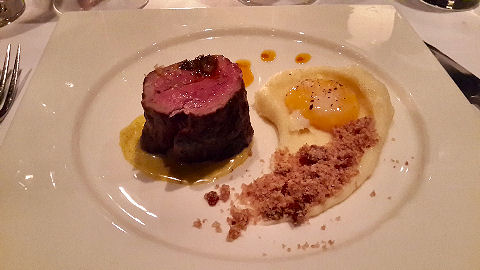 Whew! Just remember, I was eating it all. So here's the thing. I headed to
Tegui
, Costa Rica 5852 in Palermo for only my second visit. The first time I couldn't give you a lot of detail on the food – Henry and I were guests of visiting friends and I only took a few pictures and didn't take any notes. I recommended the place, noting that it was pretty pricey, although a big chunk of that was wine. I recalled that service had been a bit off, and there are some details there that haven't changed a lot. But some has, and upfront, the experience has improved noticeably. The food too, in some ways. Now, my plan was to just go in and have a couple of courses, get a feel for the room and service, and see how the food was – the menu these days offers up five options, mildly complicated, and I think I got the pricing right here: one course 220 pesos; two courses (app/main or main/dessert or two apps) 390 pesos; three courses (app/main/dessert, two apps/dessert, main/two desserts) 450 pesos; eight courses of chef's choice 640 pesos; the same plus pairing of six wines 850 pesos. Comparing that to our first visit, when we had a six course tasting (plus the amuses and such) for 150 pesos (before wine), it's a steep increase for just five years – in dollar terms because of the different exchange rate that's gone from $42 to $80 – still a hefty rise, but not as much, and the tasting has two more courses and one more amuse on it than it did then.
Big surprise on arrival, new sommelier is someone I know, Martin Bruno, who for the last several years has been the sommelier at Hernan Gipponi in the Fierro Hotel. Big plus over whomever was that sommelier we'd dealt with last time. Also turned out that chef German wasn't in the kitchen, a disappointment, whether it was a night of leisure for him, or he's off busy being a judge on the new Masterchef Argentina set. Somehow or other in here I ended up deciding to give the whole tasting menu one more shot, with wines. I also asked if, rather than the two dessert courses, I could get two savory courses, and they agreed.
Okay, so what did I eat? Amuse 1: cornet of whipped cheese with tomato compote, same as last time – good, the cornets could be slightly crispier for my tastes. The potato focaccia still excellent, I hadn't remembered that I didn't like the beer bread, this time I did actually. Wine 1: Montesco Sauvignon Blanc 2013, bracingly acidic and intense. Amuse 2: Blini with sour cream and eggplant puree – given that there are only two blini, that's a lot of condiment, but I assume that tables with more people probably get two blini per person. Overall, kind of bland. Amuse 3: Almond soup, served up with a dehydrated, crispy leaf of kale that's coated with bits of avocado, mascarpone, and aji amarillo, though I got no sense of the latter – interesting, but I'm not sure about the juxtaposition, both elements good but you can't really eat them together. First course: Beet salad with cooked beets, beet chips, beet greens and a mix of fruits – strawberries, blueberries, raspberries, plums – plum sauce and goat cheese "snow" – the beet and goat cheese and even the plum worked, the other fruits were kind of odd, first off, none of them are in season, so they were near flavorless, and they didn't really pair well.
Wine 2: Humberto Canale Old Vineyard Riesling 2013 – very subtle, minerally Riesling. Second course: two oysters and some salicornia (sea beans) with a seawater foam on the left and a green apple soup on the right, also hot on the left and cold on the right, which meant it came out kind of lukewarm if you mixed it together, which you more or less have to with the saltiness of the foam and the sharpness of the soup. Just odd, and the oysters totally lost in the mix. Third course: Confit of octopus, salami, compressed melon, avocado puree, chopped black olives – not a bad combination actually, reminding me of the dish he was doing at CasaCruz before selling the place last year, though that one was better. Wine 3: Salentein Chardonnay 2013 – fairly heavily oaked Chardonnay, my least favorite of the three whites, but not a bad pairing with Fourth course: rabbit and pistachio terrine, mustard bread, cucumber yogurt, corn gelato, figs, aji amarillo – the terrine by itself a bit bland, but all the other components worked really well with it and gave it some zip.
Wine 4: La Justina Pinot Noir 2010 – a completely new one for me, and quite good, lots of fruit and spice. Fifth course: Grilled sole over a tapioca pudding, slice of white peach, cucumber dice, scallop foam – my favorite dish of the evening, though texturally I think I'd lose the tapioca pudding – it added a weird rubbery note and really had no flavor, but other than that, I'm stealing the idea, as a starting point. Sixth course: Semolina gnocchi, crispy sweetbreads, truffle foam, parmesan shavings – good flavors, nice idea, the semolina gnoccho, because it was singular, and large, was a dense, gummy puck reminiscent of a bad matzoball. Seventh course: half a quail stuffed with humita, dried peach sorbet, Malbec reduction – the quail a bit overcooked, the humita really bland – a sharp contrast to the amazing humita stuffed quail I had last week at Restó. Wine 5: Luigi Bosca Los Nobles Cabernet Bousquet – great wine, complex, interestingly delicate for the next dish.
Eighth course: Okay, first off, fair notice, the photo of this dish is not mine, nor is it precisely accurate for what I had. I missed taking a photo of the dish and the only one I could find was on another blog, the dining blog of Kenneth Tiong, who interestingly enough had an awfully similar menu back in December (for a place that supposedly changes the menu seasonally), though he was definitely more critical of it than I. So Kenneth, I've linked your photo for illustration purposes with all due credit to you (I also sent him an email, and after this post came out, he graciously didn't decline to have me use it). The dish is now plated turned ninety degrees, so the rectangle of 24-hour braised lamb is now in front, with the "Mediterranean vegetables in thyme yogurt and eggplant puree" being in a sort of tangled pile in back instead of the neat rectangle, and the smoldering thyme branch is now off to the side of the plate. Loved the flavor combination, especially the vegetables, could have done without the smoke, and the texture of the lamb is just too mushy – I'm assuming the 24 hours is sous vide cooking and by that point the meat has the texture of baby food. Wine 6: D.V. Catena Malbec 2009 – good wine on its own, but not a great food wine, it's just a huge fruit and oak bomb. Ninth course (yes, 9 in an 8 course tasting menu, plus 3 amuses, so 12, really): seared sirloin, chimichurri, smoked potato puree with an egg yolk and toasted farofa (coarsely ground yuca flour) – good dish, my second favorite after the fish, at least as a whole, it really came together and a nice way to finish.
So, hmmm, overall I enjoyed the experience. I felt taken care of, there were no service missteps once reaching the table. For some reason they still ask you to sit in the lounge area and offer you a cocktail when you arrive, there's no option to just go to the table directly, I watched it happen with everyone who came in, and while some order cocktails, most don't it seems, so it's a wasted service step and it's annoying, especially if you ask to be seated directly and they tell you you have to sit in the lounge and then two minutes later when you're clearly ignoring the cocktail menu they sigh and take you to your table. It's obviously expensive for Buenos Aires, though these days not so much as it seemed to be a few years ago as there are plenty of restaurants now that are up there in that price range. The food, still kind of hit and miss, though overall I think better than that first experience – missing, for me, is a cohesiveness to the plates – there are often elements that while on their own are fine, they just don't work together, and much of it seems forced rather than a natural flow. And, there are a few missteps in execution as well. I leave it as recommended, but in some ways, more for the experience than anything else.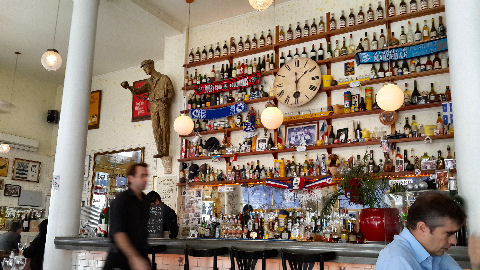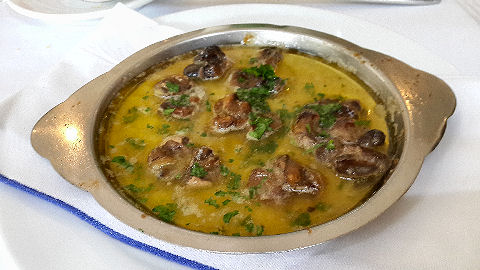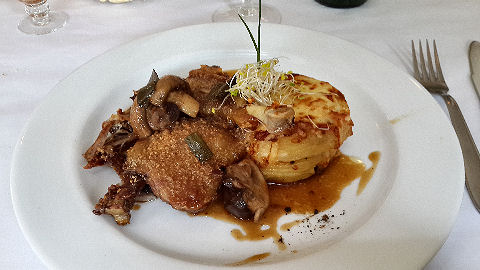 As I mentioned early on in this series of posts, I'm purposely not going back and re-reading my earlier reviews prior to going. So, while I remembered that there were things about
Brasserie Petanque
, Defensa 596 in San Telmo, that I hadn't liked on my
first
and
second
visits, I had thought I'd put it as an "okay" rather than a "not recommended". More's the embarrassment (after the fact,
i.e.,
now) because the owners invited me to a complimentary lunch. I also didn't know that at the time of my first review they'd only been open about five months. This time, obviously, I met the two owners, and both are completely charming and warm and welcoming, and were active in the dining room greeting people and checking in on tables – something that based on those prior reviews, I hadn't seen before. The waiter too, who I think was the same one we had the very first time, though not the second.
Still a bit full from the dining experience the night before, I decided to go simple and classic and not overdo it. A plate of snails in garlic butter were delightful. While visually snails served up in their shells might be nicer, I appreciate not having to do the work, and the garlic butter was so good I soaked it all up with the quite good bread. There's also whipped fresh cheese on the table coated with pepper to spread on your bread. The duck confit this time, as far opposite as it could be to that time Henry had it. Succulent, melt in your mouth, packed with flavor, crispy skin, everything confit should be, and accompanied by an amazing potato gratin that I could just go back and eat one of by itself with a glass of wine. Imagine my surprise going back and reading my earlier reviews, how different everything was – but at the same time, it's been six and nine years, and if those two dishes are any indication (and, from what I've been hearing about the place over the last couple of years), and watching the other diners thoroughly enjoying themselves, they've finally hit their stride. I'm going to give them a cautionary jump to Recommended, and I'm definitely going to go back another time with some friends and try more of a range of dishes, because it was everything that a brasserie food and experience should be. Pricing reasonable with apps around 75-90 pesos and mains from 100-130.
So, what's left on the review agenda? Social Paraiso, La Bourgogne, NOLA, and Malevo. Coming up after the weekend.