The last two weeks there was a minor buzz out there for "BA Food Week" (which should have had an "s" on the end, but doesn't). It's an annual event that started I think just a couple of years ago where various restaurants in town offer up a prix fixe lunch and/or dinner at a set price that's across the board, regardless of which place you go to. It's an opportunity to get a sense of the cooking at one or another places that you've been wanting to try, including some fairly pricey ones, at a more gentle on the wallet value (100 pesos lunch or 170 pesos dinner). In theory anyway. Similar events have gone on for years if not decades in various other metropolises of the world – "Restaurant Week" in NYC is a long standing tradition.
The idea is to show off some select dishes that will entice folk to come back for "the real thing", and the majority of restaurants that participate seem to do that. Some don't – perusing through the offered menus on the website, it was clear that a few places were offering their bottom of the barrel options, probably some created just for the event, in order to maintain a higher profit margin at the reduced price. And some places, the Food Week deal wasn't any better than what they normally offer in terms of prix fixe values. In the end, I just joined friends at four different places, only two of which were offering the Food Week deals, for prix fixe lunches – and, we ended up not taking advantage of the offers, as the two spots that were "on the deal" had better deals on their regular menus!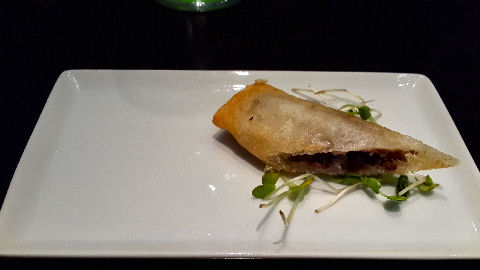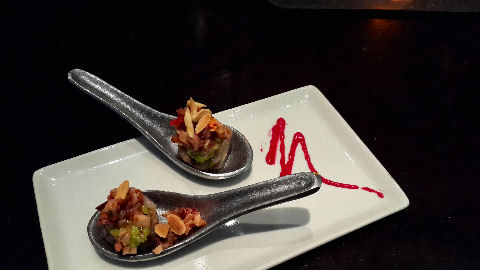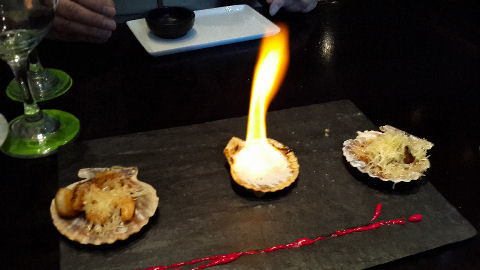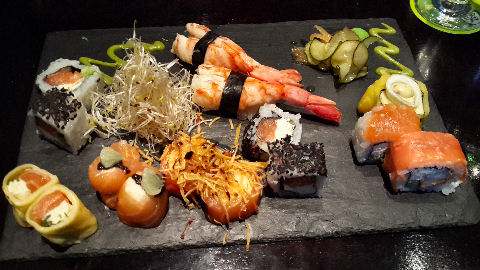 First up was a new branch of the Akira sushi chain,
Akira Nikkei
at Cavia 3090 in Palermo Chico. There was a sushi bar here before, Lizzie's, which closed about a month ago. Talking to our waiter he told us that it was basically all the same staff and same owners, but with a new menu and the place had been remodeled. That seems at odds with this now being part of a chain, unless Lizzie's was before as well – or perhaps the previous owners are just franchising from or partnering up with Akira? The Food Week special at 100 pesos offered up a choice of an octopus or scallop appetizer and 10 pieces of assorted sushi rolls or a hot dish (salmon teriyaki or pepper steak), choice of dessert, with all beverages extra, plus, an unspecified
cubierto
charge (which I'm pretty sure is outside the rules of participating in BA Food Week, there aren't supposed to be any mandatory extras). The regular menu offered up a 95 peso prix fixe that included the same choice of appetizers, 15 pieces of assorted sushi rolls, a bottle of mineral water, and no cubierto charge. Guess which one we picked? We could pass on the dessert for the extra five pieces of sushi and the included bottle of water and no extra charges. Unfortunately, none of the food was particularly good – the appetizers were minuscule, actually smaller than the half a springroll that we each got as hors d'oeuvres, and all were flavorless; and of the 15 pieces of sushi, 12 were salmon and cream cheese in one form or another. A big yawn all around.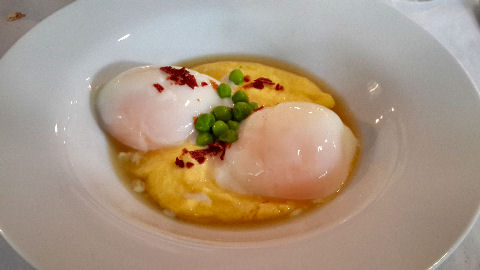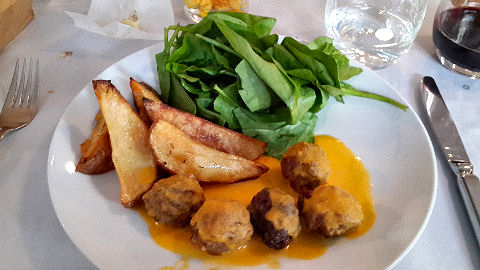 A revisit to
Astor
, Ciudad de la Paz 353 in Belgrano, that I
wrote up briefly in some mini-reviews
. As good as previous visits, but again, a better value off the Food Week special. 100 pesos included the usual choice of each of three courses, filtered water, coffee, and a glass of wine, the wine on offer being one from a sponsor of the week that was, in my opinion, just an "okay" wine. The regular prix fixe is 79 pesos, and a glass of far better wine for 23 pesos brings us to a whopping 102 pesos, a whole 2 peso difference – and we opted out of dessert again which brought it down another 11 pesos for a grand total of 91 for a plate of two perfectly poached eggs over corn puree and a main course of veal meatballs with steak fries and spinach salad, plus a glass of Aguijón de Abeja Syrah that paired perfectly. 
[Closed]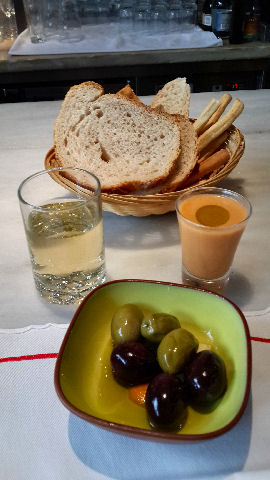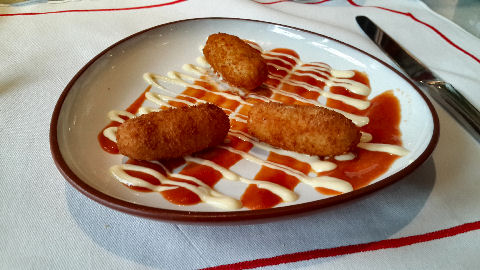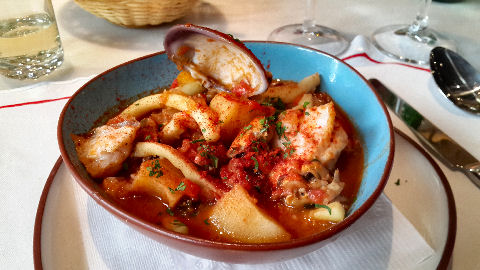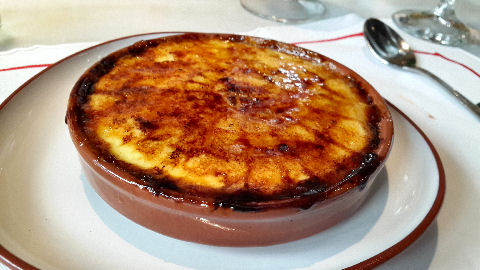 The friend who joined me at Akira mentioned that
El Burladero
, our favorite neighborhood Spanish spot, at Uriburu 1488 in Recoleta, now has a prix fixe lunch that's a steal. And it really is given that the a la carte menu prices run well over 100 pesos for a main course, and not much under 100 for appetizers. For 109 pesos you get their usual welcome of gazpacho, olives, breads, and cider on tap; and a choice of 3 options in each of 3 courses – I went with the Jabuco ham and potato croquettes, the fish and shellfish zarzuela, and a creme catalán, also included were a bottle of mineral water and a choice of a glass of white or red wine. No extra hidden charges, the only caveat being that it's cash only for the prix fixe. I'll be back for this one, the food was as delicious as always.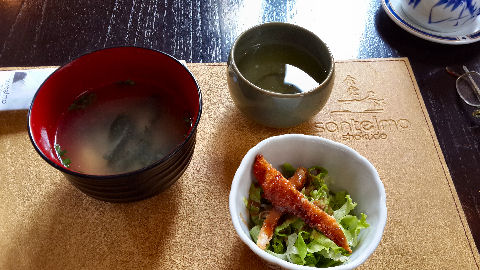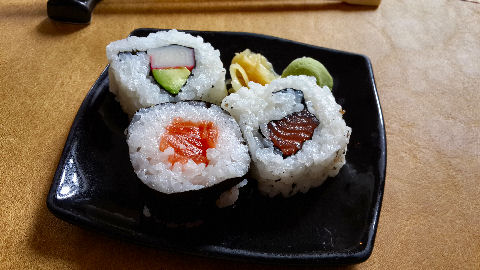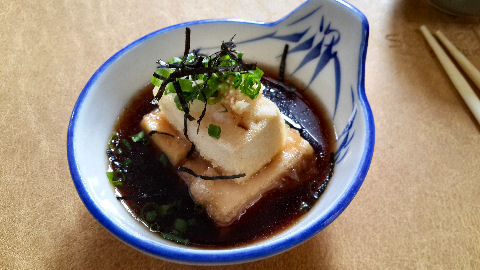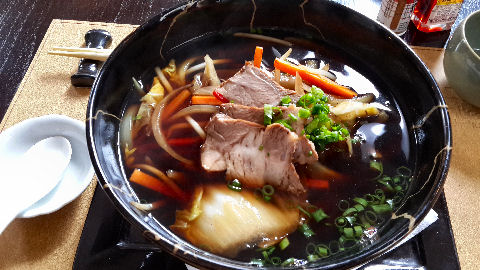 And, same friend and another and we met up in San Telmo one day at
San Telmo Shokudo
, Defensa 910, which always gets high marks for its authentic Japanese food. You'd think I'd have tried it by now. The regular menu is somewhat on the pricey side, particularly for San Telmo, but isn't really that bad. And there's a prix fixe lunch menu for an easy 69 pesos, no extras, that includes a small bowl of miso soup, and another of salad with thin strips of tonkatsu pork on top, a trio of pieces of assorted sushi rolls – no cream cheese! – a choice of several appetizers, I went with the
age dashi tofu
, and about a dozen different main course options, from sushi to tonkatsu to various stir fries, to a heaping bowl of
gomoku ramen
, and, a pot of green tea. That's a deal. It's not award winning food, the ramen broth and noodles, to be honest, reminded me of any of a number of instant versions (which is not a bad thing, just not what I'd expect from a place like this), thankfully it was also a bit less salty, and the other dishes were all winners. I'd happily go for the prix fixe lunch there again.