Time for another round-up of some spots to grab a bite, but that for now, I'm not giving a full review for one reason or another.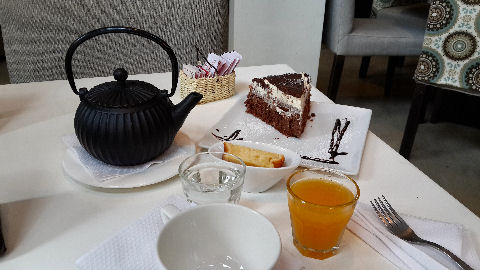 I've noticed that over the last year and a bit a sudden spate of openings of new cafes and pastry shops and bakeries here in my neighborhood. And it's not just one or two, but I'd guess something on the order of fifteen of them, all within about a five block radius around me. I've scrupulously avoided stuffing my face at any of them, though I have in mind yet another of my little food projects – a round-up of all of them, a sort of "Pastries of Recoleta" kind of homage. I don't know that I'm quite up for that, especially with the
92 Bus Pizza Trek
and
The Great Sandwich Hunt
still in progress, so for the moment I'll just hit one now and again. Around the corner from me, taking over the space of the god-awful and thankfully short-lived Kankei attempt at a low-rent version of Peruvian-Japanese fusion, is
Tips Bakery & More
, Pacheco de Melo 2001 – making it the fifth restaurant to occupy the space since we moved to this address eight years ago. It's all gleaming white and clean looking, with a nice pastry case in the front. Amazingly, I was actually able to get my waitress to make a recommendation in response to "what's the best pastry that you guys have", with her recommendation of the
torta bombon
, a massive slice of chocolate, dulce de leche, meringue and whipped cream that promptly put me into a sugar coma. A selection of half a dozen teas is available by the pot, though I question whether tea service needs to include not only a glass of water (I understand it being served with espresso for those who want to cool or water it down, though I usually just drink it afterwards), but orange juice and a slice of pound cake as well. Tea and cake, delicious! 
[Closed at end of 2017]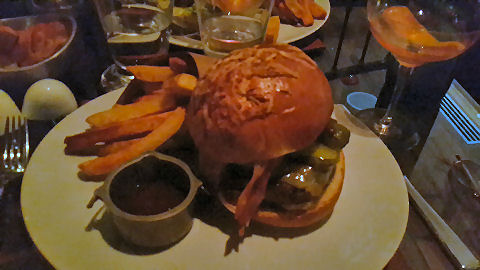 I've
already reviewed The Pony Line
at The Four Seasons. You may remember, or now go back and read, that I wasn't overly impressed by the trio of mini-burgers on the menu. They were fine, but nothing to get worked up over (and I'm still peeved that they took my favorite dish on the menu off, the morcilla stuffed pigs trotters). And you may also remember that recently I'd intended to drop in and try their regular burger, in last month's little
four bite review post
. Henry and I decided to take a night out and relax and get a little pampered – we'd love to try Elena, the main restaurant at T4F, especially for brunch, but it's just a little out of our reach. And unfortunately, The Pony Line is getting up there too – after just reopening earlier this year the prices have already gone up, which means I drop in less often for a cocktail or glass of wine (those cocktails have gone from around 65 to 85 pesos). But back to the burger – I've got to admit, one of the best ones I've had in BA. It was cooked a proper medium rare as requested, it was well seasoned, and it was topped with white cheddar, actually crispy bacon, and really good pickles. They should dust the fries that come with it with the truffle salt and herbs like the share plate that's available separately, that would make this a truly winning combo, especially at the over 100 peso price. It was a hefty night on the credit card – a tortilla de papas, a plate of mini-empanadas, my burger, his milanesa sandwich, two bottles of water, and three cocktails between us, with tip ran us 900 pesos. A very now and then splurge….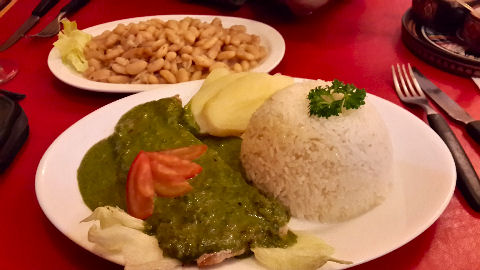 A bit over a year ago an expat friend and fellow chili judge told us about a small Peruvian joint where he was regularly picking up takeout or getting delivery from, and we decided to give it a try. We haven't ordered from a different Peruvian spot for delivery since –
Chimu
, San Luis 2741 on the border of Once and Recoleta has become a staple of our order-in dining, generally at least once a week. The portions are big, the flavors are true, and the prices are reasonable. So we decided to wander our way over one day to actually check the place out – I mean, we've been eating their food for about fourteen months now, the owner recognizes my voice when I call, and even when I forget to ask for the extra spicy rocoto sauce, throws it in for us. The place is small, cute, and looks like any other Peruvian hole in the wall in Once. But the menu has a few things (some of which we didn't know about since they're not on the delivery menu) that we've not seen on other local menus, like this fish in huacatay sauce, which turned out to be excellent. Also great tamales, and Henry's favorites to order, ceviche and aji de gallina, and one of the best chicharrones de pollo – fried chicken, that I've tried in any Peruvian restaurant, anywhere. Top that off with it turned out that while they didn't know each other, the owner and Henry grew up just a few blocks apart in Trujillo, and it just confirmed it as our favorite casual Peruvian. And, thanks Mike W for turning us onto the place!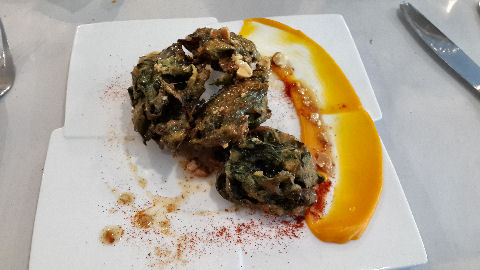 It seems like every food writer out there in BA has been writing up the new
Astor
, Ciudad de la Paz 353 in Belgrano. The chef is Antonio Soriano, who on my pages anyway, you last saw at
Chez Nous in the Algodon Mansion Hotel
[Closed in late 2015, Antonio became the executive chef for the Park Hyatt Palacio Duhau]
. He left there awhile back and I haven't been back in to check out the changes – something that I ought to rectify one of these days. But he's now popped up with his new casual style eatery where he can dress down (jeans and polo shirt) at the counter of his open kitchen, change the short menu weekly to reflect the market and whatever he feels like cooking, and offer up one of the best priced lunch prix-fixes around (67 pesos for two courses, 79 for three), with creative, delicious cooking. I've been twice for lunch and have been happy with every plate except one dessert so far (sorry, the chocolate caramel brownie was just not a good one). Since the menu changes every week, I can't recommend any particular dish, but so far the real winners have been these swiss chard croquettes – easily the best ones I've ever had – served with a spiced carrot puree and toasted peanuts, a melt in your mouth tender oxtail dish with potato puree and a green onion sauce, and delicious chicken breast with squash and brussels sprouts. I'm holding off on a full review until we have a chance to drop in one night for dinner and see how that goes – I anticipate a great meal! (And, Antonio is also consulting or involved in some way with the new burger spot, Perez H. in San Telmo, so that goes on the radar to check out as well.)