"The effects on memory of the most pleasant dish, the first and last dishes, a rising vs. falling hedonic profile, and the time spent eating a dish were evaluated for similarity to effects seen in memories of pain. Across the three studies, there was consistent evidence for duration neglect (no effect of increased duration/exposure of the favorite component), and some weak evidence that patterns rising in liking are preferred to those falling in liking. In all three studies, there was no evidence for peak, primacy or recency effects. The existence of duration neglect implies that, with respect to memories of a meal, small portions of a highly favored dish will have roughly the same memorial effect as large portions."

– Elizabeth Rodea, Paul Rozina, and Paula Durlach, Abstract from a scientific study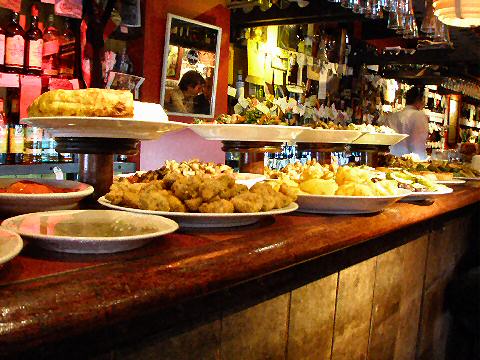 Buenos Aires – All that scientific gobbledygook above pretty much means that a trio of scientists convinced some research department to fund their restaurant forays, with a focus on buffets, tapas, dim sum, and the like. Probably a few regular sorts of meals too. The upshot of it is that a bunch of small plates of things you really like gives you as much pleasure, or more, especially if you try several things you really like, than one or two large portions of something you really like. You remember appetizer crawls, don't you?
I've mentioned Tancat, Paraguay 645, in Centro, 4312-5442, before, but never got around to reviewing it. In a way, there are two Tancats. There's the tapas bar, pictured above – and truly, the best way to experience this is to plop yourself down on a barstool and start pointing – some of this one, some of that one, mix a few of those in… wash it all down with a glass or two of wine, and waddle on out into the night. The other, is to sit at a table. Here, the tapas become problematic. Not that you can't order them, and we have – though the best way requires walking over to the bar and pointing at things and then going back and sitting down. Trying to order tapas off a menu… sucks. It'd be like dim sum without the carts.
At the tables, we have a tendency to order one or two favorites – at lunch the other day we started off with a plate of boquerones – nice and light and vinegary – perhaps not as good as those at El Trapiche or Damblee, but just fine, and followed quickly on by some roasted eggplant, some baby squid… but by the time those had been thought of we were on to regular menu items, and the table ended up with a couple of bowls of decent gazpacho – the pureed sort, which isn't my favorite, but they make up for it by bringing little side bowls of croutons and chopped peppers and onions to put some "chunk" back in the mix; and then a mushroom risotto, a braised cut of solomillo, or pork loin, and one of the day's chef specials, a small platter of portobello caps stuffed with smoked salmon and topped with a creamy cheese sauce.
No question the food is good at Tancat, and the prices aren't bad for the downtown neighborhood. Personally, I prefer the tapas bar and a casual nibble, or two, or three, or….