"If the human mind was simple enough to understand, we'd be too simple to understand it."

– Emerson Pugh, physicist
Buenos Aires – Apparently part of what's behind our recent popularity with the U.S. Embassy for private parties is, someone wrote about us in the embassy's internal newsletter and suggested us as a place for such events. I got an e-mail from an embassy employee, someone who'd been here for dinner a couple of years ago, wanting to treat a couple of friends and visiting family to dinner here. Thanks to whomever wrote us up!
Simple instructions, a simple, yet delicious dinner. Lactose and gluten free. Latin theme. Four courses. Easy enough. We started off with a gazpacho (diced cucumber, green and red peppers, onion, in a puree of tomato, garlic, rocoto pepper, chives, olive oil, red wine vinegar), continued on with my take on the shrimp dish I mentioned at the Zuccardi winery – I wanted to try out my idea of five different citruses, plus, spicing the shrimp my way, then on to garlic marinated pork chops with spicy black beans, a dollop of mango atop for color and sweetness, and some fresh corn salsa, and finish off with a turrón de chocolate (substituting margarine for butter and gluten free pound cake for the soft cookies). The winner for me, and judging from the reaction of the guests, was the shrimp dish…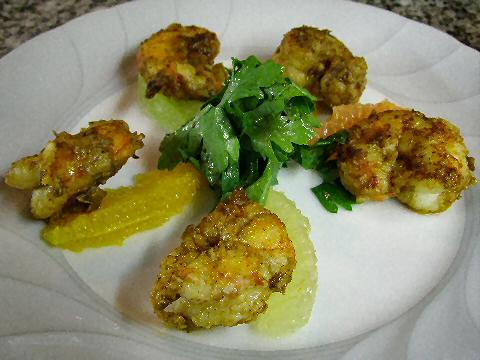 I marinated the shrimp in olive oil, salt, bay leaf, ancho and chipotle peppers for a couple of hours, then seared them over high heat to lightly brown them outside and keep them juicy inside. Each of the five served to each person went atop a different
supreme
of citrus – pink grapefruit, navel orange, lemon, lime, tangerine. In the center, a parsley salad – just fresh leaves of parsley with a light olive oil and balsamic dressing. Thanks go out to the chef at the Zuccardi restaurant!