"You were born with wings. Why prefer to crawl through life?"

– Rumi, 13th century Persian poet and theologian
New York City – There is a reason to crawl through life… appetizers. Appetizer Crawls. Winging our way from one restaurant to the next would be kind of cool if we had literal wings, I suppose, but then there'd be all that 'splainin' to do when you landed at the hostess' desk, and trying to fit on the closest banquette with wings unfurled, and all the rest. Crawling is simply more sensible when it comes to appetizers.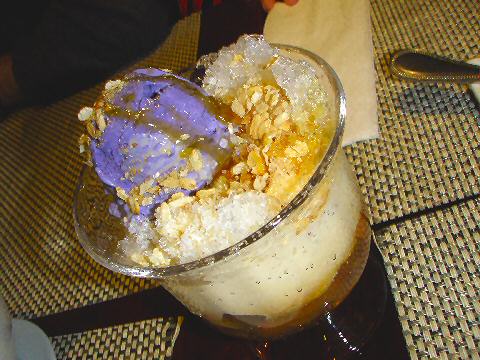 Before the appetizer crawl started, there was lunch. A return to
Grill 21
, and meeting the food blogosphere's renowned
Aki and Alex
for a round of some fun Filipino food. They left the choices in my hands (trusting folk, they), so of course, it was more
dinuguan
, my fave, along with a shrimp in tamarind broth, of course we had to have the
lechon kawali
, Alex loves pork belly, and some
lumpiang
to nibble on. And who could resist sharing a big bowl of
halo halo
with its glowing purple yam ice cream, and all sorts of gooey, chewy, and crunchy things…? But lunch was just priming the pump for the day… especially when one of my old appetizer crawl partners called up and said he could get away for the evening after all…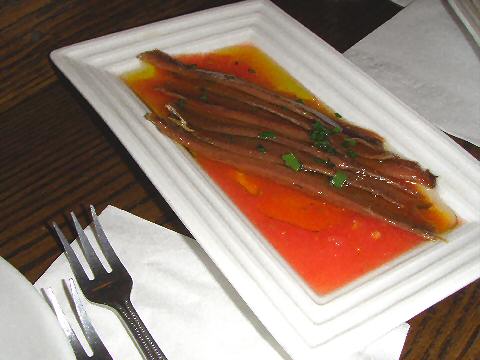 I'd like to say that "I've always said there's nothing quite like a good anchovy", but the truth is, that until this moment, I've never said such a thing. I love anchovies, don't get me wrong, I simply never uttered that phrase, at least to the best of my recollection. We met up down in the west 20s and decided to start off with a couple of platelets at the relatively new
El Quinto Pino
, 401 West 24th – the name is a colloquial expression in parts of Spain that while it literally means "the fifth pine" translates more or less as "the boonies" or "the sticks", as in "being out in". The spot, and spot is about as much space as it takes up, is another tapas bar from the folks at nearby Tia Pol. It's a really small space, about the size of my living room, with a bar that seats six and a surrounding wall counter that seats another six and stands as many people as can pack in. And they do… thankfully we got there early because they were shoving their way into the room from the street like the #6 train at rush hour by the time we left. And they're clearly there for the tapas and the wine, because that's what's available, and because it's sure not for the size or look of the room, which is papered in wallpaper and big mirrors that my great grandmother might have picked out had she had a drawing room in her hovel. Remember the anchovies? Before I went off on a tangent?
Anchoas al Ondarroa
, beautifully soft, nearly creamy, salty, long strips bathed in a light tomato and herb sauce, served with fresh bread, I could have just sat there happily eating plate after plate. But, there was the famed
uni panini
that all the critics have written about (they've also written about the pig's ear salad, with less glowing verbiage, but it wasn't on the menu anyway the other night), and well, I'm not quite going to glow about this sea urchin sandwich. It was good, actually it was quite good, with half a dozen little roe sacs slithering about inside a piece of pressed and warm bread, a lovely wasabi oil drizzled over the whole thing, but hmmm… I think it's just that there's nothing quite like sea urchin when it's fresh and icy cold, as sushi or right out of the water, and this somehow seems a step down. Besides, after those anchovies, it didn't stand a chance. We drained our glasses of cava – a Juve de Camps rosado and a Dibon – and shoved our way out the door and into the night.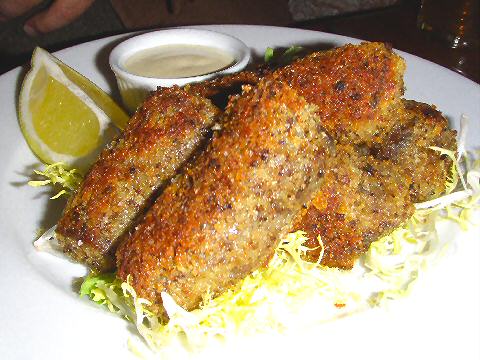 A very close walk brought us to
Trestle on Tenth
, 242 10th Avenue at the corner of 24th, where the theme suddenly went Swiss. Not that anyone was yodeling or wearing any sorts of
hosen
, but the food and drink takes a turn for the Alps. The room is brightly lit, it's reasonably pretty, and it was dead empty. It stayed dead empty during the time we were there… more or less… a couple of folk wandered in to the bar, had a beer, wandered back out, and just as we were leaving a couple came in and nervously looking around asked to be seated. If we hadn't been in the room they looked like they might have fled. Let's face it, Swiss food isn't a big draw, and for us, less of one after this visit. We ordered the highly recommended "crispy ducks necks"… it's the sort of thing that foodie types order, and I'm sure they're counting on that – though we did have a whole discussion first as to whether this was just a way of getting an extra $9 out of leftover bits. The answer is pretty much yes, despite assurances from our waitress that they were her favorite thing on the menu. Unsurprisingly, there's little meat on the necks, which aren't the whole necks anyway, but short little 2-3" sections, and they've been breaded and then deep fried, which means all flavor of the meat is gone so you just taste oily crust, and served up with a garlic-anchovy aioli in a little teeny cup that you can barely dip the ends of the necks into, let alone get any sauce on them – maybe something a bit flatter, like a mini-corn on the cob dish, would work. Or a spoon. The other recommended dish, a crepinette of pork shoulder, was not much more than mooshed pork shreds held together by a little caul fat, unseasoned, unadorned, unappreciated, and unfinished. Given the food, we'd opted for a couple of beers, of which there's a short, but decent selection both on tap and by the bottle. From somewhere far away, we heard yodeling and decided to beat a retreat.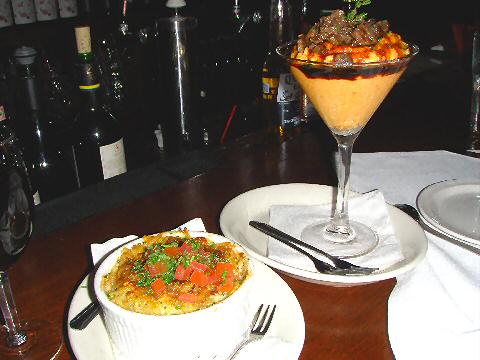 We decided to work our way up the west side, though given our last two dishes we were feeling slightly leaden, which didn't bode well for a long drawn out crawl. Still, the next spot that popped onto our radar was one which we headed to more out of an amusing sense of the comical than anything else,
Crave on 42nd
, 650 West 42nd, the new home of Dave "I'm not your bitch, bitch" Martin of Top Chef season one fame. And there he was, the little darling, right there at a table inside the door, working on menu ideas. He's much smaller in real life than on TV – he's more or less my size, which surprised me. We introduced ourselves and plopped down at the bar (no liquor, "we hope to get it back soon", just a mediocre selection of four beers and a dozen wines that were probably selected by a sales rep with a quota to meet). Our expectations were for some interesting twists on American comfort food, which seemed to be his bent on the show – maybe with a touch of southwestern flair. The menu definitely reads towards the former, but there wasn't much of all those spicy flavors he got known for on the show appearing on the menu, which I thought was sort of odd, since that's the stuff that got him noticed. We had to order the famed "truffled mac n'cheese" that won him raves from all the judges, and the other starter that caught our eye was a "hanger steak martini". The latter turned out to be the real winner – in fact, it was absolutely delicious, with a martini glass (okay, cutesy touch that's pretty silly, but what the heck) filled with a sweet spiced carrot puree, drizzled with a ginger soy "pan sauce", and topped with bits of grilled hanger steak. The mac and cheese didn't fare so well – a nice crunchy, bacony crust atop, and underneath… overcooked pasta swimming in olive and truffle oils. Where's the cheese? Where's the creaminess? We poked at it a bit and pushed it away. Dave came over to inquire, we gave it to him straight. He looked at it, blanched, grabbed the plate and headed back to the kitchen where ensued a bit of… discussion. A short while later he reappeared with another mac and cheese, which, upon digging into it, we found contained both cheese and cream this time, though still on the oily side, and the pasta is still overcooked. And really, truffle oil just doesn't imitate truffles as well as one might hope. The room, by the way, is a strangely uncomfortable spot that looks a little like the faculty lounge at my old high school, decorated with nothing other than the crayola 32-pack of colors of squares of wood or fabric or something tacked to the walls. Oh, and what's the deal with all the little teeny oyster forks that the appetizers are served with – give me a real fork, or spoon, or something. There's a very nervous looking older couple who spent the entire time we were there pacing back and forth between the kitchen, the host stand, the bar, and Dave, leaning over regularly to whisper in his ears and/or give him a shoulder squeeze. Mom and Dad? In for a visit, or there for the long haul?
[10/21/08 – just in, Dave Martin has left this restaurant, which plans to "soldier on" with a limited bar menu]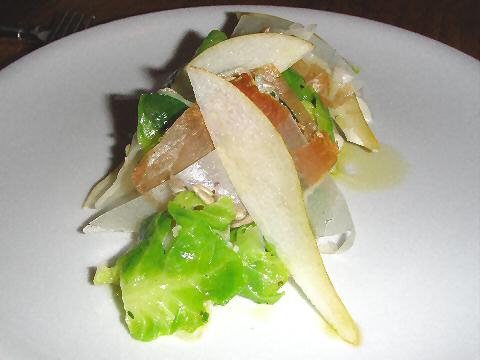 Two mac and cheeses pretty much did us in at that point, but we gamely decided to head further uptown and hit one more spot on our list (sorries to Esca and Insieme, which we dropped from the roster) before retiring for the night – and shortly found ourselves at
Dovetail
, 103 West 77th, at Columbus. It's an odd space. First off, it's an old townhouse, with street level being midway between a downstairs and upstairs, meaning, you're going to be using stairs – always a tough sell in Manhattan. The entry area has a maitre d's stand the size, shape, and look of a standard retail display at The Gap, and it comes as a surprise that there's nothing laid out on it being offered for sale. A long built-in wine display lines one side, and then we found ourselves in the very narrow bar area, with a few high tables and banquettes squeezed in around the servers only bar, with a wisp of a hallway leading back to the main dining room which is a bit more spacious. It's all done up in a strange sort of gold brown color that would look great on the frame of a religious icon. There's also some sort of strange hair thing going on, as if each staff member is trying to outdo the next for the trendiest hairdo. All that aside, the menu looked immediately intriguing, and we ordered up the delightful brussels sprout salad pictured above, a plate of fried lamb's tongues, and the kitchen insisted on sending out a plate of braised pork belly. A couple of
amuse bouches
were brought to the table – bits of pickled overcooked octopus, not a winner; and a Chinese soup spoon with vodka gelee, salmon eggs, sour cream and fried capers… mmm… okay, it was… fine. Each of the dishes had great components, but generally, too many, and they didn't all necessarily match up together. The salad had this great light bitterness going on with brussels sprout leaves, thinly shaved cauliflower, prosciutto, sunflower seeds, and a celery puree, but was marred by overly sweet slices of pears that were interleaved, no matter, just push the pear to the side. The lambs' tongues, meltingly soft inside a thin, crispy crust, perfect on their own, but served up with what we described as a "ham roll" – you know, roll some ham and cheese together and slice it in thin rounds and lay it out on the hors d'oeuvre table at a cheap wedding. Our waiter assured us this was a
muffuletta
, which it wasn't – a muffuletta is a century old sandwich from New Orleans with a crusty Italian bread filled with "Provolone cheese, Genoa salami, Cappicola ham, and topped with olive salad – a mixture of chopped green olives, pimientos, celery, garlic, cocktail onions, capers, oregano, parsley, olive oil, red-wine vinegar, salt and pepper". This was just the two meats and the cheese in a roll-up, and had nothing to do with the lambs' tongues (okay, there were a few slivers of green and black olives, and roasted red pepper, adorning the plate). Our waiter went on to inform us that it was the chef's twisted sense of humor of a plate of "tongues and muff"… ewww, can I just say ewww… I don't care if that is the thought process that went into it, I don't want to know. The pork belly was good, but for me, nothing special, my dining companion liked it a lot more than I did – on the other hand, I'd had that great platter of it at the Filipino place at lunch that was simply delicious… Overall assessment, lots of interesting ideas, very creative, and not quite so well executed, though worth another visit one day – after all, this place literally just opened in the last week or two.