"When I was a kid, life was good. I had some GrrAnimals clothes, and they were all prematched. On the tags they had animals, and the lion shirt went with the lion pants. The giraffe shirt went with the giraffe pants. And then they played into each other, like the lion stuff would also go with the giraffe stuff, and the hippo stuff, but not the aligator. Why don't they have these for adults?"

– Ellis D, Yahoo Answers
Buenos Aires – A few years ago, a couple of friends in the NYC restaurant biz and I started a regular social outing for ourselves. Something different from the late night, after work, let's go hit one of the few places still open and serving food, sort of outings that we did all the time. Due to our schedules, Sundays were the only day – and we decided we'd do an Appetizer Crawl. It was a simple concept. We'd pick a neighborhood – usually we'd decide that everything had to be within 4-5 blocks of each other, and then we'd simply hit as many restaurants as we could in that area, sit at the bar if they had one, and order one round of appetizers along with a glass of wine or other appropriate accompaniment. After an appropriate amount of time spent, we'd move on to the next place. We'd often get sidetracked, like the night when we discovered an old friend of ours was managing the newly opened (at that time) Megu, a giant trendy Japanese place – and he convinced us to stay and keep eating – we ended up having about six rounds at their bar and never got back on track for other places.
Not surprisingly, every magazine and newspaper out there seems to be doing their end of the year roundups. I was reminded of our appetizer crawls by Frank Bruni's piece this week in the NY Times Dining section, where he looked back at a year's worth of reviews and came up with a "Restaurant Crawl" where he'd have one dish at each of his fave restaurants over the year. It also gave me a direction to tackle Alan's proposal for "A Perfect Day in Buenos Aires" meme over at his Buenos Aires Travel Guide. So, looking back at all the wonderful (and not so…) food I've had on this adventure so far, how would I approach an Appetizer Crawl here? I'll (conveniently) leave out the neighborhood restriction, when it comes to favorites, we're just going to have to travel.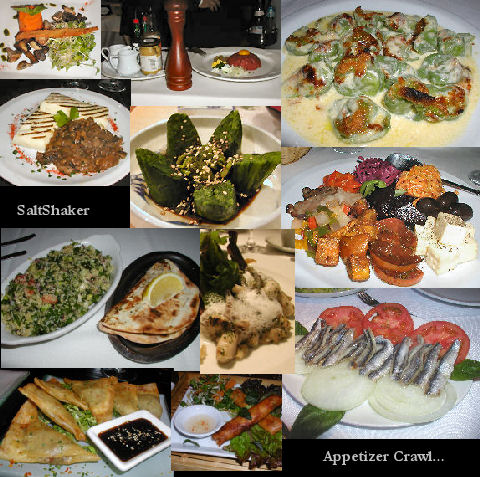 I may as well start close to home and drop in at Lola. I realize that steak tartare is not everyone's choice for beginning the day, but it works for me, and this is my appetizer crawl… and besides, it's just so darned good.
From there, let's head on to 788 Food Bar, where we can tuck in to their delicious tomato and cardamom flan with peppery watercress salad and browned mushrooms. Since we're sharing, of course, there will be plenty of room for multiple dishes as we move along…
It's not that far of a walk from here into Retiro, and it's a sunny day, so let's head over to Filo and grab a quick cocktail de funghi. It sort of follows on those lovely browned mushrooms with the flan at our first stop, and takes us into new territory.
We may as well continue in the light, vegetable world to start, after all, we have a bit of slogging to do today. So let's take a wander over towards Constitución and grab a quick dish or two at Comedor Nikkai. We have to have the goma-e, chilled steamed spinach rolls in a sesame sauce, but it's small, and even though we have far to go, let's get a bowl of ika natto – just so you can say you've tried it…
Do we have time to jet out to La Boca? Sure, after all, it's a fantasy day, everything open 24 hours, and we have all the time and appetite we need. Let's drop in at Il Matterello and share a plate of tortelli verde – lightly browned spinach tortelli filled with roasted garlic and topped with a cheese and bechamel sauce… true, it's a bit much this early in our crawl, but we're pros…
Clearly we need a cab to get back from here, especially because I think we ought to make a side trip out to Parque Chacabuco and see if Javier at Urondo can whip us up his mixed vegetable copetín, or maybe an asparagus flan… he does them both so well…
We need a little bit of fish to start those juices flowing. Sushi would be too obvious, and even though I've now found places to get decent sushi, and even a few with some variety, none of it here really gets on the scale of truly amazing raw fish experiences. But how about a nice plate of boquerones at El Trapiche? Really, there's nothing quite like some cured anchovies with tomato and onion to fuel our wander.
It's not that I need a break at this point, but maybe something just a touch lighter… the tabouleh salad at Sarkis? That seems like a good choice. And if a few falafel, or fatay, show up on the table, who are we to argue?
Continuing on a bit of a Palermo crawl – I'm not sure if I'm in Hollywood, SoHo, Freud, Brooklyn, or whatever other current designation the block might be, and a nice table out in the garden at Cabernet. Really, you have to have a bite of these sauteed shrimp in a honey sesame sauce, they really are pretty spectacular.
Perhaps it's time for something slightly heavier, and some of those amazingly good lamb samosas at Osaka? Sure, we can do that. Unless of course you want the smoked salmon wontons, or the chicken teri maki… really, it's up to you…
Off to Barrio Chino in Belgrano and a table at Buddha BA for what was probably my favorite Asian dish of the year. I've been back several times, just to order their cha gio, or deep fried springrolls, stuffed with paté, roast pork, and vegetables.
We may as well end on a truly relaxed, gentile note, and nab ourselves a quiet table at Maat, where we can finish our "dinner" with a plate of frogs' legs in a foamed roasted garlic and fresh pea broth served with golden brown crab-stuffed potato cakes.
Of course… now we have to start the helado crawl…maybe work our way back towards home… Chungo, La Comarca, Un Altra Volta, Scanapieco, Persicco… and I didn't even touch on pizzas…
(Anyone who wants to take on this meme, go for it! I'm not specifically tagging anyone…)