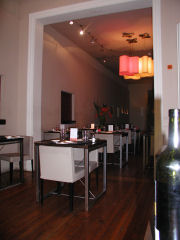 Buenos Aires – One of the things foodies love is finding a place that just wows them from the moment they walk in. At least that's how I feel. I've heard, casually mentioned, a place called 788 Food Bar, Arenales 1877, in Recoleta, as a place "worth checking out sometime." Let me just say up front, that's an understatement. From the minute I walked in, and was greeted as if I was an old friend, to entering the sleek, modern dining room, a space that clearly a huge amount of thought went into in terms of furniture, fixtures, linens (real linen napkins, embroidered with the restaurant's logo), and lighting. There's a small mezzanine level for private parties, and an upstairs lounge for hanging out and having drinks (full bar available). I was offered water or a drink immediately on being seated, something I really appreciate.
My friend Victor joined me for lunch. We considered the well-priced menú ejecutivo, only 16 pesos for a two course meal with beverage and an after lunch coffee; we also considered the chef's special menu at 18 pesos. But the a la carte menu seemed far more interesting, and so we spent some time perusing it. Victor had brought a bottle of wine, the 2004 Bodega Andalhue Malbec Orgánico (light oak, mildly spicy, good black plum fruit, nice length, recommended), which our waitress opened, first having informed us that normally they don't allow wine from outside (one of the few detractions from my admiration for this place), but since it was quiet, it wasn't a problem. She returned with glasses a moment later only to inform us that the manager had said she couldn't pour the wine, and we'd have to put the cork back in… ummm, not a good service move. But it was quickly resolved after the manager was informed that the bottle was already open and we'd already said we'd pay a corkage fee (which turned out to be 20 pesos). The winelist at 788 is a bit minimal, and slightly overpriced, so they might do well to lighten up on this one. A box of bread arrived at the table – three different varieties of homemade breads, nestled in a warmed breadbox, with cover. Another plus in attention to detail.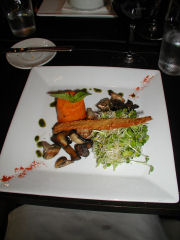 We started off with a couple of recommended appetizers, the soup of the day – a calabaza squash soup, lightly spiced, and served with a side bruschetta that was topped with a soft poached egg; and a tomato and cardamom flan served with deliciously browned mushrooms, a peppery cress salad, and a parmesan tuile. The appetizers were beautifully plated, and really quite good. I have a minor quibble with the menu. First off, I don't think there was a need to translate all the items into English as well as the Spanish. My sense is that this isn't a major touristy spot, we were certainly the only ones speaking in English (part of the time) today. But, and here's the quibble, if you're going to translate a menu, into any language, have someone who speaks the language do the translation. The translation of my dish, which should have been "Aromatic tomato and cardamom flan with sauteed mushrooms and a parmesan tuile (or crispy cookie, or something like that)" was instead listed as "Aromatic tomato and cardamom custard warm skipped of fungi crispy of parmesan roofing tile." This kind of – someone sat down with a dictionary and tried to figure it out – translation annoys or at the very least amuses tourists (and people who speak the other language in general) far more than just not having translations; yet, virtually every dish on the menu is translated nearly as badly.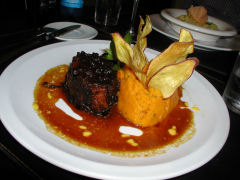 On to the main courses, and a shrimp, corn, and herb risotto topped with those puffed shrimp crackers one sees in southeast Asian restaurants, quite good; and a spectacularly good braised pork in a honey and brown sugar (not "black sugar") glaze with a candied carrot puree (not "puree of icing sugar carrot") and sweet potato chips. The pork was so tender I could have eaten it with a spoon. The sweetness of the various glazes was offset by a nice amount of spices and salt. Both dishes were once again beautifully presented, and showed a lot of thought and creativity.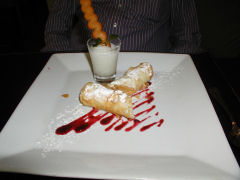 Given how good the main courses were we couldn't pass on desserts. They were out of my first choice, a hazelnut tart with lemon curd, so on to my second, and our waitress's favorite (her first two recommendations to me were dead on, why should I doubt her now?), the crispy cinnamon and white chocolate cake topped with a coffee mouse and coffee bean brittle (brilliant idea!). Victor opted for the phyllo dough springolls of dulce de leche mousse served with a coconut granité and a red fruit and lavender syrup. Yums all around. Finished off with a perfectly made espresso, and we hit the road for 120 pesos, including tip and the corkage fee – slightly pricey for a typical lunch in Buenos Aires, but this was anything but a typical lunch. Creative, wonderfully delicious food, in a great setting.
788 Food Bar serves breakfast (they say they make their own bagels – real ones – and serve them with lox and cream cheese – I'll be back to check that out), lunch, and dinner, and they take cash and all major credit cards. Oh, and why "788?" No one seems to know – it's just a number with a sound that the owners apparently liked – or at least that's what the manager told us. Somehow I think there's more of a story behind it…