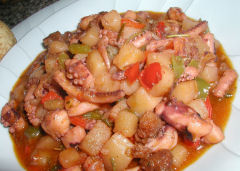 Buenos Aires – A couple of days of various family and friend related adventures, nothing of great food note – a group asado, or backyard barbecue on Sunday, a visit to La Plata but nothing touristy. No food to write home about. Suddenly I'm standing in front of the fish counter at the local market where they're offering up squid tentacles for a mere 8 pesos a kilo. That's a bargain that's pretty hard to pass up, and the glimmer of a half-remembered recipe from a cooking school seminar sparked somewhere in my hindbrain. In moments my shopping cart had space taken up by a half-kilo of tentaculos, some imported chorizos from Spain (completely different flavor from the various local chorizos, which tend not to be spicy, and not to use paprika in their mix), and various other elements. I didn't have the actual recipe to work from, and I was more riffing on a theme, but it sprang from a dish that chef/owner José de Mereilles of Les Halles in New York had demonstrated once. I'm sure there's a better name than Squid Tentacle and Chorizo Stew, maybe something in Portuguese that sounds amazingly appetizing, but as always, I'm more interested in the product than the moniker.
Squid Tentacle & Chorizo Stew

1 pound of squid tentacles, cleaned and cut in 1″ pieces
4 Spanish chorizo sausages, preferable spicy, sliced
1 green bell pepper, chopped
1 red bell pepper, chopped
2 mildly hot frying peppers, chopped
1 small onion, thinly sliced
3 cloves of garlic, sliced
2 large potatoes, peeled and diced
1 teaspoon coarse salt
½ teaspoon chopped rosemary
½ teaspoon chopped parsley
½ teaspoon tomato powder
½ teaspoon ají amarillo (or other mildly spicy chili)
¼ teaspoon cumin
½ cup olive oil

A lot of preparation for this dish, but then things go pretty fast, being added into the pot in a quick sequence and then left to stew. Heat the oil over medium heat in a large, deep saute pan. When hot, add the salt and spices, and stir-fry for 30 seconds to flavor the oil. Add the garlic and continue stir-frying for another 30 seconds. Add the onions and the hot peppers, and continue for another two minutes until the onions start to become transluscent. Add the chorizo, 2 minutes more until they release their oil and juices. Add the potatoes and continue sauteing for about 5 more minutes, stirring occasionally. At this point add the bell peppers and the squid, and perhaps a pinch more of salt. Stir to mix thoroughly and bring the last ingredients up to temperature. Then cover the pan and turn the heat down to low. Cook for 45 minutes, occasionally stirring, until the squid begins to soften again (it will initially firm up to that "rubbery" texture that means it's been cooked too long for a quick saute, and then soften again as it braises). Serves 3-4, depending on side dishes.