Buenos Aires – The afternoon was beautiful, filled with sunshine, a light breeze, perfect for a walk. I decided to venture along a section of Avenida del Libertador, the Avenue of the Liberator, i.e., José Francisco de San Martí­n, possibly the most famous of Argentina's various national heroes. The avenue stretches north to south, near to the eastern edge of the city, the river. I started off here in my neighborhood and figured I'd just keep heading north until I ran out of steam.
This wide boulevard is lined, along both sides by a series of parks and plazas, most of which are dotted with a variety of statues – here a view of the start of my vuelta, or wander; and another of the beautiful hill in Plaza Mitre, named after a former president of the republic, and the founder of La Nacion, one of the countries largest newspapers – Bartolomé Mitre Martí­nez.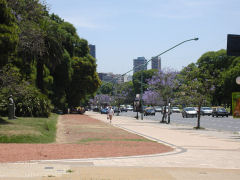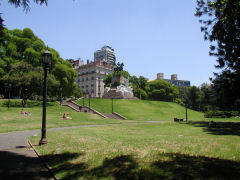 The street is also home to (or nearby to) many of the more famous art museums in the city, including the Museo Nacional de Bellas Artes, or National Fine Arts Museum; and the area surrounding many of the embassies, including the modern sculpted structure of the Chilean Embassy.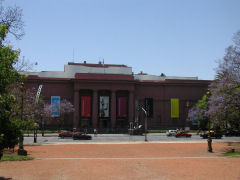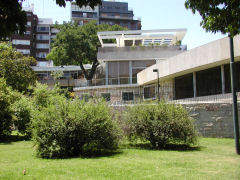 Further along, the street leads into the famed Parque 3 de Febrero, the south end of which I'd briefly toured before. This time, I spent several hours walking the length and breadth of it, including the Paseo del Rosedal, or rose garden, which is wildly in bloom right now.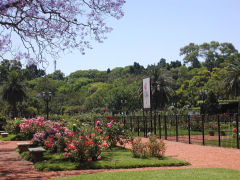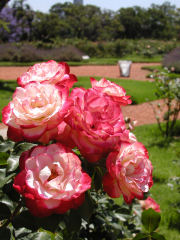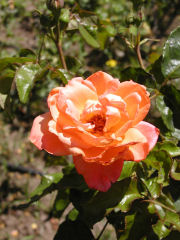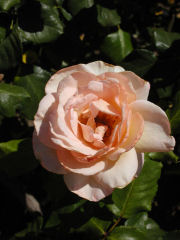 Continuing through the park I encountered the Hipodromo, or horse racetrack, and the beautiful Lago de Palermo.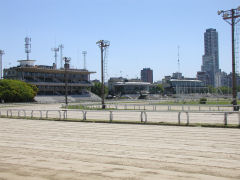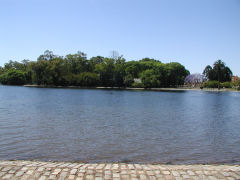 Somewhere around the end of the park, I decided to turn back – the street continues on, to be explored another day. One thing I noted repeatedly on statues was this symbol below – quite mystical looking, and I was beginning to wonder if I'd encountered some sort of brotherhood of mystic Smurfs that many of the great figures of their day had belonged to. Then, suddenly, I encountered it on the gates of the Army headquarters – it's apparently the coat-of-arms of Argentina.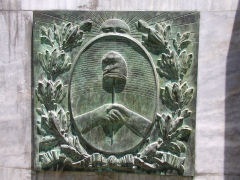 From Wikipedia:

The Coat of Arms of Argentina was established in its current form in 1944. At the top is the famous sun symbol of Argentina, that is also found on the Flag of Argentina. The sun symbolizes the rising of Argentina, and that is why it is in the rising position.

In the center ellipse are two shaking hands that symbolize the unity of the various provinces of Argentina. The hands come together to hold a pike, which represents a willingness to defend the freedom that is symbolized by the Phrygian cap (or liberty cap) on the top of the pike. The blue and white colors are symbols of the Argentine people.

Around the central ellipse are laurels that symbolize victory.