Buenos Aires – I'm a big fan of Mexican food, and when it turned out that friends Pete and Ron are too, it seemed a natural to try out a relatively new Mexican restaurant last night. We'd gotten together for cocktails last night at 788 Food Bar and wanted to try somewhere new. I needed a break from the day – as I mentioned yesterday we had a surprise visit from Henry's niece and nephew – his sister called at 9 in the morning to say they were both on a train headed our way (10 and 14 years old). We actually spent an interesting day yesterday finding "the perfect dress" for Vivi's 15th birthday fiesta (okay, I gave in and added shoes to her advance birthday gift, but made it clear that was the limit). Unfortunately, the seamstress was out yesterday, so we have to return today for the fitting. That meant the kids needed to stay overnight, and the postponement of my backyard barbecue . So, back to needing an evening out…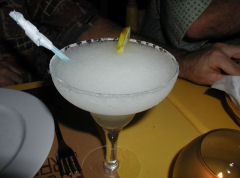 El Salto de las Ranas (frogs' jump or frogs' leap, the jumping of the frogs, you get the idea), Rodríguez Peña 1169, in Barrio Norte, is a reasonably sized place, all done up in proper Mexican fiesta-ware – flags, banners, pottery, pictures, murals on the walls. All the good stuff that makes a Mexican restaurant look like a Mexican restaurant for gringos – which, bluntly, is what it turned out to be. The staff is friendly and efficient, and the place is, overall, comfortable. The evening began with complimentary margarita shots –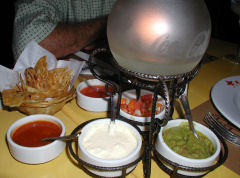 choice of salted or sugared rim (both quite good!) – and a basket of freshly made tortilla chips (excellent!) along with a selection of sauces – mild hot sauce, guacamole, sour cream, and pico de gallo (the last strangely just a mix of tomato and onions with no spice). The margaritas were sufficiently good as to inspire my friends to order a couple more of them – in fact, they are sufficiently good to be a reason to return to El Salto. Actually, they have quite a cocktail list of various Latin American cocktails, and a short list of different tequilas.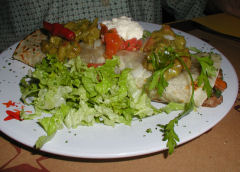 We weren't overly hungry, so just ordered a round of entrees. The food – not at all authentic, more like someone with an idea of what Mexican food is making the dishes without ever having tried the real thing (the restaurant is owned by the owners of the next door La Cholita, a local parrilla we've eaten at before). Still, that doesn't mean it's bad, it's just not authentic. The burrito was stuffed with lots of vegetables, including things like zucchini, squash, and carrots, and a bit of smoked meat. It was big, filling, and, of course, is not part of the Mexican cuisine repertoire, but is a Tex-Mex or Cali-Mex creation.
The burrito, meaning literally little burro or donkey, became irreversibly linked to the tortilla-rolled packages. Burrito lovers David Thomsen and Derek Wilson believe that the modern burrito originated "in the dusty borderlands between Tucson and Los Angeles." The word burrito first saw print in America in 1934. It was sold at Los Angeles's famed El Cholo Spanish Cafe during the 1930s. Burritos entered Mexican-American cuisine in other parts of the Southwest around the 1950s and went nationwide a decade later.

— Tacos, Enchiladas and Refried Beans: The Invention of Mexican-American Cookery, Andrew F. Smith —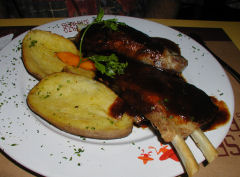 The costillitas barbacoas were meltingly tender pork ribs smothered in a borderline cloyingly sweet sauce. The sauce was, to my mind, sort of an imitation of some sort of sweetened mole – if I was to guess at the primary ingredients it would be pumpkin seeds, caramelized onions, sugar, and a touch of coffee and cocoa. The meat itself was excellent, and a more than sufficient portion for one person. I've never been a big fan of sweet barbecue sauces, even when I was growing up, I always preferred something more on the spicy side. My guess is that someone who likes sweeter style bbq would love this dish. They were served with papas cascaras, which were sort of a take on potato skins – in this case baked slices of potato still in the skin – again, not quite traditional.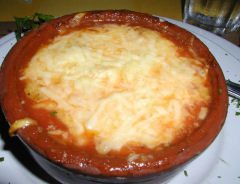 Chilaquiles is one of my favorite Mexican dishes. Properly made this should be a stew of strips of tortilla, chicken, and raw onions in a bit of red chili, tomato, and herb broth, topped with cream and cheese and broiled to give it a bit of browning on top. This version was more broth than anything – and so underseasoned as to be little more than a bowl of tomato soup with a few pieces of chicken and raw onion floating in it. It was topped with bubbling cheese, which was its best, and probably only redeeming feature. It was also a ridiculously small portion – really not much more than a large cup of soup – given that it's probably far less expensive to make than the other entrees, and was priced in the same range.
Overall, I'd go back for the margaritas and chips, and I'd be willing to sample other dishes, because other than the chilaquiles, they weren't bad. I'd just go expecting something more like Argi-Mex cuisine, a local take on Cali-Mex, than anything that resembles what you'd get in Mexico.