"I'm not against modernization. I've no wish to go out in the vines in a horse-drawn cart. But I'm against standardization. More and more people seek the authenticity we represent."

– Louis Boillot, Burgundy Wine Negociant
Buenos Aires – You would have thought that we would have rushed right over. But, it has to be a good six months since we heard about it. The former chef from the Peruvian embassy had left that post to open his own restaurant in Palermo. I think three factors went into our not visiting the place. First, there was an "oh god, this is gonna be expensive as hell" factor. Second, we had gone to a presentation on Peruvian cuisine at the Centro Cultural Ricardo Rojas shortly after we heard about it, and the chef was the principal presenter – it was a very poorly organized and presented event, and the sample ceviche offered up was, bland and uninteresting (in retrospect, the chef had ten minutes to prepare a huge batch and then offer up samples to a hundred plus people, something he probably never should have agreed to). And third, it was just, well, far… though we did see the place once, as it is situated cross-corner from the house we cooked Thanksgiviing dinner at. Which put it back on the radar I suppose.
We shouldn't have waited and neither should you.
Moche, Nicaragua 5901 (corner of Ravignani), Palermo, 4772-4160, is a gem. It's not a completely polished gem, but it's not a "diamond in the rough" either. In fact, if our dinner last evening was an indication, they have some fixing up to do. But it's stuff that somehow didn't seem to matter when the experience was complete. The space is an old casóna on the corner, it's been beautifully remodelled, and visually it's probably the most appealling Peruvian restaurant I've ever been in. Earthtones for the walls, tables, and chairs are accented with gaily colored woven placemats on the tables – each one a different design and color scheme. Knick-knacks from Machu Picchu dot the room – but even though you know their just souvenier-grade, they work. The staff, who when we arrived were all sitting outside on the sidewalk chatting and smoking (we were the only guests last night until 11:30 when a trio of 20-somethings stumbled in, not quite sure where they were), are clad in all black, accented with bright woven sashes for belts. The kitchen is open to the bar, so you can glance in on your way to your table, and is gleaming clean (of course, they didn't have anyone to cook for last night…). The dining room seats a mere 24 folk, and there are two tables plus a few barstools in the separate bar, giving them another 10 seats (6 if they don't allow eating at the bar itself).
[Update: Although we haven't tried it since they did so, in early 2010 the menu at this place was changed over to a Peruvian-Japanese fusion one, plus sushi bar, I suppose in keeping with the latest worldwide fashion, and all the traditional dishes we'd tried over time and loved were removed from the menu.]
[This place has closed and been replaced by a new restaurant.]
Despite our being the only customers, our waiter was unflaggingly friendly, cheerful, and helpful (and the same with the late trio, who basically needed every item on the menu explained). He was in the room, or visible in the neighboring bar the entire evening and never showed an air of being bored. The chef/owner had turned over the reins to his co-chef for the evening – he was there, but in the bar reading and then later chatting with a friend. But he's clearly got a good crew in the kitchen, and he was on hand if needed, I noted a few times when he either went back in the kitchen on his own, clearly having noted something from his position at the bar, or when someone waved him in.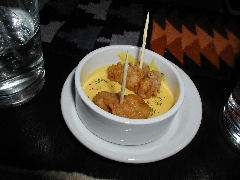 The biggest missteps occurred before the food – we ordered a couple of bottles of water and a bottle of wine. The water arrived warm. Not room temperature, unless it was the temperature of the kitchen, warm. As best we could determine from the waiter, they simply serve water at "natural" temperature, they don't, or didn't, have any cold. They did have ice, which he brought right away. The same was true of the wine – which was a rosé. I'm always suspicious when I see someone holding a bottle and then quickly putting it in an ice bucket and sort of scooping the water and ice over it repeatedly. Though he said he'd gotten it from the refrigerator, I doubt it – or it had just been put in. But, we let it sit in the ice bucket until our appetizers arrived and it was fine. While we awaited our first course, a small amuse of pescado chicharón was served. A tasty little bite – it was in what we were told was a huancaina sauce – a bit underseasoned for our tastes for this sauce, but probably about right on the picante scale for here – Henry joked that it was "huancaina limeno no de Huancayo", or from Lima rather than from Huancayo, i.e., a country sauce for city folk.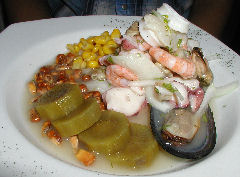 The same could be said for the ceviche mixto. Obviously, it's gorgeously presented. The flavors were bright, it was a decent sized portion for a fancier type restaurant, and we both agreed it was far and away the best ceviche we've tried in a restaurant here in Buenos Aires, with the one exception of lacking any picante element. Now, it turns out we could have (though perhaps shouldn't have had to – I think this should be the waiter's job to enquire) asked for it to be picante, or to be served with a bit of salsa picante (which, we later asked for, though somehow our waiter managed to forget it twice more and it only arrived about the time we finished our main courses), which turns out to be a very delicious coarse salsa of fresh yellow rocotos and cilantro chopped up in lime juice and salt.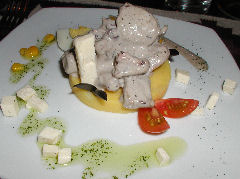 This was a fascinating, despite one significant flaw, twist on a traditional causa, a dish we make at home relatively often. A nice layer of perfectly flavored potato and lemon base, with a touch of ají amarillo, topped with tender slices of octopus, tossed in a creamy black olive sauce. All the various components of a causa were there, reinterpreted, and with octopus! Now, usually here in BsAs, octopus dishes are outrageously expensive, and I've never quite figured out why. Here, it's not, it was no more than any of the other appetizers (generally around 20 pesos), which leads me to suspect that it's some sort of conspiratorial agreement to jack up the price of an exotic ingredient amongst the major Spanish style restaurants… Oh, the flaw? Causa traditionally has a layer of avocado as well, and I just couldn't find it – but the dish was so good, I kept eating… but then I asked afterwards, and the waiter responded with "yes, it has the two layers – one of potato and one of avocado – I showed him my photo, it only had one layer. He headed for the kitchen and the chef and returned with an apology and an offer if I wanted to try another one with the avocado, the cook who'd prepared it had left off one layer and no one on the way to our table had spotted it…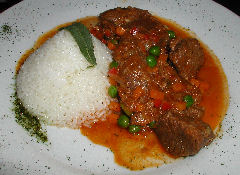 Despite the missing picante and avocado, we were having a good time and even with those missing components, the appetizers were excellent – which leads me to believe that if they get themselves a bit more disciplined, they could really shine. This was easily the best seco de cordero I've ever had, and put Henry into a bit of a rapturous state, remembering the way his grandmother, or an aunt, or an elder sister, or… used to make. The meat was falling apart tender, it was beautifully presented, and it was absolutely delicious. Again it could have used a little "heat" – though with seco that's generally provided by a salsa on the side – which, as noted, our waiter kept forgetting. It was so good as is, that we'd nearly finished it before the salsa arrived.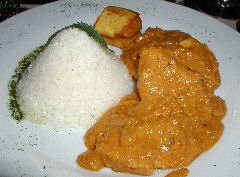 This dish was on the menu as pollo con maní, or chicken with peanuts, a name for a dish that Henry didn't recognize as traditional, until he saw it and proclaimed it a pollo ajiaco, which I think of as a garlic and chili based sauce, but apparently from the north coast of Peru, where he's from, it's a garlic, chili, and peanut based sauce. Regardless, the name didn't matter once we tried it – absolutely superb flavors. The peanuts were a little on the coarse side, which I liked, he would have preferred them ground to a paste, but agreed that flavorwise it was one of the best he'd ever had. I was also completely enthralled with that little green strip along the side of the rice on both dishes – it was a mixture of ground huacatay herb, which I've mentioned many times before, sort of a black mint, mixed with sea salt – what a delicious garnish touch – I'm going to have to use it… minted salt…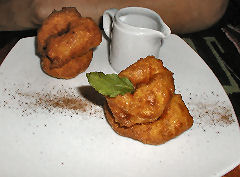 More rapture for Henry. Picarones. He waxed rhaphsodic about them, recalling his childhood. All this before we'd even ordered our appetizers. Turns out, they're pumpkin fritters, or doughnuts. Served with a simple sauce of miel de chancaca, or dark brown sugar syrup. Really quite good. Put me in mind of, well, fritters or doughnuts that I ate growing up in the midwest, served with maple syrup… only without the maple flavor, or maybe funnel cakes at the county fair, or zeppole at the San Gennaro festival in Little Italy. Without knowing that they were pumpkin based, I wouldn't have guessed, there's not a pronounced pumpkin flavor. They were, however, really, really, good.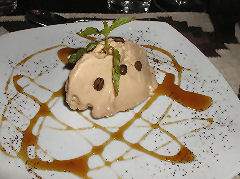 I kind of want to be disappointed by this dessert, and in a way I was, because it just wasn't what it was supposed to be. But I ate every bit of it, and quickly, so I guess I liked it. It was called a parfait de lúcuma. Now lúcuma is a fruit native to Peru and surrounds, and it's a leading contender for favorite ice cream flavor there. I've never had one. The flavor is described as similar to maple syrup. The dessert was described as a creamy gelato of lucuma with a coffee "roll" and bitter chocolate sauce. It turned out that it was a gelato made from powdered lúcuma, as the fresh isn't available here (I'd asked, because we were both surprised to see it listed), and the ice cream was "rolled" in coffee beans – as you can see. There was no evidence of a chocolate sauce. There was a bit more of the miel de chancaca mentioned above, and a dusting of cocoa, or perhaps finely powdered chocolate amargo… but the description was, well, misleading. Did I mention I practically licked the plate clean?
Now, Moche is pricey – with wine and three courses, it ran us 150 pesos for two. About the same as Zadvarie, which is the other high end Peruvian spot in town. But despite how good that place is, Moche is better, even with the mistakes. It's also a more comfortable room, with better service, at least based on one visit with no other customers in attendance. We'll be back, and I'll update this as we try it on other times, hopefully with other people there (our waiter told us that it was surprising for them, normally they're full or nearly so). For now, given the things that need to be worked out, I'd put this in a "recommended" slot – but with some polish and a bit of correction, this place could easily head into highly recommended territory.