"Fish don't fry in the kitchen;
Beans don't burn on the grill.
Took a whole lotta tryin',
Just to get up that hill.
Now we're up in the big leagues,
Gettin' our turn at bat.
As long as we live, it's you and me baby,
There ain't nothin wrong with that.

Well we're movin on up,
To the east side.
To a deluxe apartment in the sky.
Movin on up,
To the east side.
We finally got a piece of the pie."

– theme song from The Jeffersons
Some folks just can't seem to settle down, settle in, or settle, period. Over the last few years we've found ourselves following the career of one of the better Peruvian chefs here in Buenos Aires, Marco Espinoza, first at a lecture on Peruvian food when he was the chef at the Peruvian Embassy, then at Moche, then Ceviche, and then we kept planning to visit Bardot Loisir when he opened it in Palermo, but by the time we actually got around to doing it, he'd moved on, unfortunately not here in BA, but in Brasilia, where he is bringing his nueva peruvian style to his new restaurant, Taypa, if my info is correct. This was a recent move, and chef Dennys Yupanqui has taken over the reins, the restaurant has been renamed as simply Bardot, Honduras 5237, Palermo, 4831-1112 – no one seemed sure what the Loisir meant anyway.
The space was formerly occupied by Eliot Restó & Otras Pasiones, a place that I enjoyed the food, but not the room. Thankfully, it's been completely transformed into a semi-dark, slinky lounge type space that somehow avoids feeling like a place where only 20-somethings slugging back Jagermeister shots (well, here, likely to be Fernet and Coke) would hang out, and indeed the crowd seems well-heeled, and clearly there for the food. We plopped ourselves unceremoniously at one of the lounge tables in the rear (there are also plenty of regular dining tables for those who prefer), and started in on the menu – which has separate sections for "classic" dishes and "nueva cocina" dishes.
Service, right off the bat, friendly and efficient, helpful, cheerful, it was almost like Peruvian Boy Scout camp, only with grownups. I like that the chef is out in the dining room – he has a small open "pass" to the kitchen facing the end of the bar, and every plate passes through his hands to be checked for detail, plus he adds the finishing touches. It does create a slight slowdown in the serving of dishes, as he's only finishing one plate at a time, and so food arrives staggered at the table, first one dish, then the next, whisked from his hands to your table by a waiter, without awaiting the next plate. But it's only a 30 second or so gap between them, and once you realize what's going on, it's fine.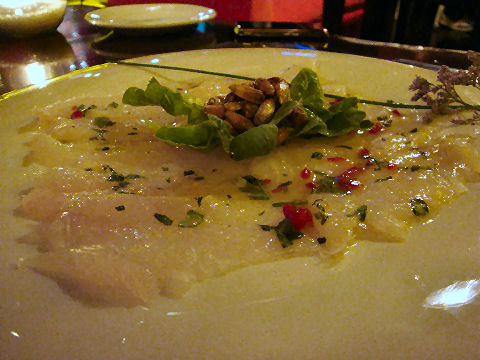 Henry started off with a tiradito of lenguado, or sole, essentially a ceviche with the fish cut more like sashimi, and with a dash of oil added to the curing mix. It was absolutely delicious, though in need of some serious picante, which was provided within seconds on request.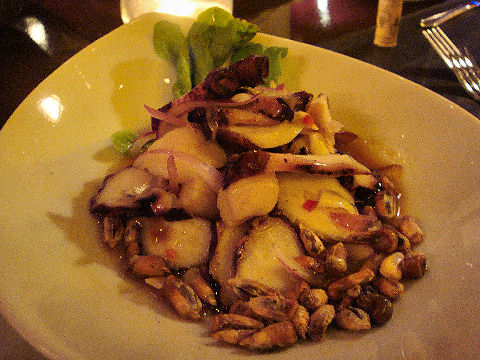 I went with a ceviche of octopus and scallops with the same results – beautifully balanced, fresh seafood, delicious, and, in need of picante. I understand. We've gotten used to it here. The automatic assumption in local restaurants is to leave off the hot stuff and provide it on the side when requested.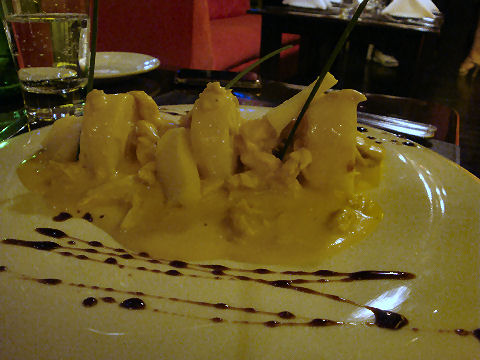 For our main courses, Henry went with one of our favorites, the ají de gallina – served up very elegantly, and tasty to boot. A little more hot sauce had to make it to the table, but we were golden. (We should have asked if for the next time we come in, and we will, we can order things spicy upfront.)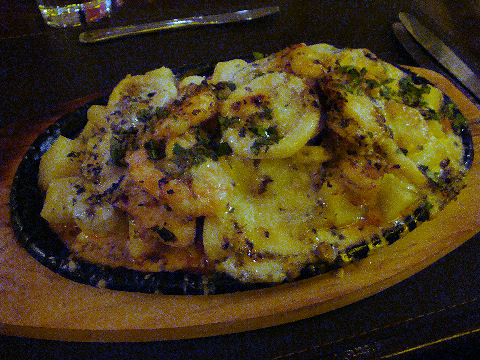 I went off the nueva cocina menu and thought I'd try their smoked potato and seafood pizza – sounded delicious, and I'm a sucker for a good pizza, so why not? Pizza turns out to be a misnomer, and I have to admit, I don't quite get why they even picked the moniker – neither did our waiter – it's just what the chef wants to call it. Turns out, however, to be a stunningly good dish of diced smoked potatoes ladled over with a mix of fish and shellfish (sea bass, squid, octopus, shrimp and mussels, and a gooey delightful cheese sauce all melted in and amongst it all. It may not have been a pizza (though I may make a pizza based on the idea…), but it was our favorite dish of the evening.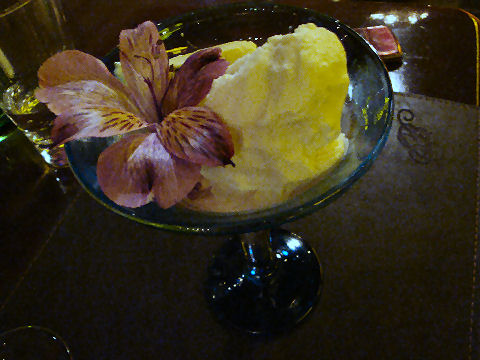 The dessert selection, after all the creativity of the main menu, was disappointing, limited and average – molten chocolate cake, suspiro de limon, ice cream, and a passionfruit mousse – it really seems like no one gave it much thought. We went with the last to share, and weren't overly excited by it – first, it wasn't stated that it was a frozen mousse, so pretty much, well, ice cream. And second, we couldn't taste the passionfruit, rather it tasted like vanilla ice cream with a bit of some sort of herbal liqueur poured over it. Not a super ending, but…
…not enough to stop us from wanting to go back. And, I have to say, that we enjoyed food, service and ambiance more than we have at most of the other new Peruvian spots like Astrid & Gastón, Libelula, Sipán and Francesco that we've checked out over the last year or so. We decided that, while very different in style, it pretty much ties it up with PozoSanto for our favorite fancy Peruvian spot.