It truly doesn't seem like it's been four years since our visit to Astrid & Gastón, Lafinur 3222, Palermo chico, 4802-2991, for their opening celebrations dinners, but apparently it has been. And, tellingly, we haven't been back in all that time. But recently I'd heard that they'd brought in a new chef who had revamped the menu (they need to update their website – it still shows Roberto Grau as the chef and he's been gone for something like 7 months now), upped the spice levels a bit from his predecessor's offerings, and even started offering a lunchtime menú ejecutivo for a mere 90 pesos for three courses including water, a glass of wine, and coffee (which is actually misleading as there's a hefty 24 peso cubierto charge, so it's really a 114 peso lunch menu, and the choices on it weren't high on my list of what's available off the regular menu). A friend of mine is getting ready to pack up and leave BA (yet another one, this is becoming epidemic) and we decided on a splurge lunch somewhere to bid her adieu. She hadn't tried A&G and it was on her "bucket list", so we picked it. Unfortunately, she didn't show up, so I decided to lunch solo – a shame, I'd have liked to try more different things – and we ended up meeting up the next day at another spot, review coming. [Closed at beginning of July 2013]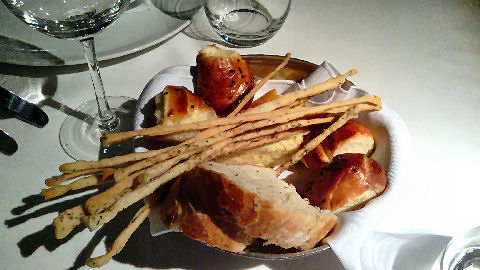 First off, there have been some changes in decor. The front bar is much more toned down and relaxed feeling. I didn't see upstairs, so I don't know if the "cocktail olive" room still exists, lunch service was in a downstairs dining room, simply decked out in an all white motif. There were only two folk having lunch at the time I was seated – and there are only two tables for two, one by the window, the other stuck in a corner without even a light over it, it was dark, I asked if I could sit elsewhere and they very graciously seated me at a table meant for four. There were, for me, a couple of service missteps. They never cleared the other spaces at the table – I even asked at one point if they would, and the waiter's response was, "I'm leaving them there in case your friends show up" – umm, first, it was only one friend, and second, you can always bring back a place setting. For me, that's a relatively big service faux pas, especially given that I asked him to remove the settings. And when I ordered a series of plates that I wanted to try, he started to lecture me on what I was ordering – not in a particularly helpful manner either, more like I needed to be instructed in how to order at a restaurant. Off-putting to say the least. The new chef came out to introduce himself and chat a bit and I was glad to hear that his intentions have been, indeed, to spike up the menu a bit – we talked about my dish choices and he seemed to think they were good ones, so I didn't change anything. Good breads on the table, by the way.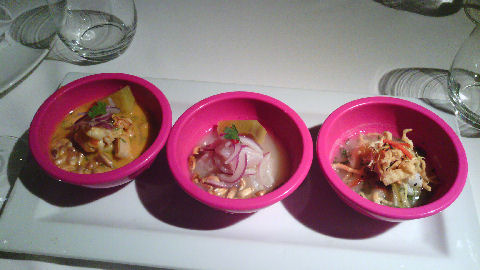 One of our observations last time was that the ceviche – that time we just tried a straightforward standard order of the clasico – was served sashimi style, with the curing liquid below, so the fish was completely raw. That's not the case anymore, at least not in the sample of a trio of ceviches. These were delivered with an admonition from the waiter that each of them had a slice of chili on top that was "muy picante" that I should avoid. Seriously? This guy needs to be retrained. They weren't up to the spice of a traditional Peruvian ceviche but they were quite good. Sampled were the clasico, the caretilla with added ají amarillo to the sauce, and the chifero with some asian spicing and soy.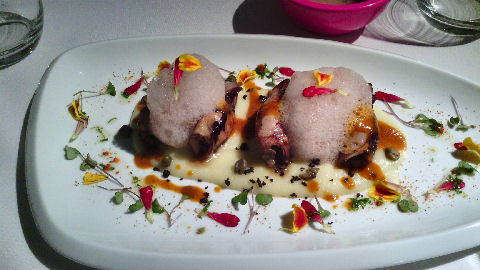 You might remember our recent dishes at Casa S of calamarette stuffed with lamb merguez sausage and then later on calamari with rabbit merguez. The idea of using a squid body as a sausage casing was not original with me, it was something I saw on a Top Chef episode – different filling, but the idea stuck. And let's face it, people having been stuffing one thing or another into squids for years. Here, the chef is using steak that's been spiced and cooked like an anticucho, which is more typically made with thin slices of beef heart than with steak, marinated in ají panka and spices for the day and then grilled. Nice combination and paired well with a very smooth potato puree and topped with a slightly purple foam made from chicha morada, the purple corn beverage that's ubiquitous in Peruvian restaurants. The foam was my first hint that there's now a touch of the molecular going on in the kitchen – none of that was in evidence on the previous visit.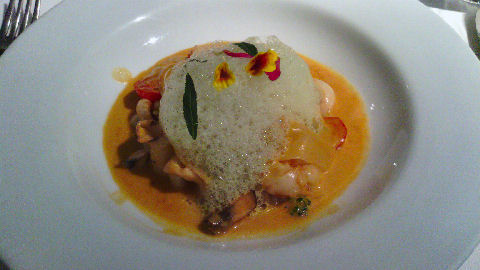 And, on to the main course, a "deconstructed" seafood lasagna. It wasn't really all that deconstructed – there's a layer of pasta on the bottom and a layer on top, with the filling in between. The filling was pretty much a very good saute of mixed shellfish, and a huacatay foam atop. It was tasty, not a great dish, but good. Found a small piece of wire on the plate – probably from the bags that one or another of the shellfish came in. I pushed it off to the side – these things happen. Waiter saw, came over, looked at, stuck his fingers into my bowl and picked it up and walked away – that thing shouldn't happen. Seriously, retraining. Or maybe, simply, training.
On the way out I had another little chat with the chef, and it turned out the new chef from Bardot, which we've had both really good meals and really off meals at in times past, was dining in the bar with his family, so we were introduced. He, too, says he's completely revamped the menu, so time for another visit there I think.
Overall, it was delicious, well prepared food. It's still lacking in spice for my/our tastes, especially when we're talking Peruvian, but it's definitely a level up from what it was four years ago. Service was off – from the attitude and behavior of the waiter, to the management (although he didn't seat us, there was a guy who seemed to be managing things, who was wandering around, in and out of the rooms, he was dressed in ripped jeans and an old sweater, which just doesn't fit the more formal air of the place). In fact, the waiters are a little more dressed down, in simple white shirts, black pants and aprons – no suits in evidence, though that could be a lunchtime versus dinnertime thing. It's surprisingly not as expensive as I expected – I was figuring on prices akin to those we've been dining on at La Rosa Nautica (which we've been to now six times in the last few months), but I'd say across the board the prices were about 20% lower. And although the food at A&G is a bit more creative, the food at LRN is better seasoned and more highly spiced. Still, Recommended.