Years before star chefs like Gastón Acurio made Peruvian and Peruvian-Asian fusion food a star on the international stage, the true "player" in the field was a self-proclaimed ambassador of Peruvian food to the world, the well-known La Rosa Nautica in Lima. Situated on a dock along the beach it's been busily churning out top class creative food for going on three decades now. And, they franchise. Now, I'm not sure that all of the other six La Rosa Nauticas listed on Trip Advisor are their franchises, it could be that someone has simply copied the name, but they all sound quite similar in terms of concept and menu. And, recently, La Rosa Nautica opened up here in Buenos Aires, in Puerto Madero, at Alicia Moreau de Justo 264, where it's been getting somewhat mixed reviews, some comparing it unfavorably to the original in Lima. But, it's been on my list to check out and so the other day, I headed over to grab a table on the deck, looking over the marina. [Closed at end of 2016]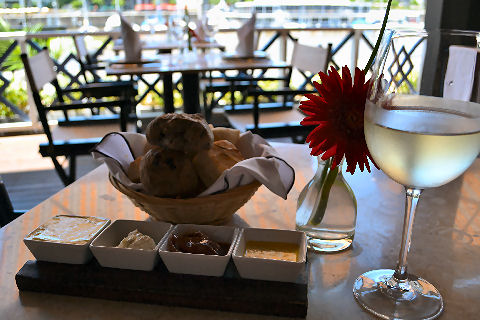 Now hmmm, a Sunday afternoon, PM is packed with folk strolling about, despite the heat and humidity. All the usual suspects, the parrillas and the Italian spots are somewhere between half full and full, and, there's not a single person dining in this place. As I sat over the course of about an hour and a half, three other tables filled, one solo, two couples. And that was it. I don't know if it's the mixed reviews, or, more likely, that Peruvian fusion probably isn't the first thing on the mind of either tourists or locals when heading out for Sunday lunch, but I'm hoping that it it's at least reasonably good…. Cute waiters, nice setting, the menu looks interesting, though far less extensive than the one in Lima (where I've been once, though never wrote up) let's give it a try. The bread basket has a trio of good breads – focaccia, walnut, and a sort of slightly crisped puff, accompanied by butter, a seafood pate, pickled onions, and a decently spicy yellow chili sauce.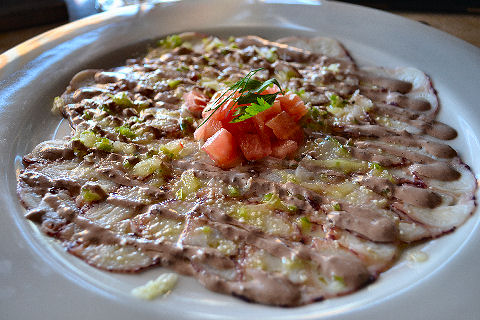 I start with an octopus carpaccio, a take-off on the classic Peruvian
pulpo al olivo
, here, delicately shaved slices of octopus tentacles, not really carpaccio as they're not raw, but served chilled, with a delicious black olive sauce, green onions, and a tomato garnish. I wolf it down quickly – despite the size of the plate, and being well covered with the shellfish, in quantity it's not a huge amount. But it really is good and compares quite favorably to other versions I've had, such as the "
total yum
" at El Dorado in Asunción last year. It's pricey at 98 pesos, but then, what in Puerto Madero isn't? And, the menu asserts, it's imported Mediterranean octopus, not the local
pulpito
from the Mar del Plata coast.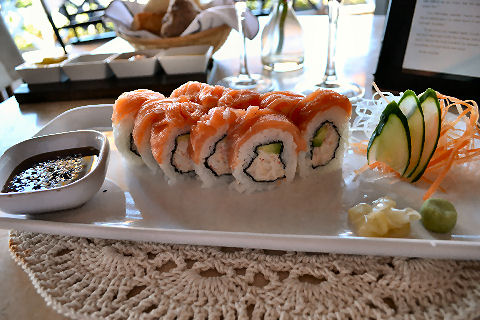 Less successful, though still reasonably tasty, is one of their creative sushi rolls, the
maki shaki
, with fresh crabmeat, avocado and salmon. It just needs a little more zing or zip to it, and the overly sweet, sticky dipping sauce does nothing for it (that was nothing, repeat, nothing, like the ponzu sauce promised on the menu), and the little button of wasabi is a bit too dry. Not a winner for 77 pesos.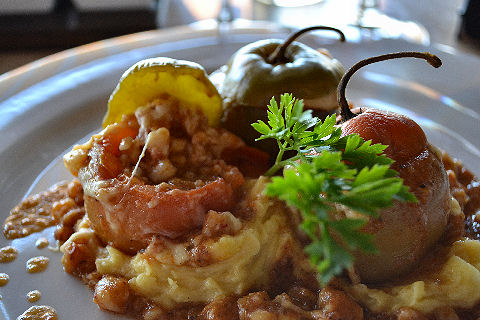 And, things are fairly well redeemed with a third plate, the
rocoto camanejo
– a prawn and cheese filled version of the classic meat filled
rocoto relleno
. The filling is great, the presentation is a bit of a mess, they did over-blanch the rocotos to the point where they're a little too soft and a little too lacking in picante, but they're still delicious. Again, pricey at 92 pesos, though there's a whole lot of shrimp going on on the plate.
I decide against dessert, though there are a couple of tempting items on offer, and prepare to pay the likely exorbitant check.
So, the wrap-up – like place, more the outside than the inside, which is a little too much like every other restaurant in Puerto Madero – do they all use the same designer? Waiters, adorable. Menu, interesting. Service, friendly and efficient. Food, very good, with two excellent plates I'd happily eat again and one that was good. Pricing, high, but again, it's PM and it's 2013 and everybody's getting up there in price – three plates, bottle of water, glass of wine (St. Felicien Sauvignon blanc at 35 pesos, basically half the retail bottle price), and a surprisingly, for PM, low cubierto charge of 12 pesos though at these prices they should just eliminate it completely – total, 332 pesos before tip, at tarifa azúl rates, a mere 48 dollars for a pretty darned good lunch, and certainly in the same price range as the other fancy Peruvian fusion spots around town. I'd return. Recommended.