We've all read the stories about how Peruvian-Japanese fusion, i.e., Nikkei cuisine, is the hot ticket of the moment. It's taking the world by storm, and it's a well-deserved spread of a fantastic cuisine, but, like most storms it will spawn smaller ones, and at some point, blow itself out. Here at Casa S we've taken the direction of Andean and Mediterranean fusion – not exclusively, but it informs enough of our dishes to at least be a spring shower. Prior to that, the only place I'd heard about offering a similar mashup was Pozo Santo, which unfortunately closed down far too soon. And then just last week I heard about a fairly new spot offering a mix of Peruvian with "various" other cuisines – Caribbean seemed to stand out in the mind of my informant.
So, off we went one evening to Chira, Humboldt 1864 in Palermo (former location of Yoko's sushi bar, which I never tried), with an early reservation at 8pm. We were the first in, and the only folk for a short time, though over the course of the evening about a dozen more folk came in. Still, there may have been more staff in the dining room than diners (including three apparent managers in apparel ranging from t-shirt and jeans to collared shirt and slacks, all just aimlessly circling the restaurant over and over like a little carousel of management). [Closed in mid-2014.]
It's a pretty place, mostly done up in black and white, with touches of color here and there. We were greeted by a charming waitress who launched into a prerecorded spiel about the type of cuisine they offer, including a bit of a speech about what Peruvian cuisine is all about. It dragged on a bit and we interrupted to let her know we were pretty familiar with the genre. It didn't work. Like a telemarketer she plunged back into the explanations over and over again during the night with each dish along with the restaurant's philosophy and origin of the name (chira is the Quechua word for a chili seed and a metaphor for some sort of origin point of life, the universe and everything). There's a point at which telling diners about every detail about every dish reaches over-saturation, and we definitely passed that. It wasn't specific to us, the other tables were getting the same from the other waiters. That needs to be dialed back, seriously.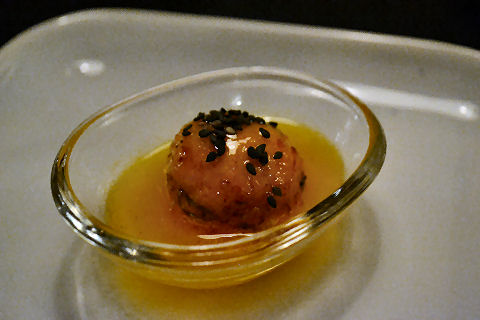 It's rare to see an amuse bouche come to the table in restaurants here in BA so this was a pleasant surprise. It's basically a salmon meatball in passionfruit syrup. Great flavors, though the syrup was a bit too sweet for both of us.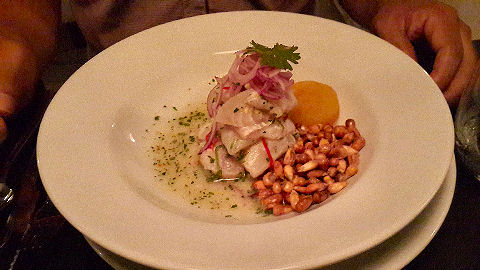 We decided to split a trio of appetizers, starting with a classic fish ceviche. Perfectly balanced acid and salt, fresh fish, all the right herbs and such. For us, lacking in chilies, but we tend to like things a lot spicier than most folks around and I'm sure they have to keep it toned down a bit for local palates – though we did tell our waitress that we wanted things traditionally picante, and not muted. My guess, given the dishes over the course of the evening, that wasn't communicated to the kitchen.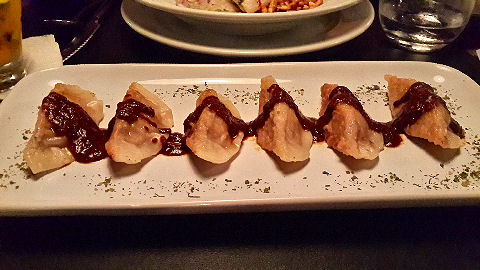 Interestingly, I've been working on an idea for little adobo de chancho dumplings. I was thinking along the lines of Momofuku style steamed buns. But these were pretty interesting. The filling is the braised pork, and then the sauce is reduced and thickened and drizzled over the top. I think I would have liked them better had they been "a la plancha" – potsticker style rather than just steamed, which would have given them some nice texture, but they were quite good.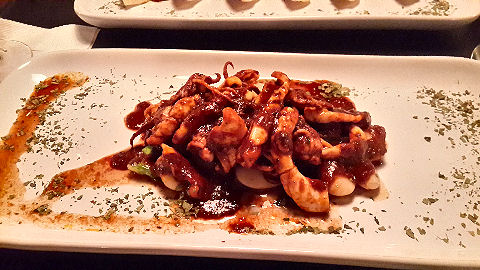 Hands down the best dish of the evening. Little chipirones, baby cuttlefish, in an anticucho style red pepper sauce, along with the big white beans they call pallares, which are like a large butter bean. Spectacular, and an idea I'm stealing to adapt to our own kitchen.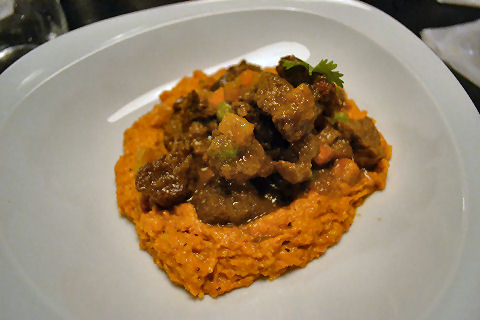 Henry went for a lomo norteño, a braised beef dish. The sauce was delicious, the beef perfectly cooked. The grated carrot compote below was a bit too sweet for our tastes, and the dish really needed a starch of some sort – he asked for some white rice and they brought it right out.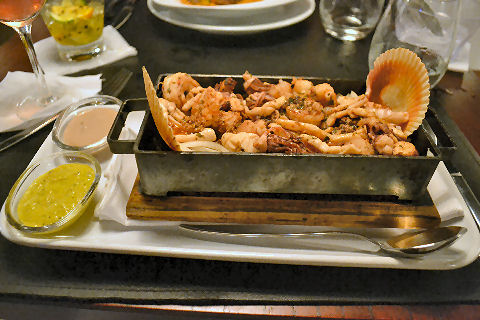 My marmita de mariscos was excellent. Basically it was a mix of shellfish off the grill, served over a bed of grilled onions and accompanied by two sauces – a black olive mayonnaise and a quite fiery green chili sauce. Finally, some heat! Liked this dish a whole lot, and it's deceptively simple, because the different shellfish all need to be timed just right to have them all turn out cooked so well. Also needed something to accompany it, so I scooped off some of Henry's rice.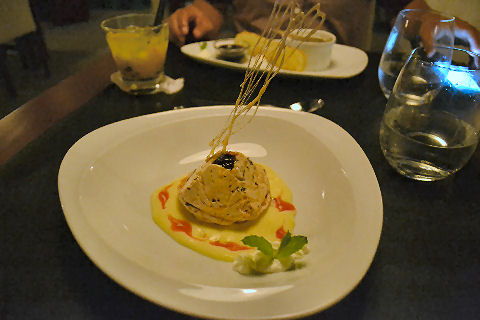 We don't normally go for desserts, or at most split one, but the rest of the food was good enough that we were intrigued to try a couple. I went for the barbarua de guindones – cherry bavarois – odd texture for a bavarois, just a bit too firmly gelled, but great flavors, and accompanied by a delicious mango sauce.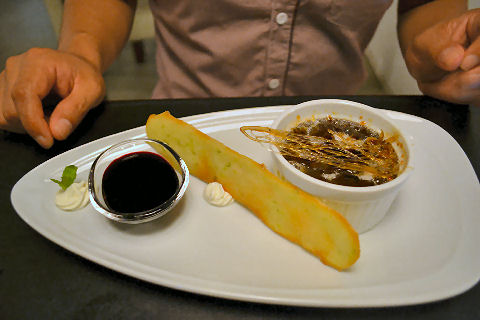 We were both very pleased with the creme brulee flavored with mazamorra, the purple corn used to make chicha morada, and accompanied by a thick mazamorra syrup. Brilliant dish.
So, overall. Like the space. Waitstaff seem to be quite friendly if a bit over-informative. Managers need to figure out what to do with themselves rather than just pacing the floor never talking to customers – either chat with some of them or get off the floor and out of the way – very distracting. Food, all between very good and excellent, beautifully presented. Leaning a touch towards the sweet side at times, but that's typical in BA. Prices are just slightly less than going to La Rosa Nautica, where we tend to head for the Nikkei style cooking, but basically comparable – appetizers running just under 100 pesos and main courses running between 100-150. They need to lose the 23 peso per person cover charge, at these prices it's just insulting to customers to have it on the menu – it may turn out the same, but just build it into the menu pricing – 5 or so pesos more per dish isn't something that anyone would notice – and doesn't call attention to it. All in all, Highly recommended.