"The country possesses extraordinary biodiversity, and its cuisine showcases this bounty of ingredients in exciting dishes inspired by Spanish, native Indian, African, Chinese and Japanese kitchens. For a food traveler, Peru is paradise."

– Patricia Unterman, food critic, San Francisco Examiner
A quick wrap-up on this weekend's dinners, I know this is a third dinner posting in a row. When I planned an end of November Peruvian dinner it was simply because we hadn't had one in awhile, and they do tend to be popular. I didn't know at the time that Henry would by then have picked the following day to head off to Peru to spend seven weeks with his family (actually, I'll be headed that way at the end of December and we'll do a bit of traveling around northern Peru in early January). So, though he's headed for an inundation of Peruvian food, he got to have a bit more on the eve of his departure.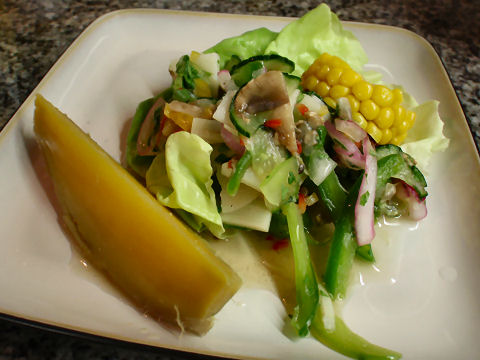 Although ceviche is generally associated with fish and shellfish, we often forget that it's more about the method of preparation, cooking via use the of citric acid rather than heat, than it is about the other ingredients. There is chicken and duck ceviche out there, and, several versions of vegetable ceviche. It's likely that the latter are more recent additions to the cuisine, or at least I haven't found any older references to these dishes, but we had fun putting one together in one of our vegetarian classes, and given the rest of this weekend's menu, I wanted a fresh vegetable dish to start. The preparation is completely traditional for northern Peru, with lime and lemon juices mixed, salt, pepper, ginger, garlic, rocoto peppers and red onions as the key flavorings. The selection of vegetables, thinly sliced fresh mushrooms, green peppers, cucumbers, and hearts of palm. Garnishes of fresh corn and sweet potato on the side and it made a delicious salad to start the evening.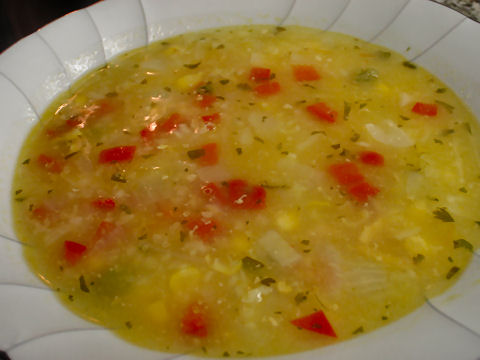 Our soup, an aguadito de pavo – turkey soup – I hadn't actually thought about it being Thanksgiving weekend either when I planned the menu, I just wanted something different – perhaps it was unconsciously in the back of my mind. I would venture to guess that the traditional soup is actually made with a wild turkey rather than domestic – I bought a small turkey and carved as much meat as I could off the bones, both white and dark meat, diced it up and set it aside. I made a turkey stock from the bones. In another pot, lightly browned onions and garlic in olive oil. Added the turkey meat and browned it. Added a healthy cup of pisco and cooked it off. Then diced red bell pepper, fresh peas and corn, rice, and the turkey stock. Let it cook until the vegetables were done, then added some ají amarillo paste and a good amount of finely chopped cilantro. Seasoned with salt and pepper and served.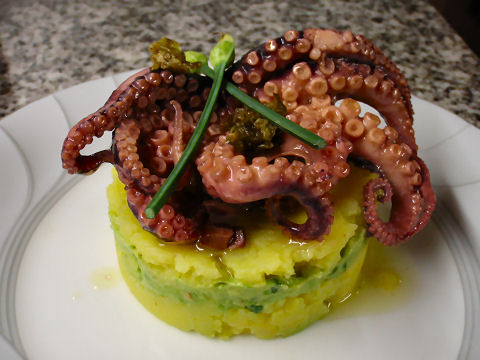 I really liked this dish, as, it seemed, did everyone else. There are traditional versions in Peru of causa de pulpo, octopus causa, but, they're very much just substituting in the octopus for the more often seen tuna or shrimp. versions. This one brings in some Mediterranean flavor, more my style (it can go alongside the Ají de Gallina Lasagna in successful fusion dishes I've played around with this year). The potatoes are mashed with olive oil, lemon and a little ají amarillo paste. In between, a layer of avocado mashed with olive-oil based mayonnaise and garlic chives, atop, chopped black olives, olive-oil poached baby octopus (slow poached in olive oil and garlic for about an hour and a half until completely tender), fried capers and a couple of garlic chive flowers to garnish.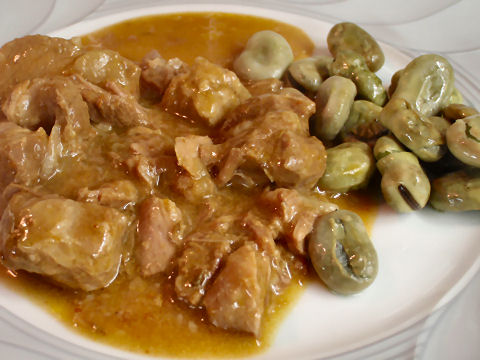 In the delicious but not so pretty to look at category, adobo de chancho. One of the problems with presenting a slow braised meat or stew is presentation, but rarely is flavor the issue. Way, way back, on our visit to Cuzco, you might (probably not) recall my mention of the dish at Pacha Papa, along with some others. I actually had the dish there twice it was so good. I even sent NY food critic Gael Greene to the place just to try it while she was in Cuzco (she found the pork to be chewy, not braised sufficiently, but enjoyed the rest of her meal there). When our friend Kevin headed off from BA to Cuzco to live for an indefinite period, I sent him, and he actually went to work for them for a few months, learning their recipes inside and out. I asked for the recipe for this dish and the seco de cordero, the two dishes we'd liked the most. He obliged… but that also means I'm not going to reveal the recipe in detail here because I know the chef wouldn't be happy about it. In simple terms though, the pork is marinated in chicha de jora, a fermented corn beverage, which we can't get here, so on the suggestion of a couple of Peruvian chefs living outside of Peru in a similar situation, I substituted a mix of beer and vinegar. Along with the liquid are red onions, salt and pepper, cumin, ají panca and garlic. After a good amount of marinating the pork is braised in its marinating liquid… mindful of Gael's comment to me, I made sure to braise it sufficiently long to have the pork be falling apart tender (about 4 hours) and then thickening the sauce. Served up with fresh fava beans, blanched and shocked and then sauteed in butter.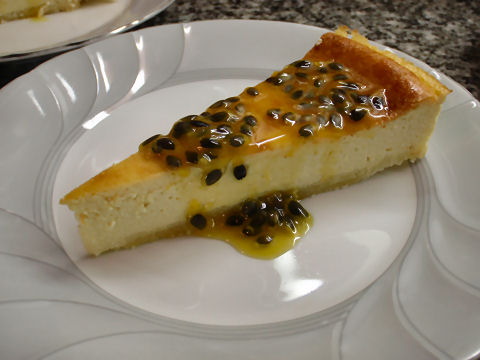 On to dessert, much prettier – a cheesecake flavored with strained passionfruit juice and topped with a light caramel mixed with the pulp and seeds of the fruit and a splash of vanilla. I'd planned on a cherimoya (custard apple) dessert, as when I planned the menu they were heaped up in Barrio Chino. But, three weeks later, not one to be found – heaps of passionfruit had taken their place.