Bruce Wayne: "Most Americans don't realize what we owe to the ancient Incas. Very few appreciate they gave us the white potato and many varieties of Indian corn."
Dick Grayson: "Now whenever I eat mashed potatoes, I for one will think of the Incas."

– from the original Batman series, episode 24, Give 'em the Axe
This weekend, a duo of different dinners. First up, Friday night, a private evening with the only request being… hmm… really there were no direct requests other than one person who needed a pescetarian version of any courses containing other meats. There were hints about our recent Milky Way cheesecake and perhaps a beef main course, but it was really left up to me.
We started off with a classic poached egg, lardon and frisee salad, and then moved on to my favorite course of the evening…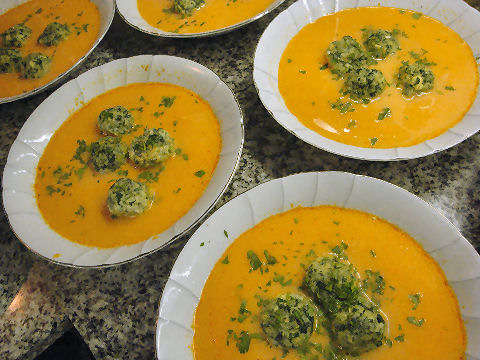 A Cream of Piquillo pepper soup with Malfatti – the soup made with classic vegetable stock vegetables plus a good number of fire roasted piquillo peppers and some potato for body. Cooked until well flavored, then pureed and strained. A little cream to finish. The malfatti, or gnudi made with goats' milk camembert rather than ricotta, but otherwise, classic. Delicious!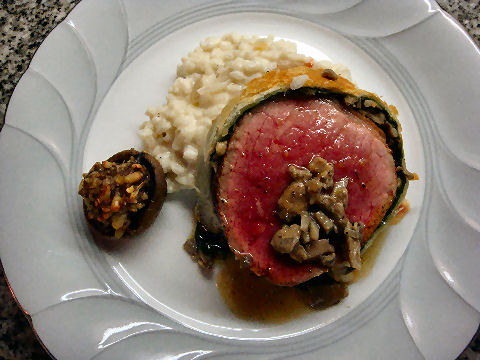 On to a mid-course of a baby octopus causa, followed by a take on a classic Beef Wellington – didn't turn out exactly as I'd have liked, but reasonably close, and served it up over a caramelized shallot and mascarpone risotto with a spicy stuffed mushroom on the side. And finished off with our Cheesecake de la Vía Lactea, as hinted at…. Oh, guests arrived in character for a James Bond theme, though the menu wasn't related….
Our public dinner on Saturday, the 320th anniversary of the publication of the first newspaper to be published in the Americas, Publick Occurrences Both Forreign and Domestick. It was published in Boston on September 25, 1690, for exactly one issue, since its anti-government bent was at odds with the local powers that be. I did a little research on the typical fare at a Boston Public House of the era, and used those ideas as inspirations.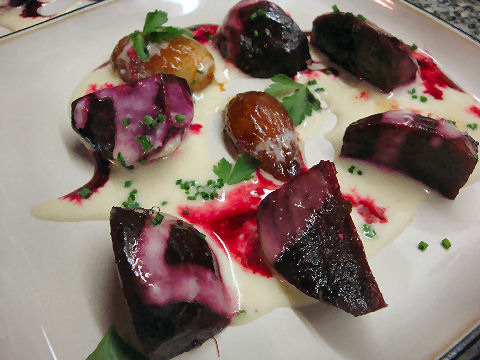 While roasted beets and onions were common side dishes to a plate of boiled meat, I doubt they appeared in a guise like this. My take on a Thomas Keller dish, roasted beets tossed in a black truffle oil vinaigrette, caramelized shallots in a white balsamic vinaigrette, a pureed and strained sauce soubise, or onion bechamel, and a drizzle of the roast beet juices and some herbs. Then on to a classic Boston fish chowder with a trio of fish – cod, pollack and sea bass – plus some shrimp – the only real twist on it, a bit of a kick from some finely diced jalapeños.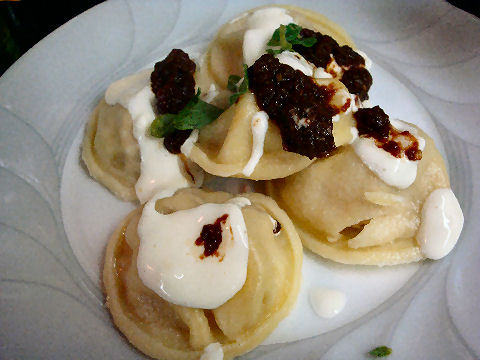 Turkey was a common meat served, though highly unlikely it was made into pasta – here a sausage-like filling of ground smoked turkey, caramelized onions and garlic, fresh thyme, celery seed, egg white, a touch of rendered duck fat to keep it juicy, salt and pepper, all packed into pot-bellied pansôti – served with a sauce of warm mascarpone flavored with lemon peel, oregano, salt and white pepper and a few dollops of sun-dried tomato puree. Loved this one!
We finished off with a far cry from a classic boiled beef dinner – a huatia sulcana over creamy polenta, and then dove into a ginger cake with hard sauce (calvados in place of rum). Sheer decadence!