"The stars twinkle in the Milky Way and the wind sighs for songs across the empty fields of a planet a Galaxy away."

– L. Ron Hubbard, author
The Tanabata was upon us. Not to be feared, it is no bug-eyed, slavering monstrosity. We had no need to draw swords to fight it off, merely a knife, or two, to begin the chopping, slicing and dicing. Of ingredients, not the Tanabata itself, which is the annual festival of stars, a moment for two star-crossed lovers in the sky to join together for their once annual tryst before again being separated by the Milky Way, that barrier to their love. And, a moment for us to infuse a bit of Japanese flavor into one of our dinners.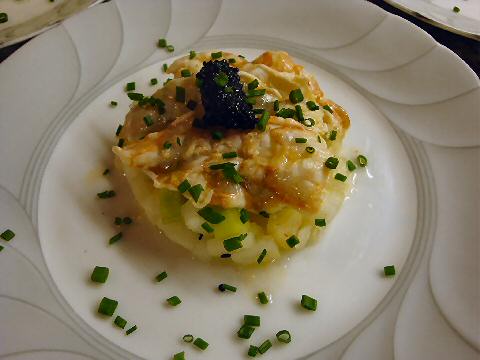 The best meal I ever had in my life was at Tetsuya in Sydney. The man's grasp of flavors, textures, combinations, and presentation is simply astounding, and I've been pleased that over the years, I've on and off gotten the opportunity to be in contact with him. His cookbook is a visual delight, and though most of the dishes seem un-reproducible for the home kitchen, they are inspiring. So, beginning with one of his classics, a marinated scampi prawn over papaya and cucumber salad and topped with tonburi, or mountain caviar, I came up with this little gem – a ceviche of prawns – the curing liquid a mix of lime juice, fruit vinegar, hazelnut oil, ginger, garlic, salt and pepper, and laid out over diced Asian pear that was tossed with lime juice and shichimi, Japanese seven-spice mixture, and a layer of salted cucumber. A little caviar to top, a sprinkle of chives, and I think we have a winner.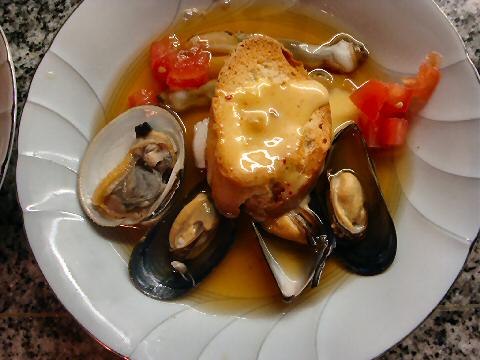 The idea of a miso based bouillabaisse style soup came to mind, and a bit of online searching came up with myriad versions of a miso broth for just such occasions. A stock made of shrimp shells, a fish head, leek, carrot, fennel, shallots, tomato, white wine, red miso and chili paste – all simmered together until it was rich and flavorful. Then strained, the liquid from the shellfish coming up next added, clarified with egg white, and kept hot. Separately, I pan-roasted mussels, clams, scallops, and razor clams. Kept those warm. To serve, laid out the shellfish on the half shell or removed from the shell, a mix, some diced tomato, ladled the broth over it all, then a toasted slice of baguette topped with a red miso tamago-no-moto, a Japanese egg yolk sauce. One night, for a guest allergic to molluscs, I set aside a portion of the stock before adding the mollusc liquid, and sauteed a couple of shrimp along with some fish, served up the same way.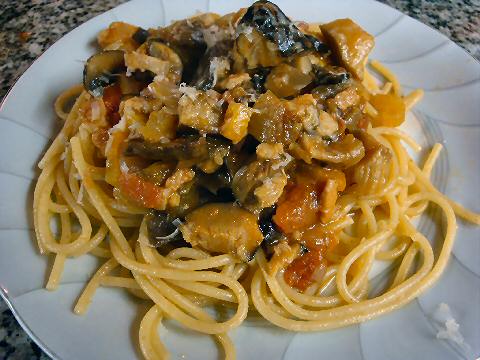 Not as pretty as the other dishes, but tasty – linguini topped with a bolognese made without the ground meat, just a mix of different Japanese mushrooms – shiitakes, pine mushrooms, oyster mushrooms, cloud ear fungus, and some baby portobellos for good measure.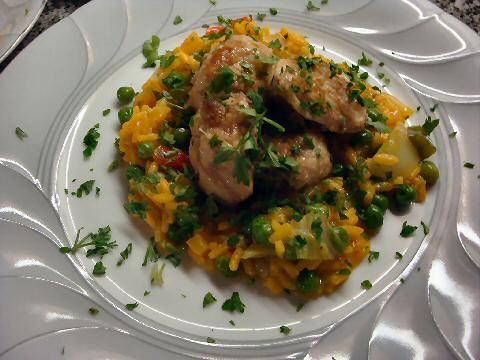 I was musing on the idea of a Japanese style paella – using dashi (bonito and kombu kelp stock) as the cooking liquid – in the end treating it slightly more like a risotto, adding in saffron to the dashi, and then towards the end mixing in blanched and shocked peas, Napa cabbage, sauteed peppers of different colors, parsley and smoked paprika. Atop, cubes of chicken breast that were marinated in mirin and soy, then coated in cornstarch and stir-fried until lightly crispy on the outside and still tender inside (cooked through, of course).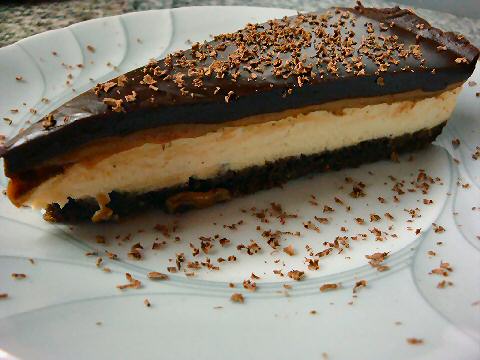 It probably violates some copyright to refer to this as a Milky Way Cheesecake, especially as it is based on the classic Milky Way candy bar, so we'll go with the local translation which probably doesn't carry the copyright – a Via Lactea Cheesecake. Still, based on the same flavors – a crust of chocolate and malt, a vanilla cheesecake filling, a layer of dulce de leche, and a topping of dark chocolate ganache. The adult version of the candy bar, no question….