"Do not overcook this dish. Most seafoods…should be simply threatened with heat and then celebrated with joy."

– Jeff Smith, The Frugal Gourmet
And, one more private dinner. Seafood on the menu, not too spicy. A couple of dishes selected by the guests from past menus.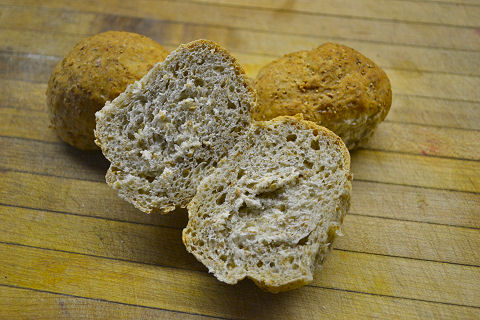 I've been playing around with some new whole grain breads and chef and friend Humberto who used to own and run Amaranta here in town (and is now back home in Bolivia working on some interesting new food enterprises) provided his recipe for his signature amaranth bread. We ran with this one all weekend.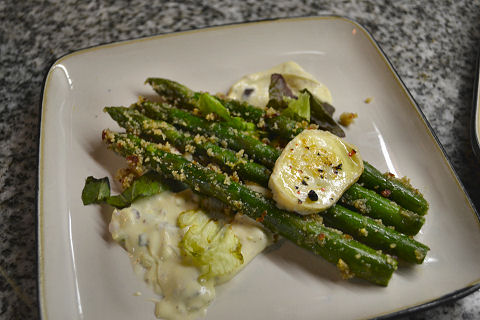 Asparagus / Egg Yolk / Goat Cheese / Bacon
Trapiche Extra Brut, N.V.
A request from a past menu, a warm asparagus salad with deviled egg dressing, St. Maure goat cheese. This time instead of breadcrumbs I used the farofa idea from this weekend's Brazilian influenced menu, mixed with finely chopped pancetta.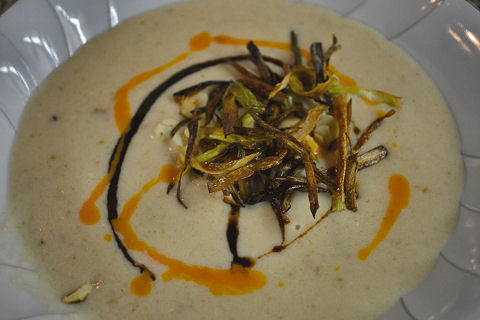 Garlic / Bread / Milk / Leeks
Pulenta Estate "La Flor" Sauvignon Blanc 2010
A relatively classic ajoblanco – lots of sweated garlic and shallots, toasted bread to thicken, a milk base, simple spices. Topped with piquillo puree, olive oil, toasted almonds and crispy leeks.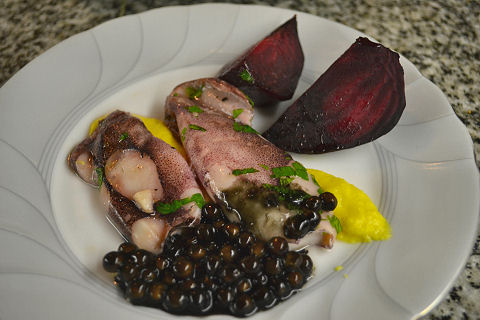 Calamarette / Corn / Beets / Squid Ink "Caviar"
Kaikén Rosé of Malbec 2011
Calamarette sauteed in olive oil with lots of garlic and parsley, finished with a little fish stock. Corn puree, roasted beets, and a faux caviar made from tapioca pearls simmered in squid ink broth. Apparently not the dish that the host was thinking of, he'd mentioned a squid ink caviar dish that we'd done, but I hadn't actually done that. I had done a rabbit "caviar" for a dish. But, I decided to give him squid ink caviar and just come up with a dish that worked with it. I realized later after they were talking about the dish at the dinner that he was talking about an article in Wallpaper* magazine with a picture of a dish with squid ink infused quinua. But that's not one of ours, it's a dish at HG restaurant in the Fierro Hotel. We were featured in the same article for a different dish.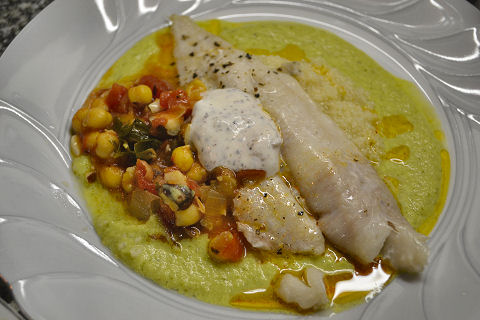 Hake / Zucchini / Chickpea / Couscous
Alfredo Roca Pinot Noir 2009
And, another request brought back from a recent menu, hake with zucchini puree, spiced chickpeas, couscous (cooked this time in vegetable stock as one of the guests was pescetarian, so I didn't use chicken stock), yogurt with sumac. Just as good as the first time!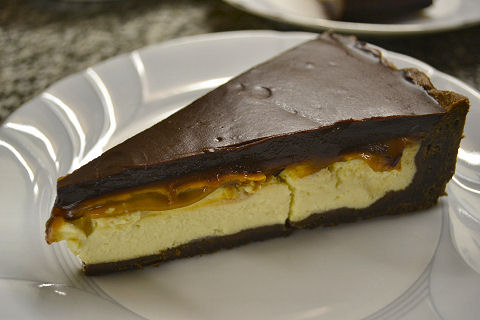 Chocolate / Milk Caramel / Malt / Vanilla
Uxmal "Bravio" 2000
And, the final request, anything with lots of chocolate and dulce de leche – what better than bringing back my "Milky Way" Cheesecake with a malted cocoa crust, vanilla cheesecake filling, a layer of dulce de leche and a dark chocolate ganache topping?
I do believe they left happy.