"Memory is a net; one finds it full of fish when he takes it from the brook; but a dozen miles of water have run through it without sticking."

– Oliver Wendell Holmes, Sr., physician, writer, poet
I'm really starting to enjoy this new approach to the dinners, so, I'm going to jump right into it without a long, rambling prelude (we'll save the prelude for next week when it's Franz Liszt's 200th birthday, which I can't pass up as a theme with a little Hungarian inspiration, but not at all traditional).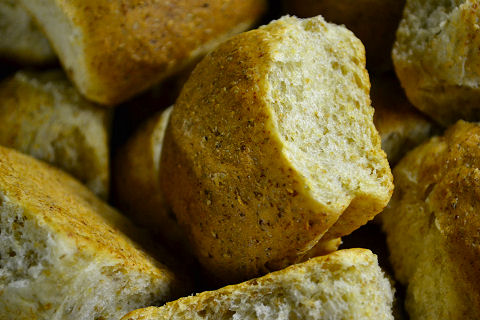 Simple, buttery rolls flecked with wheat germ and bran.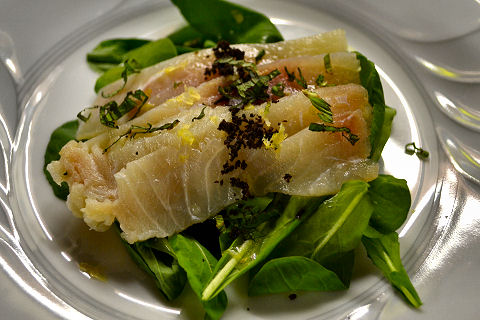 Swordfish / Arugula / Mint / Black Olive
Chandon Brut Nature
I've made gravlax at several dinners over the past half dozen years (god, has it been that long already?) and have been playing around with some different fish recently. For this dinner I decided on swordfish. The curing process is much the same as making gravlax, except that instead of fillets I used steaks – fillets would be better, but just not the way swordfish is sold here (or, for that matter, anywhere else I've encountered… wonder why that is?). The changes are in the curing ingredients – white sugar instead of brown, oregano and thyme instead of dill, orange zest only for the citrus, and a mix of the orange juice and some armagnac for the spirit. It's a combination that seems to work better for swordfish. It also doesn't take as long as salmon, being a less fatty fish – 24 hours, flipping once about halfway through is plenty.
Thinly sliced and served over an arugula salad dressed with orange and lemon juices, olive oil, salt and pepper. Over the top a little bit of lemon zest, some black olive powder, and shredded mint.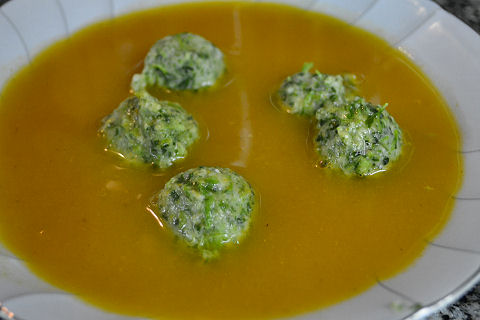 Ricotta / Garlic / Roasted Pepper / Cardamom
Saint Felicien Chardonnay Roble
Changing up a past dish of goat's milk camembert malfatti with piquillo cream, I wanted to lighten it up a bit. The soup is roasted bell peppers, piquillo peppers, carrots, celery, leeks and cardamom all pureed into a light fish stock and then strained. The malfatti – much smaller and also lighter, made with homemade ricotta, pecorino, roasted garlic, spinach, and a little flour and egg to bind them. The dish still needs some work – it's better, but it's missing something… maybe texture more than flavor.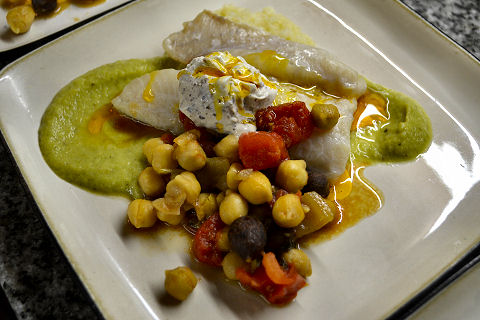 Hake / Zucchini / Chickpea / Sumac
Estiba I Tempranillo Rosado
Sometimes a dish comes out just the way you've been hoping as you've been working on it, and this one was one of those. I think that it was the hands-down favorite of the majority of guests, and mine too, though the next course got some votes as well…. From the bottom up, a zucchini puree (sauteed zucchini, garlic, shallots, cumin, coriander until soft, then added a splash of white wine, let it absorb, then some chicken stock and cream to finish it; pureed, strained); then some couscous cooked in a chicken stock with lots of onions is there towards the back; a fillet of hake that was baked in the oven simply sprinkled with salt and a little oil; in front, a scoop of my favorite chickpea preparation, the difference here from the way it's pictured and described in the linked post is that I kept the sofreito ingredients much chunkier and didn't cook them down to a paste; scooped on top a quenelle of sour cream infused with sauteed garlic, shallots and sumac; and, finally, a drizzle of smoked paprika oil. Credit for some of the inspiration on this goes to a dish from chef David LeFevre of LA's The Water Grill who pairs a zucchini puree, chickpea fritters and a sumac yogurt with grilled wahoo – changes made to the way it's all made and leaving out things like a date-tomato chutney, sliced cured lomo and a few other things, but the flavor combo of zucchini, chickpeas and sumac gave a base starting point.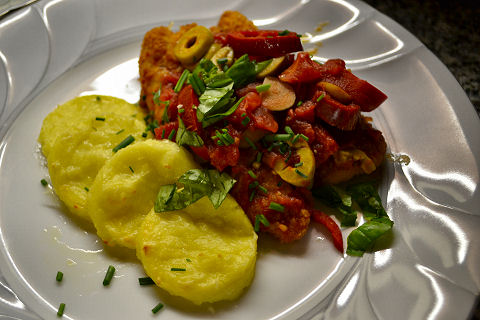 Chicken / Green Olive / Chili / Semolina
Barrandica Pinot Noir
This dish may have suffered from comparison to the elegance of the previous one, but it's one of my all time favorite chicken preparations. The chicken breast strips are breaded (flour, egg wash, mix of breadcrumbs and parmesan) and then fried until crispy on all sides. The sauce is a saute of sliced garlic cloves, green olives, jalapeños, and lots of chopped plum tomatoes. When the mixture is nicely cooked I add a splash of smoked balsamic vinegar and some salt and then ladle it over the chicken, and then chop up some fresh basil and chives over the top. In front, semolina gnocchi basted in butter and more grated parmesan. Simple and delicious!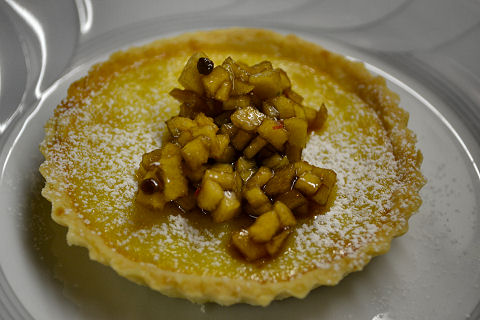 Almond / White Chocolate / Pear / Pink Peppercorn
Quara Torrontés Dulce Natural
And, another one that worked out just the way I wanted it. A white chocolate custard tartlet with an almond crust. On top a scoop of finely diced pear that's been tossed with a pink peppercorn caramel – caramelize sugar until fairly dark, add a splash of balsamic vinegar and brandy, stir to dissolve, add molasses and crushed pink peppercorns and cook until syrupy, then toss with the pears – at first it will harden on contact because of the temperature but then will quickly dissolve again with the juices that come out of the pears.