First, a note – for those of you who read this in a blog reader or via a feed, you may not have seen that SaltShaker has been nominated for an expat blog award. I hope you'll support me and leave a little love on the voting site!
We both had a couple of other things in our lives going on this weekend, so last week was an all weekday dinner series. A trio of dinners, same menu, quite a different mix-up of guests. One night six folk from the US and one from the Netherlands and a pair from London who cancelled at last minute; the next night five porteños, two US expats from Ecuador, and a woman from Mozambique – minus a pair from South Africa who sent a request saying "we would really love to come and share your table, please, please do you have space for two of us on Thursday?" who contacted me a few hours before the dinner to say that I clearly had misunderstood, all they were doing was inquiring, they'd never planned to make a reservation – okay, semantically, I guess that's accurate, but, come on… even if true, why wait until last minute to tell me – they had days to respond to the reservation confirmation; and, a night of mixed US, Canada and Spain. Other than a couple of allergies – grapefruit and avocado – and a pescetarian request, it was an easy week to put together the menu – some of it directly, some inspired, by past menus.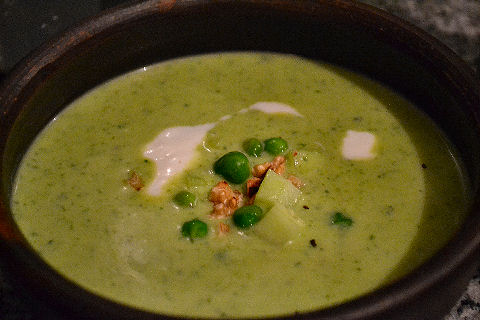 Spring pea soup. For the one night with a pescetarian request, left out the bacon and used a splash of liquid smoke. Replaced the pickled fava beans with more fresh peas for the garnish.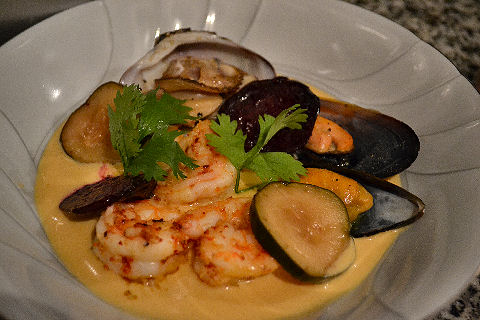 Brought back our "shellfish forest" as Henry termed it last time. Instead of smoked paprika, the prawns were sauteed with merquén, Chile's smoked pepper.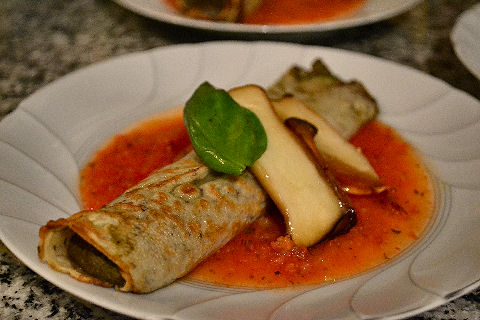 A green tea infused crepe filled with smoked eggplant puree and mint-basil pesto. Served with fresh tomato sauce and some sauteed king oyster mushrooms which are in season right now.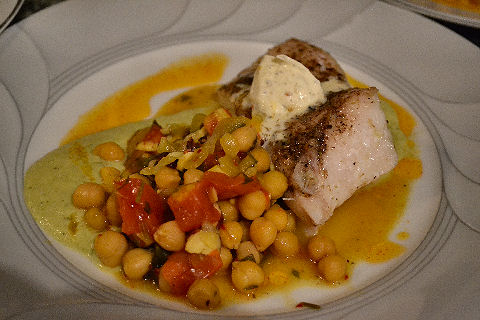 And, a favorite fish dish, using grouper instead of hake, along with zucchini puree, stewed chickpeas, and spiced yogurt.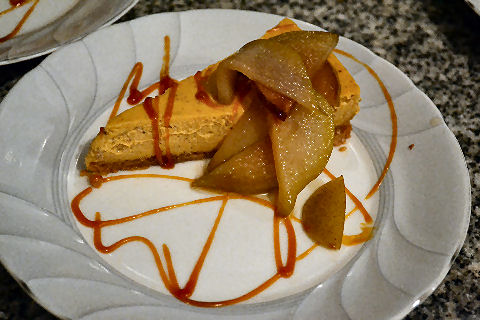 A nod to Halloween having been this week, a pumpkin and allspice cheesecake, vanilla caramel sauce, and vanilla and bourbon poached pear slices.