"Man who waits for roast duck to fly into mouth must wait very, very long time."

– Jules Renard, 19th century French dramatist
A completely fun weekend with some totally fascinating people in attendance between the nights. I now know more about beekeeping and sting-less bees than I ever thought I would – there was a beekeepers convention in town. That's the sort of thing that if you'd have asked me I'd have said, "sure, what do they get, 300 people who show up to talk about honey and whether or not they've ever been stung?" Boy was I wrong. Apparently this congress attracted some 10,000 people from all over the world who came together to share tips and talk about a large number of things related to our little bumblebee friends. Who knew?
This was also the first dinner we've ever had someone walk out of (other than one person who was ill and decided they just couldn't stay). A somewhat hyperactive 50-something Italian gentleman who showed up early on, there were only two people there when he arrived, and they were from the U.S. He immediately drew me to one side and announced that he was a bit disappointed that the entire evening was going to be not in Italian or Spanish. I pointed out there were another seven people to come, including a couple from Costa Rica, and a several Americans who spoke fluent Spanish as well. Mollified, it seemed, he went back to a stilted conversation with the two who were there, gamely trying out their Spanish. Next in the folk from Costa Rica and he jumped into an engaging conversation. As others arrived the conversation went back and forth between the two languages, at which point he pulled me aside again and said that while he was disappointed that it wasn't all in Spanish, as long as he got to try the "classic Argentine cuisine that you're famous for" he was happy. Sorry to disappoint him, but not sure where he got that impression. Within minutes he had his coat over his arm and angrily informed us that he had a) planned on an evening with him being the only foreigner amongst a group of Argentines all speaking Spanish, b) not planned on hearing any English or encountering any Americans, whom he didn't want to share a table with, c) planned on the aforementioned cuisine of things like empanadas and steaks, and d) there weren't any young, single girls for him to "meet", at which point he walked out. Can we bet that it was the last of those that was the big issue and that dinner was better off without him?
I had in mind to play around with recreating another couple of the old dinners from where we'd left off in early 1997, just a couple of weeks ago. But I got sidetracked and went a bit further afield. The two dinners that had some inspirational contributions were May and June of that year. On May 11th we had The Reinterpretation of the Classic Cocktail where I took half a dozen drinks and used their flavors to create dishes from. The first course, inspired by a Sidecar was a scallop ceviche with the molluscs cured in not just lemon juice but a bit of brandy and triple sec. And later on in the same dinner, a simple Gin Martini inspired a duck breast spiced with all the herbs used in the making of classic gin, and served up with a green olive salsa. The June 8th dinner was a Market Dinner that was told from the perspective of the little pig who went to market… what can I say, whimsical, no? Only one course was an inspiration this time around, a chilled fresh sorrel and cucumber soup with sugar snap peas.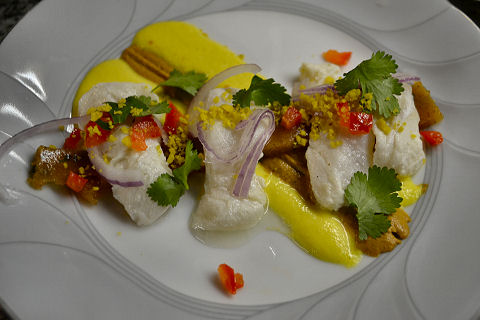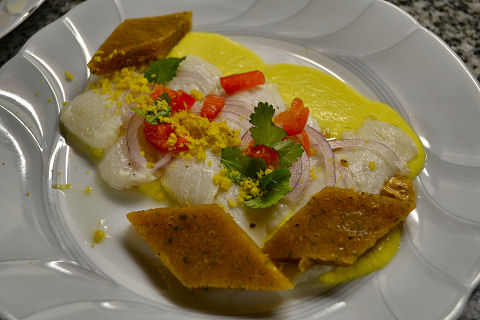 From the scallop ceviche to a reworked version of the ceviche I did for the recent Cantinflas dinner. Much of the change was simple plating, but I also changed it to a fish only ceviche without the shrimp and baby squid, just to keep it less muddled, and, instead of the tomato gel being firm cubes of fresh pureed tomatoes with cilantro, garlic, salt and pepper, I cooked cherry tomatoes down over low heat with salt, pepper and sugar until they were a puree, then blended that with filtered water, cilantro and gelatin for a softer gel, cut into a long strip underneath the fish (on the second night I forgot to put it down below the fish and rather than start over, cut the gel strips into diamonds and scattered them around). Both nice improvements on the dish… more to come.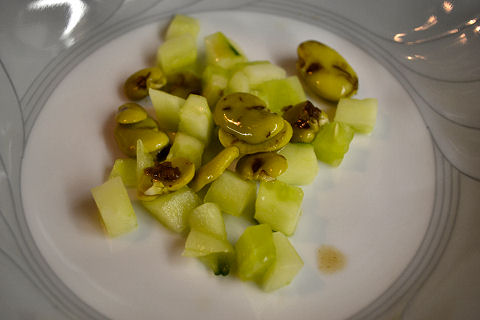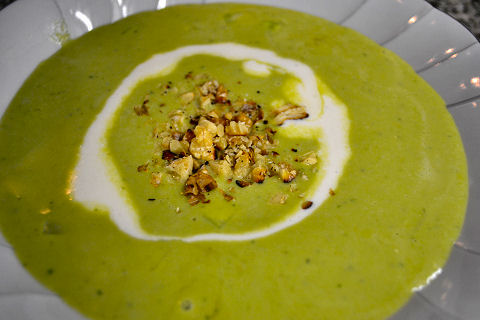 For the soup, a chilled spring pea soup – they've just come into season and are beautifully fresh and sweet. For the base, a strip of smoked bacon, celery, onion and leeks, cooked until the vegetables were lightly caramelized, then added the peas just out of their pods along with enough water to cover. Simmered away until the peas were cooked. Removed the bacon and pureed and strained the rest with a handful of parsley and mint, finished with a little double cream, salt and white pepper. What you can't see from the surface of the soup is that underneath is salted and pressed cucumber dice, plus pickled fava beans (in cider vinegar, bay leaf, salt and brown sugar). Finished with a drizzle of garlic infused yogurt and toasted walnuts.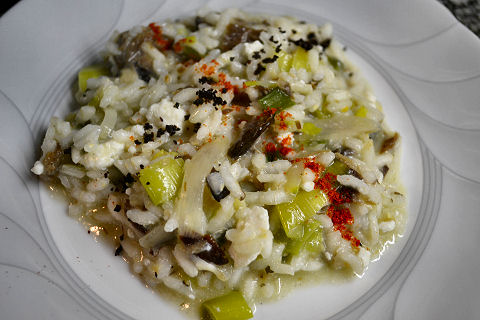 Brought back one of my favorite risottos – a mix of smoked herring plus sauteed leeks, green onions and shallots. The stock base a vegetable heavy fish stock. Some goats' milk ricotta salata that I picked up at the Mercado del Progreso this last week – delicious, by the way – and a stripe of both smoked paprika and ufer biber (smoked Turkish pepper).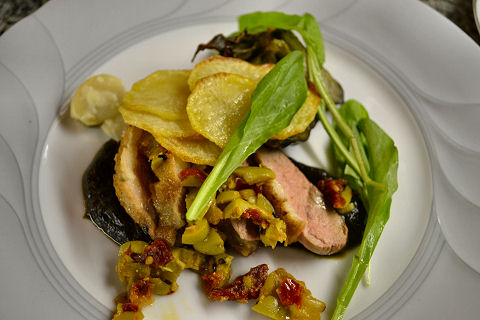 This was the most fun dish to put together and the newest combination of flavors for one of our dishes. Magret of duck, seared and cooked medium rare to medium. Served over more of the black fennel puree from last week. Scattered over the duck slices a salsa made from green olives, sun-dried tomatoes, charred Italian frying peppers, shallots, toasted pinenuts, shichimi powder, salt and olive oil. Around the main act, a roasted half artichoke, some milk-poached garlic cloves, some scattered raidchetta greens and some pommes maxim – basically fancy potato chips that are slices of a firm potato (I used some pink potatoes that are just in season), coated in duck fat and baked until golden and just crisped around the edges. Overall, yum and we'll be seeing that one again.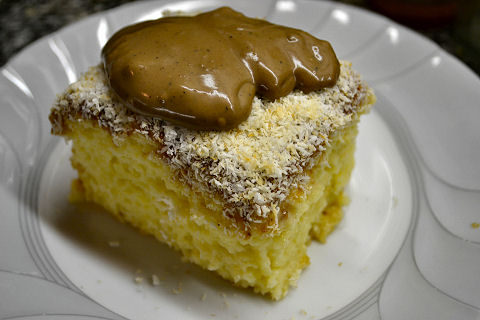 Finished the evening up with a replating of our Trés Leches cake and Brazilian Coffee Sauce with its light fluffy texture, creamy coconut and orange flavors, and chocolate-coffee cream over it all. Love that cake! Overall, a happy couple of nights all around.
Sometimes I get asked what we do with leftovers and leftover ingredients…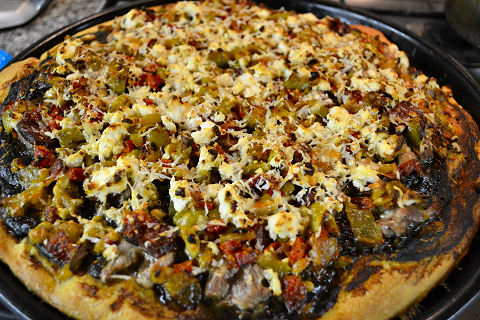 A little pizza topped with the last of the black fennel puree as the sauce, then slivers of duck breast, some slices of some wild boar longaniza sausage that I happened to also have from my visit to the Mercado last week, then the last of the olive salsa and crumbled ricotta salata, some parmesan to finish it off, into the oven and then into our stomachs. We do tend to eat well here at home.