"In the old days, it was not called the Holiday Season; the Christians called it 'Christmas' and went to church; the Jews called it 'Hanukkah' and went to synagogue; the atheists went to parties and drank. People passing each other on the street would say 'Merry Christmas!' or 'Happy Hanukkah!' or (to the atheists) 'Look out for the wall!'"

– Dave Barry
I can't claim that our Xmas festivities were particularly Xmas-y, and having grown up in the frozen north, there's something still very odd after nearly six years here about "the holidays" coming in midsummer. But we had some fun with the dinner, despite a few logistical breakdowns. Oh, La Nochebuena, as the Eve is called here, came and went without incident – happily, since mid-afternoon our power went out, and it seemed that the main cable terminal a half a block away had finally given up the ghost of past, present and future – the cables themselves smoldering with thick black smoke (these should have been replaced years ago, but instead, each time we have a blackout, and there have been many (this was the 17th this year), they simply patch them) – but, after cooling things down, and applying whatever patches they had to do yet once again, power was restored.
Not so the following day, the happy pine tree day itself, when at 4:30 p.m. all went dark again, and despite assurances from the various technical and management folk on the scene that power would be restored momentarily, it didn't happen until 1:30 a.m., well after guests had left. The dining room was festive with lots of candles for light, and thankfully the truly hot spell broke and a nice breeze picked up so that though it was a trifle warm, it wasn't sweltering in the house. A shame Henry didn't take a picture, you should have seen me in the kitchen, a candle at either side of the stove and a flashlight clenched between my teeth. The show must go on! And, we've followed on with most of Sunday, Monday and Tuesday without power for some period or another, thankfully not interfering with either classes or a private dinner scheduled. And, perhaps it's a holiday miracle – the cables were so far beyond patch-ability that they spent 20 hours of yesterday, ending up around 5:30 a.m. today, finally replacing all the cables for the four block area we're in that's controlled by this substation. It may just be worth it all if it prevents blackouts for the foreseeable future!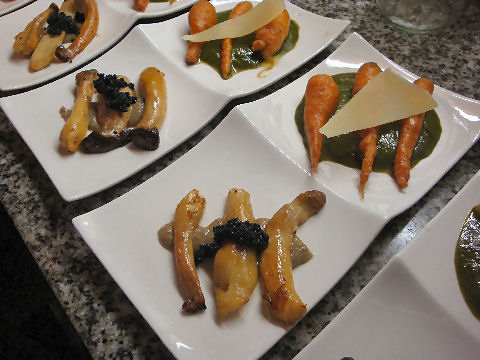 I had planned on the very successful baby carrot and beet salad lifted from a Top Chef episode, with minor modifications, but, two claims to beet allergies set that aside – and I was going to change it up completely, but my favorite verduleria got in a shipment of those beautiful baby carrots, so I decided to make the dish without the beets, and add another component. Then I found some amazing, fresh poricini mushrooms in Chinatown, and while I knew they wouldn't combine in the same salad, there's nothing wrong with a duo of salads. So, the second salad were king oyster mushrooms sauteed in olive oil and butter (margarine one night due to no lactose requests abounding), served over a sunflower seed butter (simply pureed toasted sunflower seeds with a little oil to smooth them out, and topped with caviar. Delicious combination!
For our second course, I went with the miso bouillabaisse that I made for our Tanabata festival – minor changes, no red miso available so I used white, and the regular clams didn't look all that exciting so I added a scallop on the half shell, and some conger eel cheeks to the mix.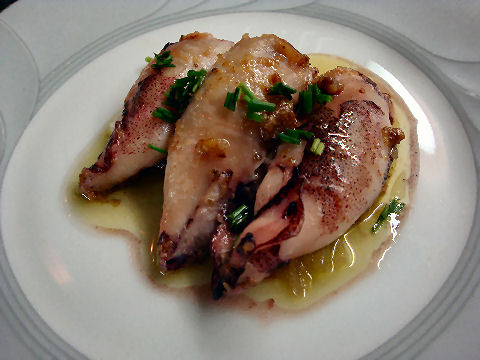 Most of you know by now that I'm a fan of cooking competition shows. Not so much for the competition as simply for watching some of the creativity that springs up, and getting ideas. One of my favorites is the Masterchef Australia series, which recently wrapped up both it's second regular season, and it's first kids season. There are two co-hosts, chefs George Calombaris of Melbourne's The Press Club (as well as two other restaurants), and Gary Mehigan, also with a trio of restaurants, the most prominent one being Fenix, in the Melbourne suburb of Richmond. Some of the dishes the two of them come up with are simply stunning to see, and I've been dutifully saving recipes (thankfully, many of them are showcased on the show's website), and one of them sounded perfect for our Navidad menu – calamaretti bakhlava. I made some minor adjustments after trying it out – in the end, what I have is a base of olive oil caramelized brown and red onions, topped with calamaretti (baby squid) stuffed with a mixture of ground toasted walnuts and almonds (I left off the pistachios from George's original recipe because they were coming up in the next course), mixed with honey that had been boiled and then mixed with vinegar, salt and pepper. Used a piping bag to fill the squid, lined them up on a baking sheet drizzled with olive oil below and above, and into the oven for about 5-6 minutes on very high heat. Drizzled with a little more olive oil and sprinkled with chopped chives – amazingly good! Second night, couldn't use the oven (electric and all that), so I put them into a covered paella type pan over very high heat – the results were slightly… soupier, as the liquid didn't steam off, and the texture of the calamari slightly different, but still delicious. The oven baked, however, wins.
For our main course, I resurrected one of my favorite dishes from past menus – knowing that I wanted to feature duck – so, seared duck breast over a garlic and mint eggplant puree, with mango chutney, toasted pistachios, and a piquillo pepper sauce.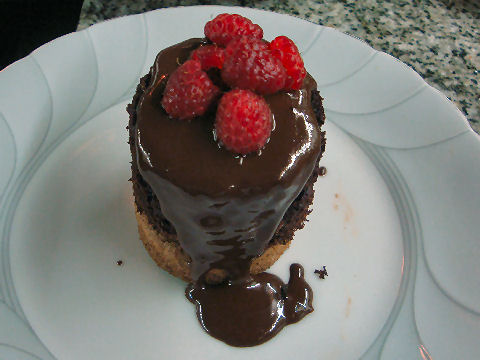 And, finally, a minor iteration on a past favorite, my chocolate tower. On the base, a cocoa bisquit, topped with a different chocolate mousse – instead of the olive oil mousse, I found a really interesting dairy free (remember those requests above) version that is made from, believe it or not, avocados, cocoa, honey (they used agave syrup, but honey worked beautifully) and vanilla. Then our chocolate chili cake, a chocolate glaze, and some fresh raspberries.
As they say here, Felíz Navidad!, or as I prefer to put it, Happy Holly Daze!