"In the sky, there is no distinction of east and west; people create distinctions out of their own minds and then believe them to be true."

– Buddha
Somewhere on the fringes of my consciousness, a little outpost of creative Asian cuisine has been slowly climbing into the light. I've paid no real attention, most of such places come and go here, with nothing to distinguish them, they're merely the flavor of the moment, simply because they're new and purport to do something different. But, the other night, with a full-on sushi craving, a friend suggested we give it a shot, he'd been hearing good things about it. No reflection on him, but that usually means it's going to be more of the same… i.e., yet one more "if you make sushi, they will come" kind of place put together by some young cook who took a class, somewhere, once, and thinks he's a master of the genre. Lots of salmon and cream cheese rolled up in nori with poorly made rice – those of you here in BA know what I'm talking about.
I'm not going to say "I couldn't have been more wrong," because indeed, some of the menu at Tenkuu ("Sky" or "Heaven"), Cabello 3370 in Palermo Chico, 4801-8402, is that – but, thankfully, probably no more than is a necessity to cater to local expectations. The bulk of the menu is actually some creative looking, Japanese based cuisine with a bit of influence from the Thai genre (despite their claim to be more pan-Asian, there's really no other influences). And, of what we tried, most of it's pretty damned good.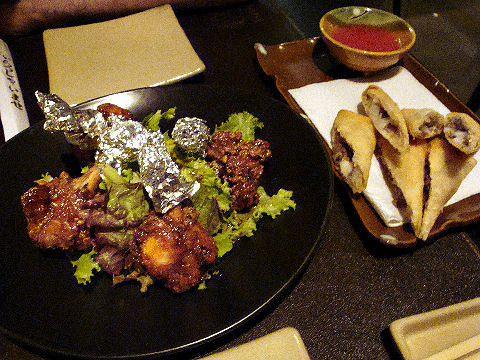 First off, I should say, it's a cute little place – a whopping 14 seats, plus 2 at the sushi bar. And it's nicely decorated, with good lighting. The fish display at the bar is limited, but at least not limited to just salmon – two kinds of white fish were there, some octopus and shrimp – not a cornucopia, and really, no more than most places, but it all looked really fresh. We started off with a couple of appetizers – the "Chicken Thai Wings" (not sure why some of the menu is in Japanese, some in Spanish and some in English in terms of names – it's a bit of a weird mashup – though all the dish descriptions are in Spanish), and the Harumake de Carne. The former are really quite good – not particularly spicy, but they have a faint kick to what is basically an Asian bbq sauce, and the little foil knobs to hold the nicely frenched drumettes so you keep your pinkies clean, the latter crispy fried springrolls, flattened, with a tasty little meat filling.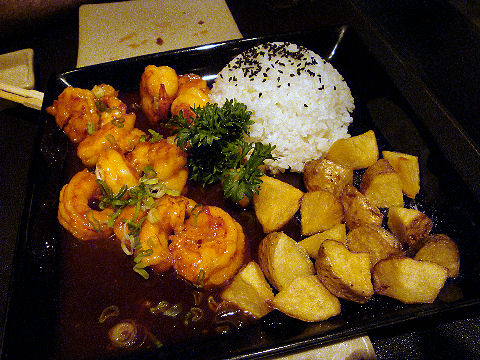 I'm not sure why we thought this was a fancy sushi roll on the menu – it doesn't say it is, but somehow, in reading about the place, that's what came across. It also seems to be the most touted of Tenkuu's dishes. Personally, I wouldn't tout. It wasn't bad, it just wasn't all that. The shrimp are in a very sweet chili sauce, and are overcooked. The rice and the potatoes are fine – actually, we really liked the little cubes of fried potatoes. Turns out there is a sushi roll similarly named (but not the item being talked about) made of breaded, fried shrimp with a mustard and honey sauce – which actually doesn't sound any better. While personally I wouldn't order this one again, the sweetness with a bare hint of chili is probably dead-on for local tastes.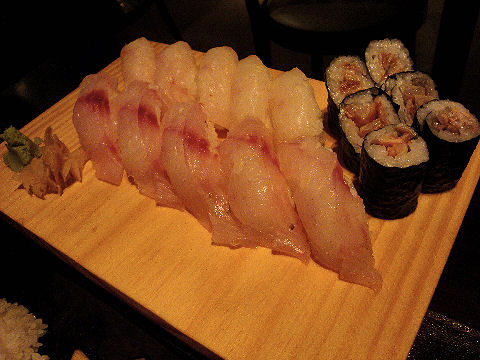 We were there for a sushi fix though, so a nice order of 10 pieces of pescado blanco, which they very kindly were willing to split five and five between the two types of white fish instead of limiting us to one as many places would – here, lenguado and besugo – flounder and sea bream – both as they appeared, pristinely fresh, the sushi rice very nicely made – if we had any criticism it was that the slices of fish were very thin, which makes for a lovely delicate presentation, but does mean that the pieces seem slightly out of balance on the rice side. Still, delicious and far better than most of the sushi spots here. The salmon skin roll, usually a favorite for that touch of crunch, was good, but odd – instead of frying or broiling the salmon skin to get that texture, it was piping hot but very soft, almost meltingly so. An unexpected, but not unwelcome difference.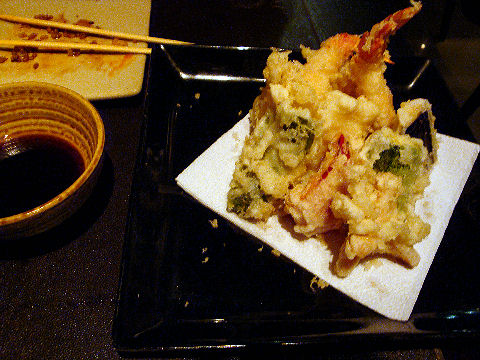 Why we thought we could handle another plate, I'm not sure. We'd already had a good amount of food for two of us (washed down, I might add, by well chilled Asahi beer), but we ordered the tempura mixta. And we had mixta feelings about it. It's a good quantity, and the tempura batter itself was good, but it was clearly fried in oil that was not hot enough (surprising, because one of the reasons we thought this would be good was how crispy and non-oily the harumake were back at the beginning of the meal – maybe they'd been frying a lot of stuff and the oil temp had cooled down), so the tempura was really pretty oily. Not to the point of being heavy, sit in your stomach like a lump, but more so than it should have been. To their credit, the waiter saw we weren't overly happy with it and asked, and as he was passing the sushi counter, the chef asked to see it, clearly having overheard, picked up a piece or two, nodded, pointed upstairs (where the kitchen is) gave the waiter some sort of instructions, and he dutifully took the plate back up to the kitchen. On the other hand, they didn't give us credit for it (though, admittedly, we had eaten a good percentage of it, it isn't as if we called him over and sent it back).
So, overall, we liked ambiance and service, and for the most part, the food is a step up from the usual sushi/Japanese spot around. And, it's close enough that I can get delivery…. On the other hand, it is a bit pricey – those four little chicken wings ran 25 pesos – I can get a platter of a dozen hot wings at most places for around the same, that prawn plate that we weren't so enamored of was a staggering 62 pesos, and the tempura was 46 (actually, had that been better, it wouldn't be all that bad of a price given the quantity). Overall, our bill for all the food and a liter and a half of beer, came in at 292 pesos – pretty steep, even for this 'hood.