Maybe I should just end with the title, because, who doesn't like pasta and ribs?
Just a quick wrap-up to dinners here at Casa S before heading to the airport this afternoon and winging my way to NYC and WDC for a week and a half. I'd actually planned to go earlier, in mid-April as I often do (though I think given the weather patterns, I'm glad I didn't), but the 2nd gay wedding in the family (a first cousin) is planned for next weekend, so I rearranged my schedule to coincide. Plus, it gives me a chance to spend a couple of days in Washington. While I've been before, I think four times, it's always been for an "Event", and I've never had time to really look around. I have a vague recollection that as a kid we once went on a family vacation and saw all the appropriate monuments and statues and I'm pretty sure my dad and I visited the FBI museum (I was considering a career in law enforcement or something related for many years). And I'm not going to have a huge amount of time, but it will be interesting to see with adult eyes and just wandering on my own. Plus some food, of course.
Four dinners planned this week, but too many cancellations on Wednesday and we ended up calling it when at one point we were down to just two folk reserved. We should have stuck to our plans, because between about 3pm and 8pm we would have filled back up with the various requests we got – but there was no way to predict that one. Ah well. Full nights on Thursday, Friday and Saturday (Friday was another odd one – filled with a large group upfront, they cancelled on Thursday, and between Thursday afternoon and dinnertime on Friday we filled back up).
I'm going to gloss over three of the courses, we've showcased them before. We started off with prawn ceviche on a bed of spiced pear and cucumber, followed up with our hummus inspired soup, and at the end of dinner our four-layer chocolate torte, with one change – instead of the top layer being the cocoa-avocado mousse, I went with a straightforward dark chocolate ganache, and the sauce on the plate was a malbec and coffee reduction finished with bitter chocolate. On to the two new dishes for the dinner.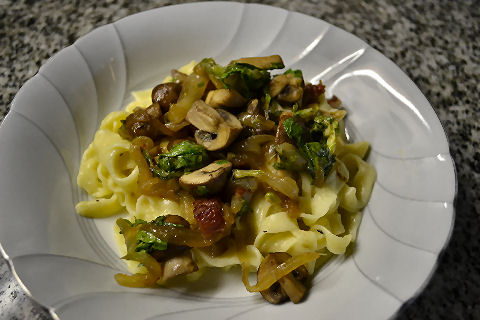 Fresh semolina fettucine with carbonara sauce, and then topped with a saute of baby portobellos and caramelized onions and finished with a chiffonade (okay, shredded) of celery leaves. My favorite dish of the eve.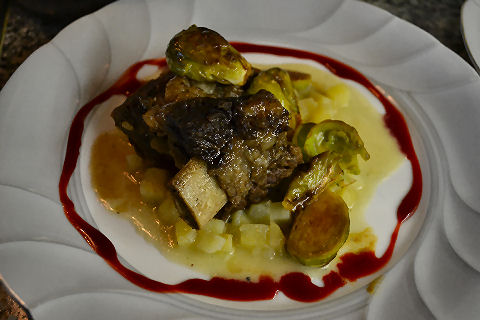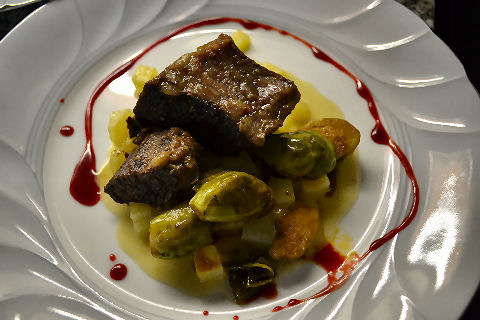 With or without the bone? That's the question. Either way the beef shortribs were braised bone-in, the question simply comes down to whether to slip it out before putting it on the plate. I'm leaning towards that versus leaving it there. It allows me to clean up the meat a bit – I can braise (stout, beef stock, mustard, chili, brown sugar, red onion, salt and pepper) the ribs for about five hours, remove them from the liquid and let them cool enough to handle, trim off a good amount of the fat and gristle that accompany the cut, skim the fat off the braising liquid, put the ribs into a shallow pan, cover with the defatted liquid, and then heat them back up in the oven to serve.
The ribs are served over a potato risotto (potato dice cooked the same way you'd cook a risotto, told you I'd be bringing this one back), finished with Morbier cheese. Caramelized brussels sprouts. Beet caramel.
What? Beet caramel? What's that they ask? It started with a Peruvian dish from Ayacucho called Puka Pikanti (Quechua for "Red Spicy") – although I've not laid this one out for you on the blog it's a dish we make now and again here at home – basically it's diced potatoes that have been boiled in stock and then at more or less the last minute the drained potatoes are mixed with beet juice and yellow chilies. Typically the dish is served with some sort of fried meat – chicharron – of pork or chicken most often. The potatoes pick up the red color on the surface, but with the contrast of the white interior as you dig in. Keeping the spirit if not the form, I juiced the beets, reduced the liquid with some chopped chilies in it, strained it and used it as the finishing liquid in place of cream while making a classic caramel sauce – so you've got sweet, spicy, and the intense flavor of beet in it. I need to play with the whole dish a little more – first I think it needs a little more of the beet caramel on the plate, and second, maybe something like a crispy skinned pork breast or belly to accompany…. Time will tell.
Okay, off to start packing. Coming to you next from NYC.