"This is Jools' favorite quick Saturday afternoon pasta. Every time I make it, even though it only uses a tiny fraction of my brain and takes a few minutes in the pan, she seems to be really impressed with it, so on that basis, I decided to put it in this book."

– Jamie Oliver, The Naked Chef
Really, this post has nothing to do with the (in)famous naked chef, and trust me, I don't spend time in the kitchen sans clothing – just too dangerous when knives are flying and oil is sputtering. This post is about one of my long ago favorite un-pasta dishes, malfatti or gnudi or cnel – that is, nude ravioli.
It's really about a private dinner this week for a couple of regular Argentine customers and their family, but you've seen most of the dishes before – our recent avocado and grapefruit salad with pomegranate molasses dressing, my favorite tomato and gin soup, this time served chilled, the malfatti, rolled chicken breasts stuffed with serrano ham and morcilla, and a passionfruit cheesecake with a chocolate ganache topping.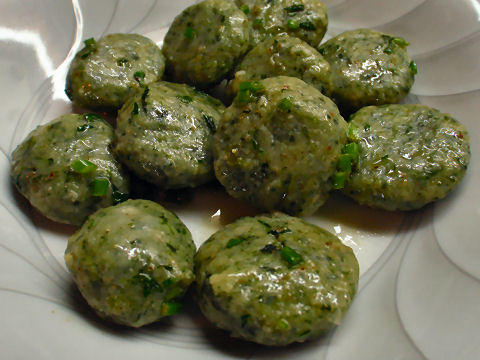 Back to the malfatti, the new dish in the line-up. Essentially, it is always claimed, these are "nude ravioli", the filling of a ravioli cooked without the pasta. It's somewhat true, though with the addition of eggs and flour so that it holds together. Really, it's a dumpling that happens to be flavored with… well, really, whatever. There's no one set version of these little fellows, and there are different recipes to be found from north to south in Italy (Tuscany and Lombardy both claim them as home turf "pastas"), not to mention that everyone has a mother, aunt or grandmother who makes the best ones. These are among the simpler ones, and the way I originally learned to make them – the filling a mix of cooked and chopped spinach, sauteed shallots, fresh ricotta that I pressed out as much liquid as I could from, parmesan, eggs, flour, salt, pepper and nutmeg – formed, and not badly I'd say, into flattened balls and boiled until they float. Served them up with a brown butter and mixed herb sauce and between the guests and ourselves, we went through some 14 dozen of these gems.