"It's common sense to me that you shouldn't eat most of the chemically treated rubbish most people seem to stuff themselves with."

– John Lennon
There were the inevitable jokes about us serving beetles, there were questions of whether or not the meal would be vegetarian, since the quartet spent a good part of their careers being so (actually, more towards the end of the joint careers and afterwards), and generally, just a lot of "what are you going to do with strawberries?" As if Strawberry Fields Forever was the only song they'd ever written that could be connected with food. It was our tribute dinner to the last Beatles concert, 41 years after the event (when I planned it, I noted "40", because I planned it in 2009, not thinking about a few weeks later the year changing – ah well, so be it, had I noted that it was the 41st I likely wouldn't have picked it as the theme, and we wouldn't have had the same dinner).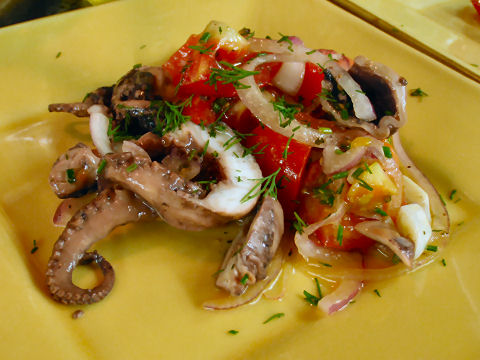 I don't know, to me it was obvious when I started thinking about the cold appetizer/salad course,
Octopus's Garden
… aight? Baby octopuses poached in red wine, cinnamon, cloves, bay leaves, salt and pepper for about an hour until tender and delicate. Chilled. Tossed with tomatoes and red onions and a lemon-bay vinaigrette.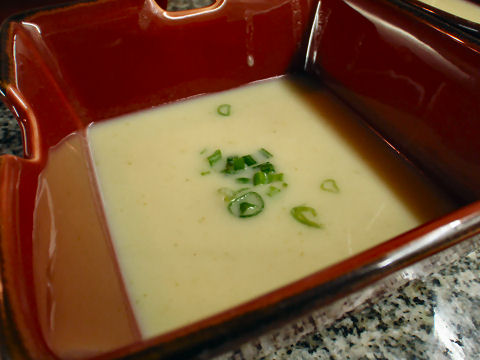 I seriously considered doing something with
onion glass
for the song
Glass Onion
, in fact I even went out and bought some glucose. But in the end, it's just so… not me. Plus, floating a chip of it on a soup probably would have ended up with a sort of limp, gooey mess. Instead, I simply went with a chilled green onion soup – chopped up the white part and some of the greens of about a dozen green onions, then sauteed them with some chopped celery and potato. When softened, I added water, brought it to a simmer and cooked until the potatoes were done, then pureed it, chilled it, and finished it by blending in some thick yogurt and topping it with reserved chopped onion greens.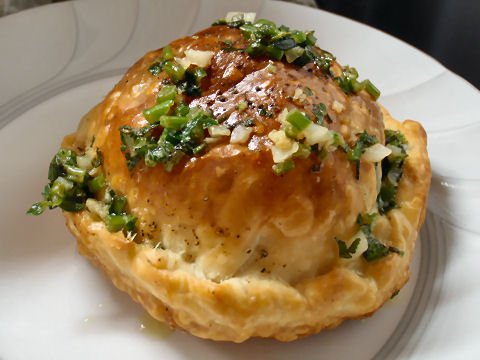 I understand that
offal
is often a love it or hate it affair. Some of it's based on texture and past experience, but I'd venture to say that most of the "anti-" is based on imagination. We've served pretty much every organ meat there is at one dinner or another, and I've eaten, to the best of my knowledge, all of them at one time or another in my life – sometimes I like the dish, sometimes I don't. The anti-heart crowd, I have to assume, is based on emotion rather than experience, in general – after all, the heart is not a gland, it's a muscle. When cooked, at least properly, it looks like lean meat. And, it pretty much tastes like lean meat. Because, umm, that's what it is. And our Saturday night crowd had no problem with the idea, certainly not in advance, and even those who looked at the plate with a touch of askance, tried it, and virtually everyone finished the dish – being, by the way, an empanada with a black pepper crust, filled with a confit of beef heart, garlic and greens – the heart having been poached in olive oil with fennel and garlic for about 6 hours – then the whole thing topped with an herb brown butter (Sergeant Pepper's Lonely Heart's Club Band… oh, you already got that) – an inspiration from Chris Cosentino. Our Friday night crowd, on the other hand, ended up nearly not existing (and in the end we asked the few remaining folk if they could join the Saturday night crowd and we squeezed everyone in) – a party of four asked simply, "are you serving animal heart?" and when I replied in the affirmative, responded with "cancel our reservation immediately." (And then had the woman who owns the place where they're staying contact me to ask for a recommendation for a different
puertas cerradas
that had a menu more to their liking….) A party of three was, to my mind, amusing: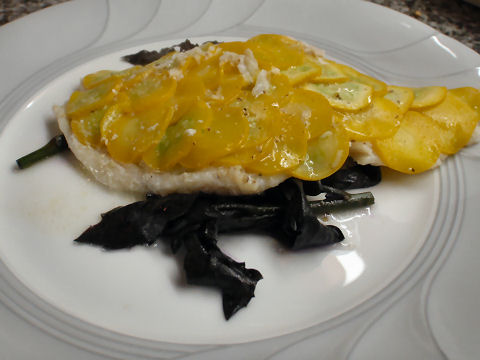 Okay, it doesn't exactly look like a Yellow Submarine, and I know several people were thinking, sandwich… but it's a fillet of sole topped with yellow zucchini scales and baked in packets with white wine, butter, salt, pepper and shallots, and served over sauteed Mean Mr. Mustard greens. Actually, purple and greens…
…which, unfortunately, when sauteed, kind of blend together in a muddy sort of brownish color with streaks of green and purple remaining. But they taste good.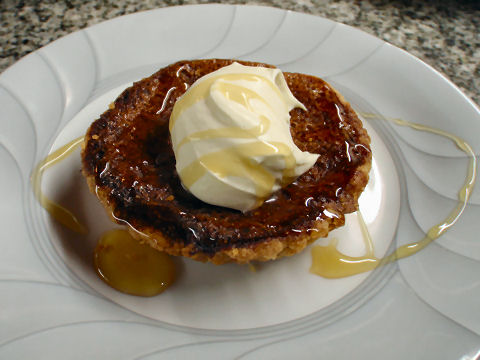 Possibly my least favorite Beatles song is Wild Honey Pie, not to be confused with it's less savage sibling, Honey Pie, which I like. Either way, a wild honey pie is what we have. A basic sweet tart crust filled with a mixture of honey, melted butter, beaten eggs, vanilla and nutmeg. Baked until done, cooled, topped with whipped cream and drizzled with more wild honey.
And not a field strawberry to be seen. Just be happy I didn't start from I Am the Walrus, Three Cool Cats, and Everyone's Got Something to Hide but Me and My Monkey…. Now that would have been a difficult dinner to sell.