Celebrating wasn't the correct word. After all, it was a disaster we were talking about. 1919 and twenty-one people lost their lives and more than 150 ended up in the hospital with injuries. But it wasn't your typical disaster – no plane or train or automobile crashes, no tsunamis, earthquakes or volcanoes. No, it was the Boston Molasses Flood. Yes, molasses. You see, there was this plant that produced molasses somewhere in the heart of Boston and one day, with no apparent warning, the main storage tank simply burst. It flooded not only the building, but the surrounding streets, with more than 2.5 million gallons of the sticky goo, and it didn't move at the pace of the proverbial "slow as molasses", it zipped along, with pressure behind it, at 35 mph. It took weeks, no, months, to clean up, and there are some who claim that, to this day, when the weather is hot and the air is still, the aroma of blackstrap lingers in odd corners of the neighborhood. So, it was a remembrance, a commemoration or memorial if you will. And, with a bit of license, I strayed from traditional molasses into related products.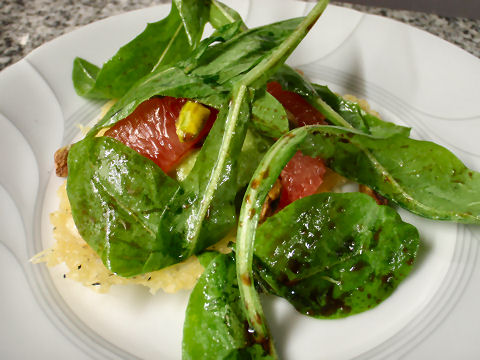 Alternative molasseseseseses (molassae?) are the darlings of many in the chef world, and, with good reason. One of the faves of many, including myself, is pomegranate molasses. It pairs well with many flavors, and I decided to make a simple salad dressing of roughly equal parts of it and olive oil along with salt and pepper. But what to dress with it? Cheese? Avocados? Grapefruits? Greens? Why not all of them? A basket of reggianito cheese filled with a puree of avocado touched with a little lemon, salt and chili flakes, supremes of pink grapefruit, and dressed radichetta, a local green that's slightly spicy.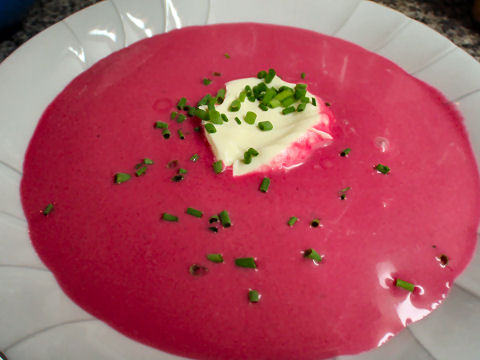 This soup was worth it just for the vivid vermilion color. Sugar beets are, of course, one of the sources of sugar that goes into making molasses, so a perfect choice for a chilled summer soup. The base – lightly sauteed white and red onions until soft and just beginning to color. Then added marjoram and thyme, peeled and diced beets, and vegetable stock. Let it simmer until the beets were soft, then pureed in the blender. Added heavy cream, red wine vinegar, salt and pepper. Chilled. Adjusted the seasoning. Served with a dollop of homemade mascarpone flavored with a touch of lemon zest.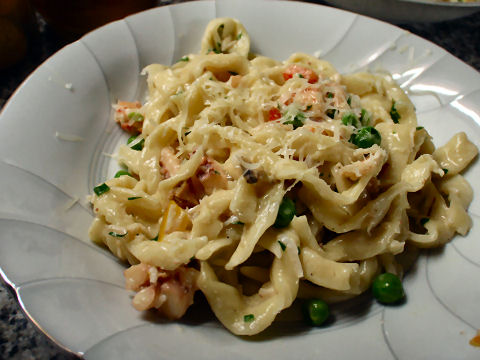 I was thinking about rum and some sort of sauce. But not something sweet, I wanted to use it in a savory dish. I found this recipe online and liked the sound of it. Played around a little and decided that I wanted more seafood to it and less sauce. So pretty much followed the recipe to the letter except that I added in olive oil poached squid and clams that I then chopped up. A mix of red and yellow bell peppers instead of just red, really just for color, and I cut the amount of cream in half, it was just too heavy for my tastes.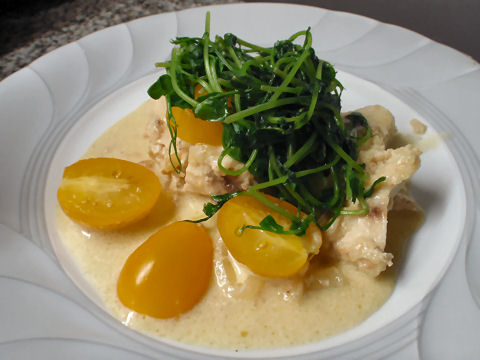 Another online selection from one of my favorite South American food blogs, Flavors of Brazil, chicken with cachaça and rapadura. The former is the famed sugarcane liqueur of Brazil, the latter, a dark block of boiled down sugar. Rapadura itself isn't available here, but is essentially the same thing as the Peruvian and Bolivian chancaca, which we had on hand. Again, pretty much followed the recipe as is – for half and half, since that's not available here, I used whole milk and added just a bit of cream to it. I also couldn't see the reason for marinating for an hour in just cachaça before adding the rapadura for another 8 hours – if it was a last minute addition of the sugar it might make sense, but the difference in the sugar being there for 8 or 9 hours is not at all noticeable. No suggestions were given for serving it so I tossed on some halves of sweet yellow cherry tomatoes and sauteed some pea-shoots in butter and salt to top the dish.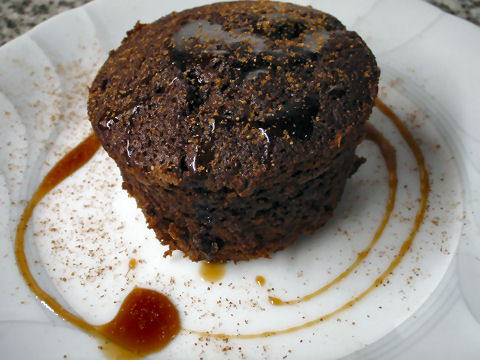 An old favorite, old-fashioned molasses cake. Cream a cup of butter and cup of sugar together. Add in three eggs, one at a time, beaten at high speed, until the whole mixture is fluffy. On low speed beat in a cup of molasses, two cups of cake flour, two teaspoons of baking soda, ½ teaspoon each of salt, baharat, and ginger, and a teaspoon of cinnamon. Finish off with a cup of cooled strong coffee. Bake in ramekins until done. Serve with a drizzle of carob molasses and a sprinkle of five-spice powder.