"Founded in 2008, by nine-year-old Cassidy Megan of Nova Scotia, Canada, with the help of the Epilepsy Association of Nova Scotia, Purple Day is an international grassroots effort dedicated to increasing awareness about epilepsy worldwide. On March 26, people from around the globe are asked to wear purple and spread the word about epilepsy."
We have offered white dinners and red dinners and green dinners and rainbow dinners, but a purple dinner, as part of Purple Day consciousness raising, was definitely set to be a challenge. I didn't want to start using food coloring, so the idea was to get as purple as possible, without. We even wore purple shirts, and a few guests got into the spirit and dressed for the day as well. One third of our income from the weekend went to Fundación Favoloro, the local epilepsy care hospital.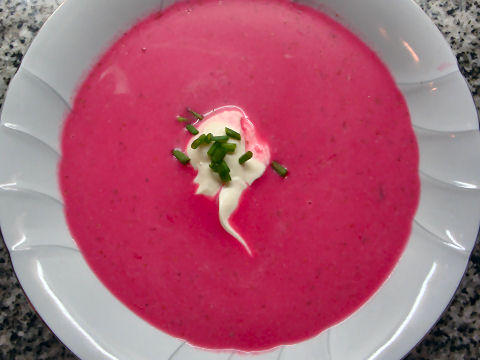 Okay, perhaps more fuschia than purple, but it's in the ballpark –
a chilled beet soup
.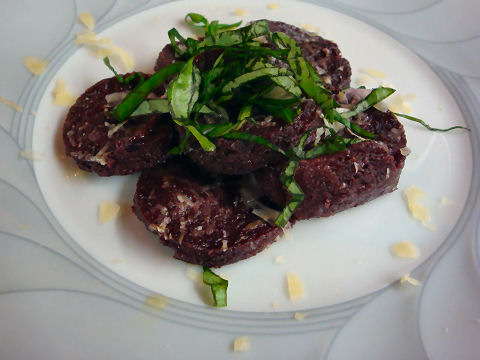 Here we got about as purple as we could. Following the same procedure as for making
gnocchi di semolino
, I made these with ground purple corn – the texture is a little too fine to leave it on its own, so it's mixed half and half with semolina flour (or you could use regular polenta, just something a little coarser), and used a mix of fynbo and parmigiano cheeses. The corn gives them a touch of sweetness so I tossed in a little smoky
merquén
pepper to help balance that.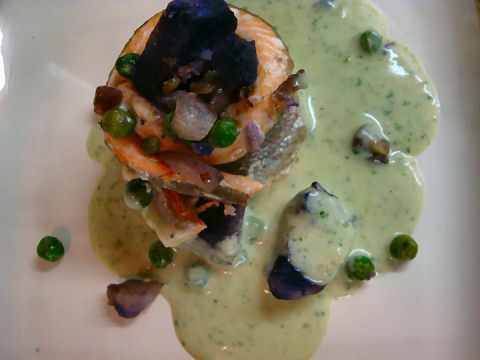 Here, trout rolled up around a filling of purple Andean potato hash – red onions, garlic, peas, purple potatoes, salt and pepper – baked with a drizzle of olive oil and then served with a little more of the hash and some
salsa nieve andina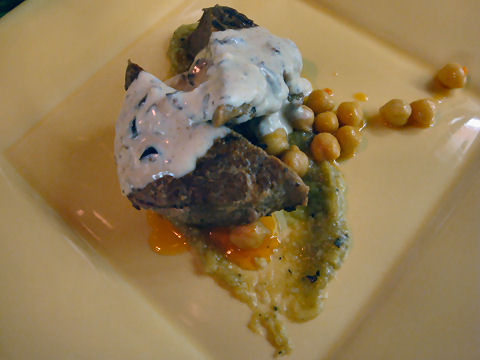 Here, I think the winning dish for most of the folk attending. Grilled lamb loin that had marinated for the day in mint, hot and smoked paprikas, salt and olive oil. Served over a swath of smoked eggplant puree flavored with garlic and olive oil; a scoop of chickpeas sauteed in olive oil, smoked paprika and chili powder, and then the lot topped with a cool yogurt sauce with chopped kalamata olives (which I'd hoped would sort of bleed a little purplish tint into the yogurt – they did… sort of). We also found that leaving off the lamb, this makes an incredibly flavorful vegetarian dish – just add the mint to the eggplant puree!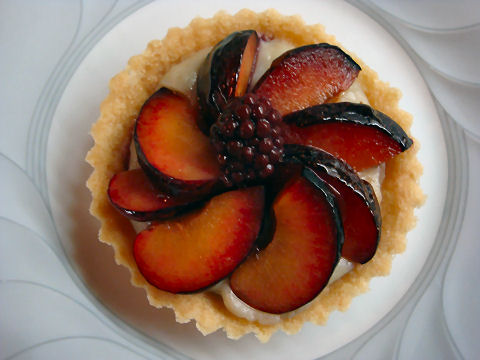 Continuing tart practice, here with little tartlets. I did breakdown and use a touch of blue and red food coloring in the pastry cream to give it a pastel lavender color, and also flavored it with
pacharan
, the Spanish sloe plum liqueur. Topped with fresh purple plums, blackberries, and a glaze of plum jelly.